Join us in conversation with artist Leyla Jeyte and special guest speakers, Christina Leslie and Jon Blak.
About this event
Hosted by Karen Carter, this virtual talk will be a conversation between three Black, Toronto-based photographers exploring the importance of Public Art as emerging artists.
They will discuss Leyla Jeyte's outdoor project if they saw me, i would live, presented on the façade and fence of BAND Gallery. Jeyte's series offers a glimpse into the lives of the people she encountered during her travels to Kisumu, Kenya.
Leyla Jeyte is a Somali-Canadian visual artist. She approaches her work with gentleness and nostalgia while aiming to create a quiet intimacy that deals with representation and inclusivity from a personal place. She holds a Master's of Science in International Development and Management from Lund University in Sweden. In 2018, Leyla was selected to receive the Visual Artists Creation grant as an emerging artist from the Ontario Art Council (OAC). She also completed a residency and exhibition at the Robert Mclaughlin Gallery in Oshawa, ON. Leyla's artistic perspective is shaped by her identity as a Black-African Muslim woman, and as an immigrant that has found home elsewhere.
This exhibition is presented in partnership with the Scotiabank CONTACT Photography Festival.
View the online exhibition here
Registered attendees will receive an email with the link to join the zoom event 2 hours before the scheduled event. Please check your email inbox 2 hours before the event.
ZOOM Attendees:
- Your microphones and cameras will be turned off by the host for the duration of the ZOOM.
- Q&A: We encourage you to ask your questions by typing them into the group chat (Chat icon on bottom panel) at any time during the event. The speaker will answer questions during the Q&A.
Recording Disclaimer: This ZOOM meeting will be recorded and posted online. By participating in this ZOOM meeting, you consent to the audio and video recording of the ZOOM meeting and its publication on Black Artists' Networks In Dialogue (BAND) Gallery & Cultural Centre social media, and release BAND Gallery from any liability connected with the A/V recording of this ZOOM meeting. If you do not want to appear in the recording, do not turn on your camera.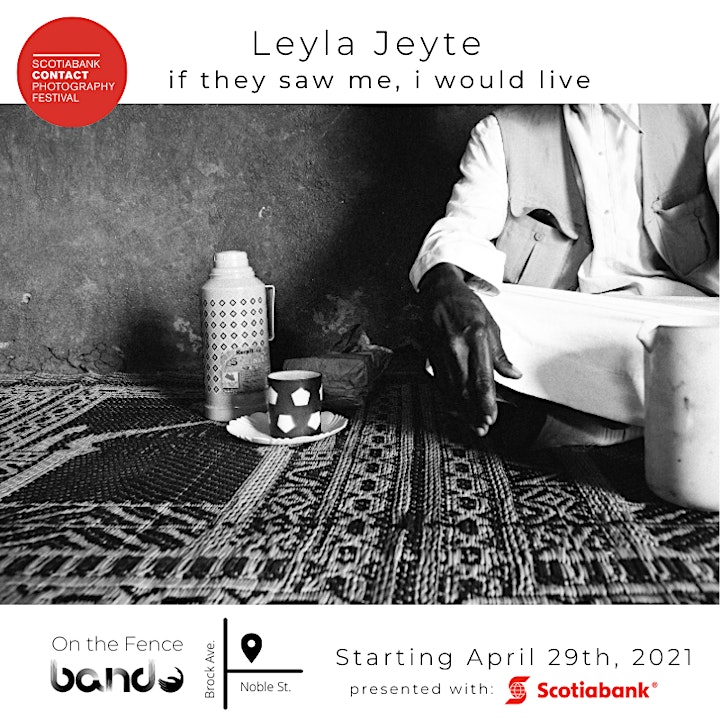 Organizer of if they saw me, i would live Artist Talk with Leyla Jeyte