If you could inspire 1,000,000,000 people with 2 words, what would you say?
Event Information
Location
ONLINE WORLDWIDE ON YOUR COMPUTER NOW
ON
Canada
Description
If you could inspire 1,000,000,000 people with 2 words, what would you say?
________________ _________________
We're creating a website and music videos with YOUR inspiring words, to help support the Super Peace Monkeys videos, games and speaker certification...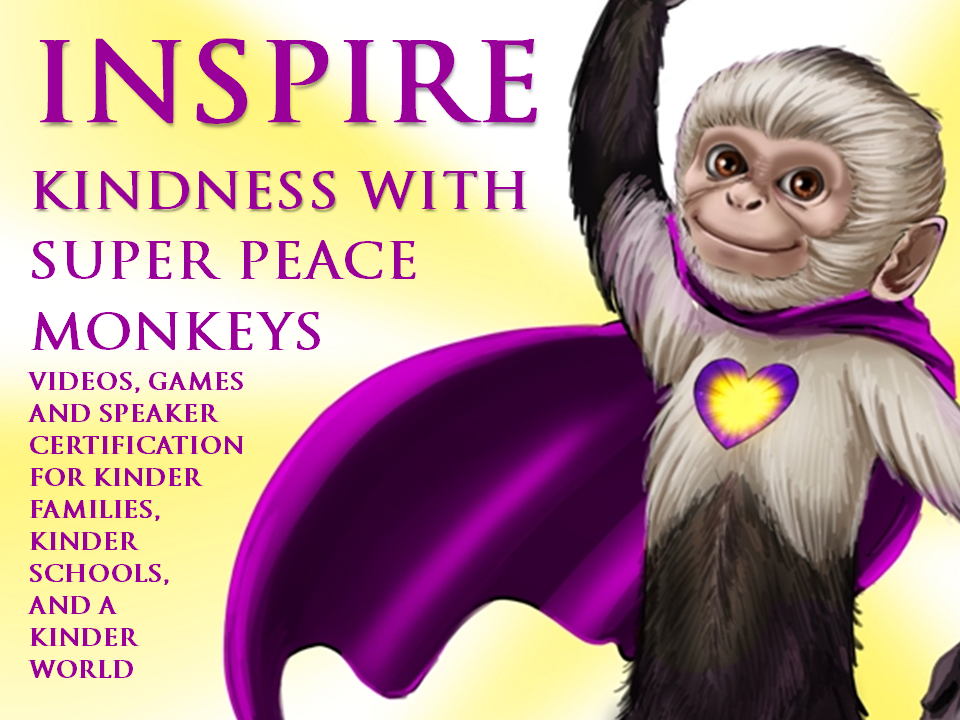 YES! We can create a kinder world. If we can believe it, we can achieve it. Please
1) share this event
2) click the green "tickets" button and choose a perk
3) enter your 2 words of inspiration for our book, website, and music videos at https://www.surveymonkey.com/r/92HJKYL
Thanks! YOU make a difference. Together, we can create a kinder world.
WOW! I posted this question on facebook on July 11, 2017, and over 100 of my friends responded! Many of the quotes made me nod, laugh, or feel my heart open and my eyes welling with tears. The next day, I posted the same question in a few facebook groups, and over 1,000 people responded in just a few hours! Then someone sent me a note, saying that the quotes were so inspiring, it would be great to compile them into a book. That's what I'm doing. I invite you to join the dream to inspire 1,000,000,000 people!
I would REALLY APPRECIATE your help to turn your brilliant words into a book, a video, and a webpage. Together, I bet we can inspire 1,000,000,000 people!
Yes! We can inspire 1,000,000,000 people! https://youtu.be/WIQO-Qz6_hE
IF YOU ARE INTERESTED IN MOTIVATIONAL SPEAKING, THIS PART IS FOR YOU...
Would you like to make great money by making a difference, and...
inspire and empower your funders, clients, prospects, staff and/or loved ones?

get clients you love, and/or raise funds to change the world?

get paid to travel anywhere you like to speak?

visit www.SpeakInspire.com for details!
Sharon Love, M.Ed., CEO of SpeakInspire.com, has raised over $6,000,000 with a single presentation, inspired over 2 million people with her live and online programs, and helped a number of her clients achieve multi-million dollar results, often very quickly. She earned a Master of Education degree in Multicultural Psychology at University of Toronto, overcame near-mute shyness in her teens, and delivered hundreds of inspiring presentations in Spanish, French and English. Her passion is to inspire & empower speakers, leaders and business professionals to make money creating a kinder world.

Spaces are limited, so register today.
For extra recognition, register for a sponsorship opportunity.
Date and Time
Location
ONLINE WORLDWIDE ON YOUR COMPUTER NOW
ON
Canada
Refund Policy