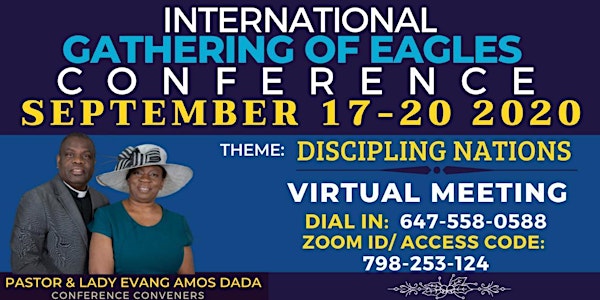 I.G.O.E Ministries Virtual Conference
A global conference with amazing ministers from all over the world including Kenya, Tanzania, Nigeria and Canada
About this event
4 DAYS
Thursday - September 17
Evening Session : 7pm - 9pm
Friday September 18, 2020
Afternoon Session - 12 noon - 2pm
Evening Session : 7pm - 9pm
Saturday September 19, 2020
Afternoon Session - 12 noon - 2pm
Youth & Young Adults session - 3pm - 5pm
Evening Session : 7pm - 9pm
Saturday September 20, 2020
Morning Service -10am - 2pm
MODALITY
IGOE 2020 will be offering of virtual experiences consisting of praise, worship, teachings, music ministrations, prayers, and deliverance session's impartation of the Holy Spirit and healing my anointed ministers of God from all over the nation. An annual conference organized at the Toronto headquarters in the third week of September. A school of ministry for Apostles, Prophets, Evangelists, Pastors and Teachers. Join us all weekend long right from the comfort of your home
IGOE HISTORY
The International Gathering of Eagles conference is an annual even started in 2003 as mandated by God through his servant Amos Dele Dada, Senior Pastor of Christ Apostolic Church Bethel Toronto, Canada.
Vision: To put Canada on the spiritual map of the world. Forum for training and mentoring leaders so that they may train others for the development and enlargement of the body of Christ through their various ministries and parishes.
OBJECTIVES
• to propagate the gospel of Christ
• To educate the community of the necessity of faith based education
• To motivate the youth to take on community leadership roles
• To motivate, support and prepare ministers for the transformation of their congregations and communities in rural, urban and mega churches.
• To forge Godly alliances and promote unity across denominational lines and doctrinal differences. To create an atmosphere for prayers on national issues, networking, and developing relationships