Event Information
Refund policy
Contact the organizer to request a refund.
Eventbrite's fee is nonrefundable.
Welcome to the 10 Part Course - Integrative Health Coaching Certification Course(IHCC) by World Organization of Natural Medicine (WONM.ORG)
About this event
Thank you for learning more about the Integrative Health Coaching Certification Course by WONM. A portion of the proceeds from this World Class educational experience goes towards the Clinics for Humanity. Details at wonm.org/clinics
On this page you will find the following:
1. What is Health Coaching & Why choose WONM
2. Requirements for admission to the course
3. The Course Curriculum
4. The Instructors & Professors that will be teaching the IHCC Course
5. Waiver / Disclaimer Statement
1. What is Health Coaching
Health coaching is holistic concepts and techniques that facilitate sustainable health reform by motivating clients to develop and identify their values to realize and transform their lives to positive wellness outcomes. It includes motivational interviewing, teaching concepts of regular self-care, and goal settings.
THE QUEST FOR A HEALTHIER WORLD
According to the World Health Organization (WHO), most diseases are due to lifestyle choices, malnutrition, and environmental pollution. Lee John-Wok, Director-General, World Health Organization.  It is clear that the public in general and healthcare providers that modern health challenges have risen to epidemic proportions due to ignorance over the last few decades. Research and evidence in favor of the effectiveness of holistic approaches for prevention and reversal of modern health challenges are overwhelming. Yet, the traditional natural health and healing communities are consistently met with resistance from forces whose mandate is the & 'disease-for-profit' model instead of empowering the masses toward self-care and disease prevention.  The lives of far too many people in the world are blighted and cut short by chronic diseases such as heart disease, stroke, cancer, chronic respiratory diseases, and diabetes.
 WHY-WONM HEALTH COACHING?
The WONM-HC program is a thorough and practical course that offers the core foundational knowledge and techniques grounded in a traditional holistic philosophy throughout history to prevent and reverse health challenges, through education and people empowerment.
This program concurs with WONM's mission to provide access to traditional healthcare services, geared towards underserved people and promote humanitarian values through education. The expected outcome for this course is consistent with WONM's goal, which shall be the attainment by all people of the world of high level of wellness through the effective delivery of Traditional natural health and education geared towards underserved people.
Our world-renowned educators and researchers, and mentors will provide you with mentorship on traditional natural health concepts and techniques such as; orthomolecular nutrition, eclectic medicine concepts, home-care techniques, lifestyle management, oriental medicine techniques, disease prevention, stress reduction techniques, anti-aging techniques, functional assessment techniques, and evidence-based techniques and many others.
What will you learn?
Modules: Background, skills, and the pillars of integrative, natural, eclectic, and traditional healing. You will learn how to work with clients to create a vision of wellness outcomes. You will learn how to assess readiness to change and use motivational interviewing principles to increase clients confidence. You will learn how to support clients to identify obstacles to wellness outcomes.
Qualification:
Awarded a Diploma in Health Coaching, qualify for certification as an Integrative Health Coach from the Board of Integrative Medicine, and membership in the World Organization of Natural Medicine.
Transform your life and the lives of others.
The WONM Health Coach diploma program is offered under the auspices of its education department and in collaboration with the Canadian College of Humanitarian Medicine(CCHM).
Learn More, engage more impact more
2. Requirements for Admission to the IHCC Course & Prerequisite reading material for non-medical practitioners:
Basic review of anatomy, physiology, and Biochemistry
​Review of Anatomy & Physiology
The following materials provided in FREE e-book format.
A. Quick Medical Terminology has long been relied on by students and medical professionals looking to build or update their medical vocabulary. This new fifth edition provides the tools and information needed to understand the simple logic behind hundreds of seemingly incomprehensible words, along with fresh exercises and current examples. Features new review exercises and self-tests, more than 250 new terms, medical measurements, and up-to-date examples. Provides the tools necessary for building and sustaining a large working repertoire of medical terms. The reference of choice for health practitioners and others who need to expand, improve, or refresh their medical vocabularies
B. A self-Testing Guide, 5th Edition by Shirley Soltez Steiner, Natalie Pate Capps ISBN: 978-0- 470-88619-9
C. Biochemistry for Dummies. This friendly text guide presents an overview of the material covered in a typical college-level biochemistry course and makes biochemistry basics easy to understand. Text; Biochemistry for Dummies: by John T. Moore and Richard H. Langley.
3. The Course Curriculum
Here is the outline for Course # 1 of 10 (subsequent outlines will be sent to each student upon enrollment of the IHCC Course.)
1st Course Title: PILLARS of WELLNESS & ECLECTIC MEDICINE
2nd Course Title: Reverse the Curse of Metabolic Syndrome
3rd Course Title: Remove the "Splinters" and Watch the Body Heal
4th Course Title: Integrative/Functional/Lifestyle Medicine
5th Course Title: Introduction to Bio Energetics Fundamentals & Six Healing Sounds
6th Course Title: Qi Gong Acupressure Massage
7th Course Title: MUSIC IS MEDICINE
8th Course Title: ANATOMY OF CHANGE
9th Course Title: TOTAL QUALITY MANAGEMENT
10th Course Title: QUANTUM HEALTH SCIENCES
---------------------------------------
Course Unit #4 Dr. Stanley Ngui.
Sir Dr. Stanley Ngui -Ph.D., IMD. Chief Integrative Medicine Doctor, Grandmaster-level Chinese Medicine, Qigong and Gongfu . The knowledge of Chinese Medicine and holistic therapy that we provide has been passed down in our Ngui Family line for generations, each next generation inheriting the knowledge given to them by their parents. Only recently, have we begun to start teaching outside the family to non-blood students. Each person who practices is thoroughly trained for at least one year before becoming a full practitioner, in respect, empathy, Chinese Medicine, body mechanics, bio-medicine, and bio-energies. 165 East Beaver Creek Rd. Unit 24 Richmond Hill, ON. L4B 2N2 P. 905.597.5007 E. nguistyleimc@gmail.com Nguistyle.com
Your first course: PILLARS of WELLNESS & ECLECTIC MEDICINE
Instructor: Dame Dr. Sheila McKenzie, RDH, Ph.D, IMD, DHS
​Educator, Author and Humanitarian Appointments: Dame Commander of the Sovereign Order of the Orthodox Knights Hospitallers. Dame Commander of the Order of Saint Paul-France (Commandery Ontario. Professor and head of the Department of Natural Medicine and Humanitarian Medicine of Saint Peter and Saint Paul Lutheran Institute (Lutheran University) ​Chancellor Canadian College of Humanitarian Medicine . President of the World Organization of Natural Medicine - WONM.ORG - Website: http://www.drsheilamckenzie.com
Pillars of Wellness:
An overview of the history leading up to ill health and disease management. There is a transition from crisis-oriented health care to preventive medicine and wellness care in our present society. This course will look at the impact that our habits, environmental, culture, lifestyles, foods, stress, past beliefs, and negative attitudes have on our health as individuals and as a society. In this course, the student will learn how factors affect our health and identify and change negative factors for positive wellness outcomes.
Session 1. Pillars of wellness- Comparison between crisis care and wellness care. 2.0 hours
Session 2. Pillars of wellness- Comparison between ancient diets including Biblical diets and impact on health 1.5 hours.
Session 3. Pillars of wellness- We will discuss the scope of natural health care. Clients assessment Techniques.
First and foremost, the direct observation of clients is an essential assessment tool for the Health coach It is vital to health coach education to ensure that all students are competent in functional observation skills. High-quality direct observation has significant implications for learning. From a formative perspective, learning observation support the development of their health coaching skills and is a valuable tool for assessing clients progress;
In this course, you will learn how to; record what you observe on your client, complete functional health assessment of the body- systems, achieve a detoxification health assessment, documentation, and interpretation of functional evaluation, and formulate a wellness program based on the client needs.
Session 1. Health assessment-the observation 1.5 hours
Session 2. Health assessment -the interview 1.5 hours
Session 3. Health assessment – the interpretation 2.0 hours
Eclectic Medicine-Home Healer
The main focus of health coaching is to guide self-care to clients. Although health coaches do not diagnose and provide cure for a disease, a basic understanding of the client's self-care is essential to the health coach. With the known side effect of modern drugs, dangerous medical techniques and increasing high cost and control of the nutraceutical remedies, return to proven effective eclectic remedies techniques is most relevant for the client's survival. In this course, you will learn how to use whatever is at hand for immediate problem or maintenance of health:
Session 1. Eclectic Medicine Home Healer-minerals 2. Hrs
Session 2. Eclectic Medicine Home Healer- Kitchen spices 1.5 hours
Session 3. Eclectic Medicine Home Healer- Water cure 1.5 hours
Resources:
Compiled Notes by Dr. McKenzie Provided
Biochemistry PDF provided
Medical Terminology Provided :
Format: Live webinar presentations.
Assignment: summary of your understanding of the course.
4. Professors & Instructor for the IHCC Course by WONM.
Sir Dr. Gerald Smith, DNM, DSS, PhD is certified by the World Organization for Natural Medicine to practice natural medicine globally. He is also a certified dental practitioner. His broad base of post-graduate training in dentistry and natural medicine enabled him to integrate many health care specialties.Sir, Doctor Smith is also a Knight Hospitaller a dedicated professional organization dating back to the year 1050. The Knights Hospitallers have official recognition from the United Nations and the Pope for their tremendous humanitarian work with the poor. He has accumulated an impressive list of credentials, which includes: Lecturing at Walter Reed Army Medical Center, National Academy of General Dentistry and at the Academy of Head, Neck and Facial Pain, Yonsei Memorial Hospital in Seoul Korea Dozens of guest lecture appearances at national and international symposia. Contact him at https://www.icnr.com/ The International Associations for Orthodontists and Academy of Head, Neck and Facial Pain. The Holistic Dental Association, past-president and editor of their professional journal. Pennsylvania Craniomandibular Society, past-president.
Dr. Jay Paul Vanden Heuvel PhD, IMD,DHS - Integrated Medicine, Doctorate in Humanitarian Services World Organization of Natural Medicine (WONM), Ph.D. Holistic Health Sciences, Ph.D. Traditional Naturopathy, B.O.I.M. (Board Certified in Orthomolecular and Integrative Medicine) W.O.N.M. (Board Certified in World), Recipient of the "Order of Excellence Integrative Medicine" University of Humanitarian Medicine Clinics for Humanity. Faculty WONM-University of Humanitarian Medicine Federation, Board Certified Holistic Health Practitioner American Association of Drugless Practitioners (A.A.D.P.) , U.S. National ARCB Certified Reflexologist Board certified by American Reflexology Certification Board, Surgical technologist/Nursing, Certified Flower Therapist, Certified Leader in Natural Health, Association Customer Service, Background in Quantum Physics 3 Book Author/Peer Reviewed Science paper ACTA co-author/100+ DVD's, 25 + yrs experience. Private practice +20,000 clients. International Lecturer 500,000 + www.naturesinstitute.com www.naturalselections.net
Brian Gangel, DHS, IMP, BOIM, WONM. CEO Quantum Events Canada Holistic Practitioner / Educator / Business Coach, Awarded the ORDER of Excellence in Health Education. Diplomat Quantum Research Council, Brand Ambassador for PRLabs™.
Grace Sedstrem is a speaker, trainer and mentor. Igniting inspiration, perfecting poise and up leveling performance ~ is her specialty! Her charisma is second to none! An entrepreneur enthusiast she loves empowering people in business to make more money, get more sleep and have more time! Over 20 years as a Technical Trainer/Speaker both Nationally + Internationally her fiery enthusiasm inspires groups in entrepreneurial and corporate ventures.
Dr. Eugene Fung IMD DHS MBA(TQM) TCM FACBS CIM PhD SLEEPM International Director Doctor of Philosophy (Natural Medicine) Integrative Medicine Doctor Doctor of Humanitarian Services, Professor of World Organization of Natural Medicine University, Professor of University of Humanitarian Medicine, Faculty Member of Canadian College of Humanitarian Medicine, Ambassador-at-Large Asia Regio
Dr. George Grant, B.Sc.[Hons]; M.Sc., M.Ed., Ph.D., IMD, DHS, C.Chem., R.M., CBS - is known as The Caring Doctor, is considered the Canadian authority in Integrative/Functional Medicine and a global wellness ambassador. Dr. George Grant is an expert in biofeedback, stress, anti aging and natural pain management. He helped clients at Sunnybrook hospital in Toronto recover from clogged arteries as well as many thousands of clients World wide. Dr. Grant enjoys a stellar academic and a fascinating career in research. He is a scientist, professor, chemist, toxicologist, nutritionist, biofeedback, stress management and a pain specialist. Dr. Grant worked as a Senior Consultant for Health Canada, FDA and CDC as well as in private practice. Dr. George Grant has helped 9 Fortune 500 companies, 9 non profit organizations and 9 Olympic athletes along with 7500 clients worldwide. He has over 200 published articles, 400 papers reviews, hundreds of conference presentations, book reviews and 10 bestselling books. www.academyofwellness.com
Dr Troy Bennett - Doctor of Acupuncture , Doctor of Integrative Medicine , Doctor of Humanitarian Medicine, Register Naturothearpy Practitioner, Founder of the BAQ Center and Integrative Medicine Clinic, Qi Gong Master Instructor at the BAQ Center for Medical Qi Gong and Martial Arts.
Dr. Debrorah Drake is a Toronto Native and lifelong health care professional, as an Integrative Medicine Doctor, Health Coach, Bioenergetic Clinician Instructor in Quantum Biofeedback and PEMF, Book Author, Health Care Software Designer of the AmpCoil BetterGuide App, Musician, Multimedia Studio Producer and Marketer. She has a truly integrative background with degrees in many disciplines of Allopathic Family and Emergency Medicine, Integrative Medicine, Humanitarian Services, Osteopathic, Ayurvedic, Bioenergetic Medicine, and Frequency and Light Therapist. She is the Director of the Department of Bioenergetic Medicine at the Canadian College of Humanitarian Medicine, where she teaches Integrative Health Coach Certification at her online Academy at https://HealthCounts.ca. She is an executive member of the Board of Integrative Medicine certifying natural practitioners and a Humanitarian with the World Organization of Natural Medicine. She is an author of the s Bioenergetix, Sleeping your Way to Wellness, and the Turning Point 2020 Legacy book on Deep Sleep. As International Lecturer she has taught LIVE in more than 60 cities worldwide tour on the topic of Homeostasis of the Bioterrain, Leaky Gut Syndrome, and Detox with Biotechnology, Sleep, Immune Health Strategies including holistic nutrition, Biocrystal Sleep Technology, and Bioenergetic therapies like Quantum Biofeedback, PEMF (Pulsed Electromagnetic Field therapy) and Light Matrix therapy. She is a new Brand Ambassador with PYUR LIFE GLOBAL and an avid fan of superfoods like Moringa and Weight Mangagement solutions for proactive wellness.
5. Legal Liability, Waiver & Non-Disclosure Statement
I fully understand that the Professors & Instructors for the IHCC Course by WONM may not be medical doctors or medical practitioners of any type. I am not here for any medical diagnostic, procedure or medical treatment of any kind. No medical claims are being stated. No claims to the cure of any disorder or any disease is being stated. All sessions conducted by the Professors or Instructors on behalf of the World Organization of Natural Medicine is for personal research and/or investigational and/or informational purposes only. Any statements made have not been evaluated by Health Canada or the F.D.A. This Information is not intended to diagnose, cure, treat or prevent any disease. Please note that this type of health consultation is not covered by a private insurance plan.
I may be currently under the care of a medical doctor, specialist and/or other health professional under license according to the laws of the Canadian and/or American Medical Association. I am not here for any treatment, diagnostic and/or procedure related to cancer or any other serious infection for which I may be treated or assessed for. I accept full responsibility for my own health conditions and any possible future interactions, contraindications or complications which may occur. I understand that the Instructors / and WONM and their heirs and/or employees are fully indemnified from any legal responsibility or association with my health condition, now or in the future.
Reference to any entity, product, service or person or source of information should not be considered an endorsement direct or indirect. WONM is not responsible for any advice, course of treatment, diagnosis or any other information or communication you choose to follow without having consulted a qualified health care provider or professional about your condition first. I am here to receive information on how to continue my good health and education on how to help me develop a self-healing mechanism. The information I receive is not a substitute to sound medical advice.
The following are the healing herbal precautions: Pregnant and nursing women should consult a doctor before using any natural products or supplementation; Not intended for children under 24 months or seniors with a medical condition; Check with your doctor for any possible drug interaction or contraindications before using; If you suffer from a chronic illness, inform us and seek professional help; Do not treat serious illness yourself, seek medical attention right away; Be well informed, make yourself aware of what you are doing in regards to your own health at all times; If you are in doubt about any information provided, please ask. This consultation is to help improve my continued good health & seek guidance on my nutritional requirements.
I have read and agree to the above: informed client statements, herbal precautions and liability clauses/terms. I accept full responsibility for the use of any products, procedures or services that I may purchase from WONM through the IHCC.
Please note the following: For health and safety reasons, there are NO REFUNDS on any individual course once the class has begun. Membership to our Health Association is automatic in order to protect your rights to receive information associated with this Private Organization, (you are permitted to this information according to the Canadian Carter of Rights & Freedoms and under the Freedom of Religion Act 1977 and the American Constitution.)
For more details please visit WONM.ORG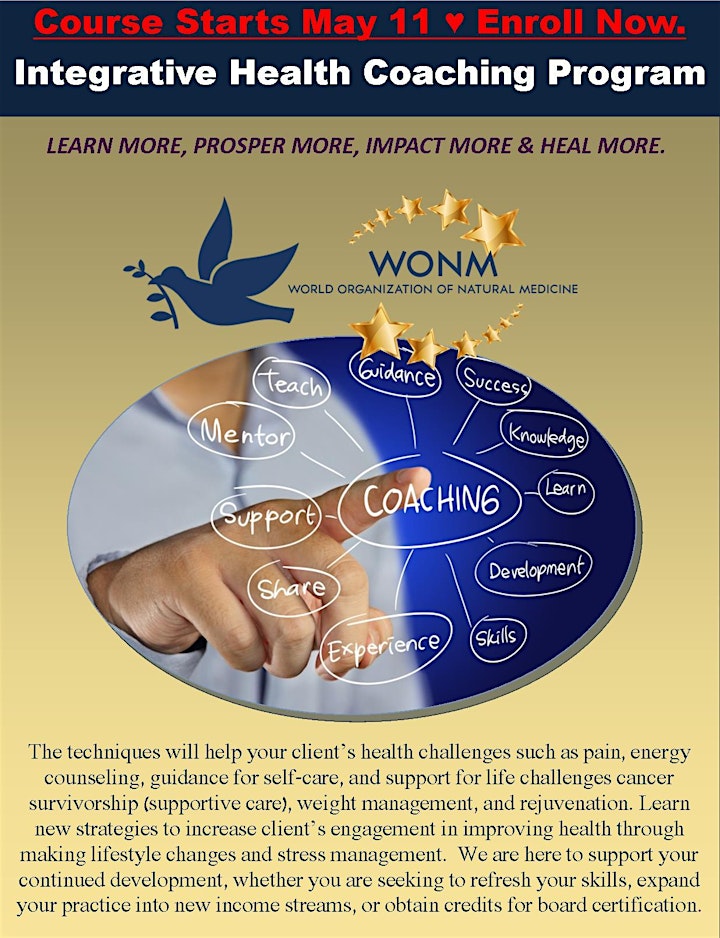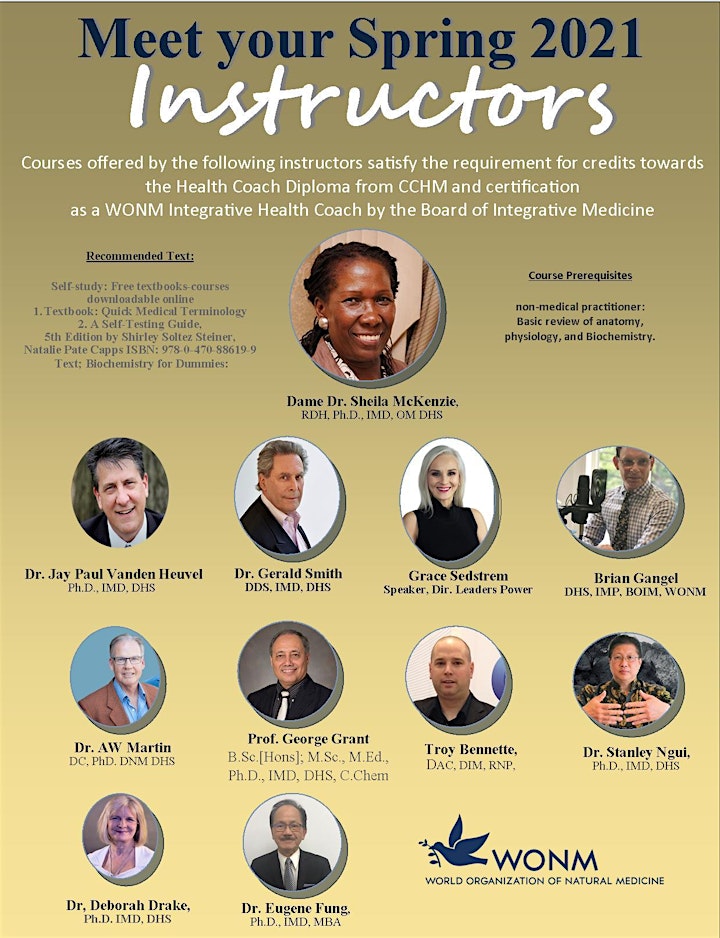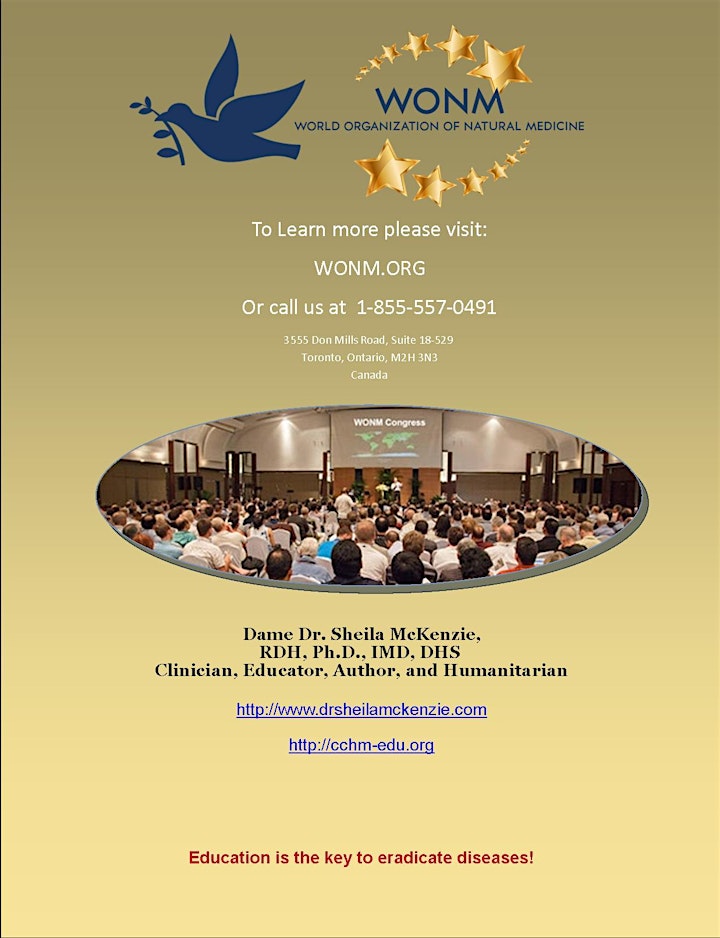 Location
Refund policy
Contact the organizer to request a refund.
Eventbrite's fee is nonrefundable.
Organizer of IHCC Integrative Health Coaching Certification Course by WONM
Dr. Dame Sheila McKenzie, RDH, PhD, IMD, DHMS, DHS
Clinician, Educator Author and Humanitarian
​​I entered the heath care field as a graduate from Jamaica Ministry of Health School Dentist and auxiliary training program. I was among the first batch of scholarship recipient's students, who entered the pilot project. I worked in the school system in rural Jamaica as a school oral health practitioner before immigrating to Canada. I completed a clinical Dental Hygiene refresher course at the Durham College of Applied Arts and Technology, Durham, Ontario Canada and satisfied qualifying examination for registration with the Royal College of Dental Surgeons of Ontario (RCDSO), as a registered dental hygienist(RDH) in 1981.
Early in my practice I decided that an integrative medicine approach to healthcare delivery was best for her practice and to this end I continued studies in the following health disciplines. Bachelor of science degree in Oral Health promotions from the O'Hehir University, Doctor of Homeopathic Medicine and Sciences(DHMS) from the Hahnemann College of Homeopathic Medicine –Toronto, Canada, Diploma in acupuncture the Occidental Institute, medical acupuncture at the Bio-medical acupuncture institute in Colorado., Diploma in pain management from the Pan-American Institute of Natural Science, Homotoxicology at the International Academy of Homotoxicology, Bio-puncture at Bio-Med Canada, International Medicine seminars and workshops at the Institute of International Medicine-University of Missouri. I contributed to several PhD doctoral fellowship research for both the University of Humanitarian Medicine research program and Quantum University of Integrative Medicine over the years it has attended hundreds of professional development conferences seminars and workshops.  I am proud to say that I am still on my educational journey. 
My motto according to Dr. John King.
"To be a physician in the true sense, the mind must be unrestrained and not warped by prejudice; there must be a freedom of choosing and selecting such medical views and such remedial agents, without regard to theory or devotedness to party, as have been fully demonstrated by facts and experience to be the most in accordance with nature, and the most effectual in restoring health." 
John King MD (1813-1893) 
Father of Eclectic Medicine...Now Integrative Medicine.
My convection: Education on self management is the key to prevent disease.