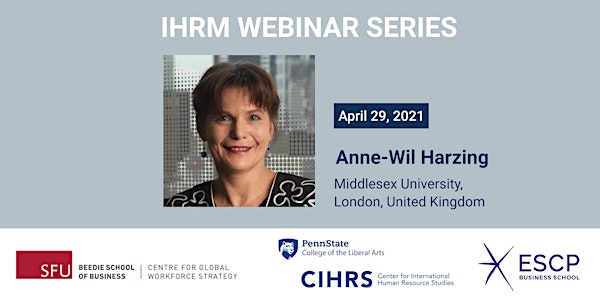 IHRM #8 - Dare to be different! Why (IHRM) Research Needs to Change
Organized by SFU Centre for Global Workforce Strategy, Penn State Center for International Human Resource Studies, and ESCP Business School.
About this event
About the Presentation
"Dare to be different" will be a different type of seminar. Rather than dealing with a specific research paper or topic, it will take participants on a journey of what needs changing in IHRM research. Although the presentation should be of interest to everyone, it is primarily aimed at early career researchers.
The seminar will discuss the need to broaden our population, improve our theoretical grounding, and take interdisciplinarity seriously. It will also suggest the use of novel research methods and research topics to address grand societal challenges, and more generally encourage researchers to dare to be different and critical. Throughout the seminar, examples from Anne-Wil Harzing's and other academics' research will be used so participants can follow up on the debates.
Drawing on Anne-Wil's own experience in her 30-year academic career in IHRM, the last third of the seminar will discuss how "daring to be different" might work out in practice and how to navigate academia as a PhD student/Early Career Researcher.
----
This session will be moderated by Maral Muratbekova, Professor, Department of Management, ESCP Business School, Paris, France.
About the Speaker
Anne-Wil Harzing, Professor of International Management, Middlesex University, London, United Kingdom.
Anne-Wil Harzing's research interests include international HRM, expatriate management, HQ-subsidiary relationships, cross-cultural management, transfer of HRM practices, the role of language in international business, the international research process, and the quality and impact of academic research.
The volume "Grands Auteurs en Management International" devotes an entire chapter to her contributions to the field of International Business. She is the youngest academic featured in the volume, which also includes prominent IB researchers such as John Dunning, Peter Buckley, Christopher Bartlett, CK Prahalad, Sumantra Ghoshal, Geert Hofstede, and Edward Hall.
In addition to her substantive research areas, Anne-Wil also has a keen interest in issues relating to journal quality and research performance metrics. In this context she is the editor of the Journal Quality List and the provider of Publish or Perish, a software program that retrieves and analyses academic citations.
Anne-Wil has published or presented more than 160 books, book chapters, and academic papers about these topics in journals such as Journal of International Business Studies, Management International Review, International Business Review, Journal of World Business, European Journal of International Management, Journal of Organizational Behaviour, Human Resource Management, The International Journal of Human Resource Management, Organization Studies, Strategic Management Journal, The Academy of Management Learning & Education, European Journal of Information Systems, and Journal of the American Society for Information Science and Technology.
About This Series
This event is part of a IHRM Webinar Series, organized by the Centre for Global Workforce Strategy at Simon Fraser University (Canada), the Penn State Center for International Human Resource Studies (USA), and ESCP Business School (Europe).
Previous installments of the IHRM Webinar Series are available online at our YouTube Channel.
About this Event
This event will be hosted on Zoom.
Zoom event access information will be provided all registered attendees 24 hours, and 1 hour, prior to the event start.
For inquires about this event, please contact: beedie-events@sfu.ca.