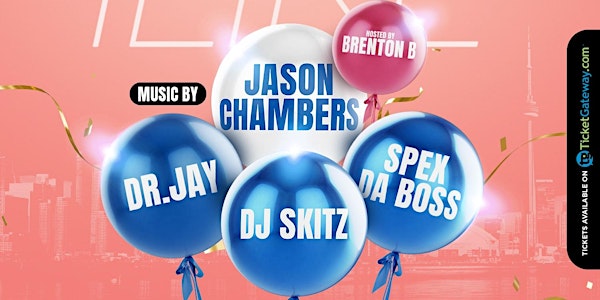 iLIKE The Ultimate Capricorn Aquarius Birthday Celebration
iLIKE | The Ultimate Capricorn Aquarius Birthday Celebration Sat Jan 21 2023 @ The Vue - Toronto R&B HipHop Soca Dancehall AfroBeat
When and where
Location
The Vue and Clubhouse EventSpace - byPeterandPauls.com 195 Galaxy Boulevard Toronto, ON M9W 6R7 Canada
Refund Policy
Contact the organizer to request a refund.
Eventbrite's fee is nonrefundable.
About this event
𝖲𝖺𝗍 𝖩𝖺𝗇 𝟤𝟣𝗌𝗍, 𝟤𝟢𝟤𝟥
𝗂𝖫𝖨𝖪𝖤 | 𝖳𝖧𝖤 𝖴𝖫𝖳𝖨𝖬𝖠𝖳𝖤 𝖨𝖭𝖳𝖨𝖬𝖠𝖳𝖤 𝖢𝖠𝖯𝖱𝖨𝖢𝖮𝖱𝖭 & 𝖠𝖰𝖴𝖠𝖱𝖨𝖴𝖲 𝖢𝖤𝖫𝖤𝖡𝖱𝖠𝖳𝖨𝖮𝖭
𝖣𝗈𝗈𝗋𝗌 𝗈𝗉𝖾𝗇 𝖺𝗍 𝟣𝟢𝗉𝗆
𝖳𝗁𝖾 𝖵𝗎𝖾 - 𝟣𝟫𝟧 𝖦𝖺𝗅𝖺𝗑𝗒 𝖡𝗅𝗏𝖽, 𝖳𝗈𝗋𝗈𝗇𝗍𝗈
𝗂𝖫𝖨𝖪𝖤 𝗂𝗌 𝖺 𝗆𝗎𝗌𝗂𝖼 𝖺𝗇𝖽 𝖾𝗇𝖾𝗋𝗀𝗒 𝖼𝖾𝗅𝖾𝖻𝗋𝖺𝗍𝗂𝗈𝗇. 𝖨𝗍'𝗌 𝗆𝗎𝗌𝗂𝖼 𝖿𝗋𝗈𝗆 𝖯𝖺𝗌𝗍 𝖳𝗈 𝖯𝗋𝖾𝗌𝖾𝗇𝗍 - 𝖱&𝖡, 𝖲𝗈𝖼𝖺, 𝖧𝗂𝗉-𝖧𝗈𝗉, 𝖫𝗈𝗏𝖾𝗋𝗌 𝖱𝗈𝖼𝗄, 𝖣𝖺𝗇𝖼𝖾𝗁𝖺𝗅𝗅, 𝖠𝖿𝗋𝗈 𝖺𝗇𝖽 𝖠𝗆𝖺𝗉𝗂𝖺𝗇𝗈, 𝖧𝗈𝗎𝗌𝖾 & 𝗆𝗈𝗋𝖾.
𝖵𝗂𝖻𝖾𝗌 𝖺𝗋𝖾 𝗀𝗎𝗂𝖽𝖾𝖽 𝖻𝗒 𝗆𝗎𝗌𝗂𝖼𝖺𝗅 𝗆𝖺𝖾𝗌𝗍𝗋𝗈𝗌 𝗍𝗁𝖺𝗍 𝗆𝖺𝗌𝗍𝖾𝗋𝖿𝗎𝗅𝗅𝗒 𝗆𝖺𝗇𝖾𝗎𝗏𝖾𝗋 𝗆𝗎𝗌𝗂𝖼𝖺𝗅 𝖾𝗇𝖾𝗋𝗀𝗒. 𝖡𝗂𝗀 𝖼𝗋𝗈𝗐𝖽𝗌 𝖽𝗈𝗇'𝗍 𝖼𝗋𝖾𝖺𝗍𝖾 𝗏𝗂𝖻𝖾𝗌 - 𝗆𝗎𝗌𝗂𝖼 𝖺𝗇𝖽 𝗉𝖾𝗈𝗉𝗅𝖾 𝖽𝗈 - 𝗍𝗁𝖺𝗍'𝗌 𝗂𝖫𝖨𝖪𝖤. 𝖳𝗁𝗂𝗌 𝖼𝖺𝗌𝗍 𝗈𝖿 @𝗌𝗈𝖼𝖺𝗉𝗋𝗂𝗇𝖼𝖾 @𝗌𝗉𝖾𝗑𝖽𝖺𝖻𝗈𝗌𝗌 @𝗍𝗁𝗂𝗌𝗂𝗌𝗌𝗄𝗂𝗍𝗓 @𝖽𝗃𝗃𝖺𝗌𝗈𝗇𝖼𝗁𝖺𝗆𝖻𝖾𝗋𝗌 & @𝗆𝖼𝖻𝗋𝖾𝗇𝗍𝗈𝗇𝖻 𝗐𝗂𝗅𝗅 𝖾𝗇𝗌𝗎𝗋𝖾 𝗂𝗍.
𝖨𝖸𝖪𝖸𝖪. 𝖨𝖿 𝗂𝗍'𝗌 𝗒𝗈𝗎𝗋 𝖿𝗂𝗋𝗌𝗍 𝗍𝗂𝗆𝖾 𝗈𝗋 𝖿𝗂𝗋𝗌𝗍 𝗍𝗂𝗆𝖾 𝗂𝗇 𝖺 𝗅𝗈𝗇𝗀 𝗍𝗂𝗆𝖾 - 𝗐𝖾 𝗐𝖾𝗅𝖼𝗈𝗆𝖾 𝗒𝗈𝗎! 𝖶𝖾'𝗋𝖾 𝖼𝖾𝗅𝖾𝖻𝗋𝖺𝗍𝗂𝗇𝗀 𝗍𝗁𝖾 𝖻𝖽𝖺𝗒 𝗈𝖿 @𝖽𝗃𝗃𝖺𝗌𝗈𝗇𝖼𝗁𝖺𝗆𝖻𝖾𝗋𝗌 𝖺𝗇𝖽 𝖺𝗅𝗅 𝖢𝖺𝗉𝗋𝗂𝖼𝗈𝗋𝗇𝗌 𝖺𝗇𝖽 𝖠𝗊𝗎𝖺𝗋𝗂𝖺𝗇𝗌.
𝖳𝗂𝗆𝖾𝗌 𝗋𝗂𝗀𝗁𝗍 𝗇𝗈𝗐 𝖺𝗋𝖾 𝗁𝖺𝗋𝖽. 𝖮𝗇𝗅𝗂𝗇𝖾 𝖠𝖽𝗏 𝗍𝗂𝗑 𝖺𝗋𝖾 𝖺𝗅𝗅 𝗂𝗇. 𝖢𝗈𝗆𝖾 𝖼𝖾𝗅𝖾𝖻𝗋𝖺𝗍𝖾 𝗐𝗂𝗍𝗁 𝗎𝗌.
𝖳𝗂𝖼𝗄𝖾𝗍 𝖺𝗇𝖽 𝖡𝗈𝗍𝗍𝗅𝖾 𝖲𝖾𝗋𝗏𝗂𝖼𝖾 𝖡𝗈𝗈𝗍𝗁 𝖨𝗇𝖿𝗈 - 𝖼𝗁𝖾𝖼𝗄 @𝗍𝗂𝖼𝗄𝖾𝗍𝗀𝖺𝗍𝖾𝗐𝖺𝗒 @𝖾𝗏𝖾𝗇𝗍𝖻𝗋𝗂𝗍𝖾 / 𝖼𝖺𝗅𝗅 𝟨𝟦𝟩.𝟩𝟩𝟢.𝟢𝟩𝟨𝟢 𝗈𝗋 𝗅𝗂𝗇𝗄 @𝗄𝗂𝗇𝖾𝗍𝗂𝖼𝟥𝟨𝟧.𝗅𝗂𝗏𝖾 @𝗆𝖼𝖻𝗋𝖾𝗇𝗍𝗈𝗇𝖻 @𝖼𝗅𝗂𝗇𝗍𝟥𝖽 @𝖽𝗃𝗃𝖺𝗌𝗈𝗇𝖼𝗁𝖺𝗆𝖻𝖾𝗋𝗌
𝖡𝖺𝖼𝗄𝖾𝖽 𝖻𝗒 @𝗆𝗒𝗍𝗂𝗆𝖾𝟤𝗅𝗂𝗆𝖾