Sales Have Ended
Registrations are closed
Jazakallah Khair, event is full
Sales Have Ended
Registrations are closed
Jazakallah Khair, event is full
Ilyas & Duck and the Fantastic Festival of of Eid-al-Fitr Age 6 to 10
About this event
Assalam-O-Alaikum,
Please join us in our new Reading Time Program for our younger brothers and sisters wherein we read the story of 'Ilyas & Duck and the Fantastic Festival of Eid-al-Fitr'. This story introduces certain themes of the day of eid and why it's an special occasion for muslims throughout the world.
Instructor: Mu'allima Umme Khalid
This program will occur on Sunday, May 9th between 3 – 4 pm (MST) in'sha'Allah and is for the ages 6 – 10 years.
This effort has been put together by AL-Hedaya Islamic Centre, Imam Azam, Baitul Mukaram and Al-Ansaar Islamic Foundation of Calgary.
Jazakallah Khair
AL-Hedaya Islamic Centre of NE Calgary(403) 454-1949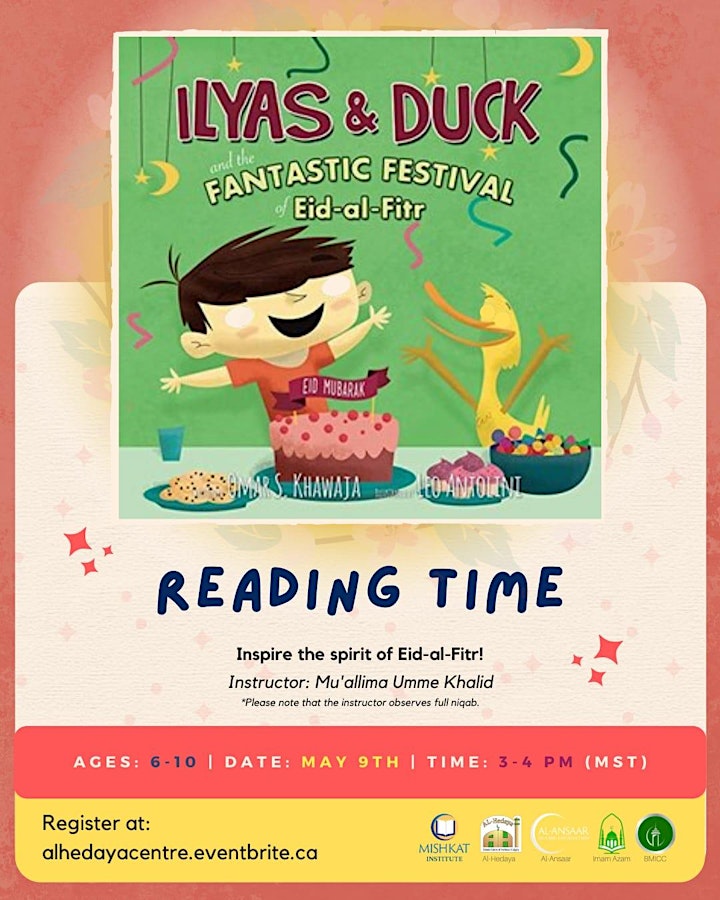 Organizer of Ilyas & Duck-Age 6 to 10