Image, visibility and your career: How to differentiate yourself- w/Shelagh
About this Event
Image, visibility and your career: How to differentiate yourself on LinkedIn - 75 minutes
Have you been wondering about best practices for LinkedIn? Perhaps you've published the bones of a profile but hesitated to go beyond the basics ... or to use it at all.
Many people have traditionally thought of LinkedIn primarily as a means of identifying one's professional experience and skills. It was seen as a resource that might come in handy if you were actively looking for a new role. LinkedIn does afford opportunities for resume development and job searches, yet there's more.
This is also a platform through which you can build and nurture professional networks and your professional image. Whether you think in terms of image, reputation or brand, this is a means of increasing visibility and demonstrating how you add value.
Today, with remote working an option for many, it's more relevant than ever to learn how you can take advantage of this resource. Join Shelagh to explore why you may want to create or hone your LinkedIn profile, and how. We'll also look at LinkedIn as a job search tool, and as a medium through which you can nurture networks and elevate your reputation and visibility.
Key learning points
1. Why and how you may want to establish and hone your LinkedIn profile
2. LinkedIn as a tool to engage with and nurture professional networks
3. Job searching and LinkedIn's Resume Assistant
About your trainer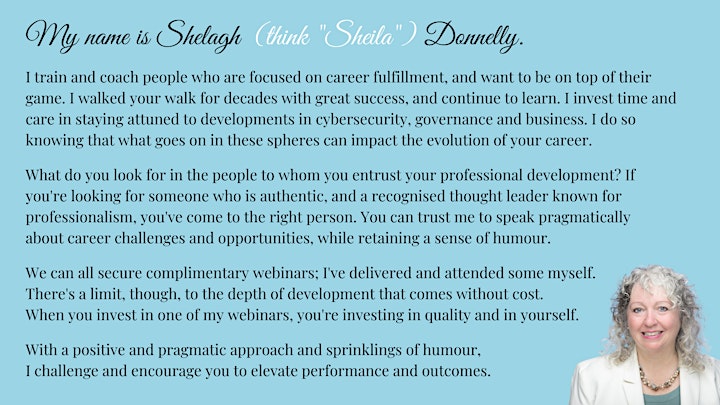 Invest in your career with someone who presents on current best practices
Shelagh is trusted and respected by assistants around the globe. She has been publishing her Exceptional EA website since 2013, and writes for other publications. An in-demand trainer, Shelagh works with conference organisers, professional associations, government bodies, higher education and businesses, including corporations such as the NBA.
Like many, Shelagh's 2020 travel plans have taken a hit. Arrangements to deliver training in person in a few countries have been postponed, and so Shelagh is adapting with you in making her training presentations available via live webinars. This is one in a series of webinars designed to help you navigate new norms that are still forming.
Registration fee
The fee for each webinar in this pandemic series is $55 US. Depending on currency fluctuation rates, that's approximately £44, or €50.
Canadian residents registering for this webinar will see that GST of $3.52 CAD is included in the cost.
What's included in this registration fee?
This is a live, 75-minute webinar that Shelagh will present via GoToWebinar. You'll receive your unique access link via a GoToWebinar email within 24 hours of registration.
After the webinar, Shelagh will email you a certificate of attendance that will come in handy for tracking and showcasing your professional development.
You'll also have access to a recording of the webinar for 30 days post-event. This can come in handy if you'd like to review a concept, and if time zones or people throw your schedule for a loop the day of a webinar.
Speaking of time zones ..
Check out the weekday and time in your time zone. You'll find some time zones shown below, and it's always helpful to use an online converter; click here to access one.
DATE SHOWN
10:00 a.m. MST, PDT |  11:00 a.m. MDT |  12:00 p.m. CDT |  1:00 p.m. AST, EDT |  2:00 p.m. ADT, BRT |  18.00 BST, WEST |  19.00 CEST, SAST |  20.00 TRT |  22.30 IST
NEXT DAY
01.00 HKT |  02.00 JST |  03.00 AEST |  05.00 NZST
Date and Time
Location
Refund Policy