Sales Have Ended
Registrations are closed
Thank you for your interest in this event. Ticket sales have now ended.
Sales Have Ended
Registrations are closed
Thank you for your interest in this event. Ticket sales have now ended.
Description
Interprofessional Medical and Allied Groups for Improving Neighbourhood Environment (IMAGINE) is an interprofessional, student-run community health initiative aimed at promoting and providing healthcare to the core neighbourhoods of downtown Toronto.
The IMAGINE Health Advocacy team is proud to present the 3rd Annual IMAGINE Student-Led Conference. This conference will examine working conditions and precarious work as a major determinant of health and consider new ways of addressing health disparities through health care and policy change. It will acknowledge the role that our institutions and workplaces have played in the oppression and marginalization of workers. In the wake of the Fair Wages, Better Jobs Act, and Bill 148, this event will focus on recent gains for workers in Ontario, and identify future challenges and next steps.
What is Precarious Work?
Precarious work includes work done by temporary employees who fill permanent job needs but are denied equal employee rights or benefits. Their employment is often unstable, with lower wages, and more dangerous working conditions. Without the right to join unions, these workers are vulnerable to unstable income, housing, social support, and poor health. More than half of workers in the GTA and Hamilton are in some form of precarious employment. This is a huge issue.
Who should attend?
This one-day event will bring together students, academics, health care providers, activists, and community members and organizations who are interested in learning about precarious work, and promoting the health of communities affected by precarious work.
Health professional students, graduate students, policymakers and health care providers will gain an understanding of policies and practices that can lead to decent work and healthy working conditions for all peoples in Canada.
UPDATE: Please note, this event is NO LONGER IPE accredited. Unfortunately, due to curriculum requirement changes, the IPE accreditors recently decided to withdraw the IPE credit from the event. We are sincerely sorry for the confusion, and hope that you will still come to check out the conference!
Conference goals
Highlight precarious work as a determinant of health.

Focus on the voices, knowledge, and experiences of diverse workers who are local champions organizing for decent work.

Explore actions that can be taken by health professional students, academics and health care providers, on individual, community and societal levels to engage in true solidarity work to create more equitable health care and outcomes.
Schedule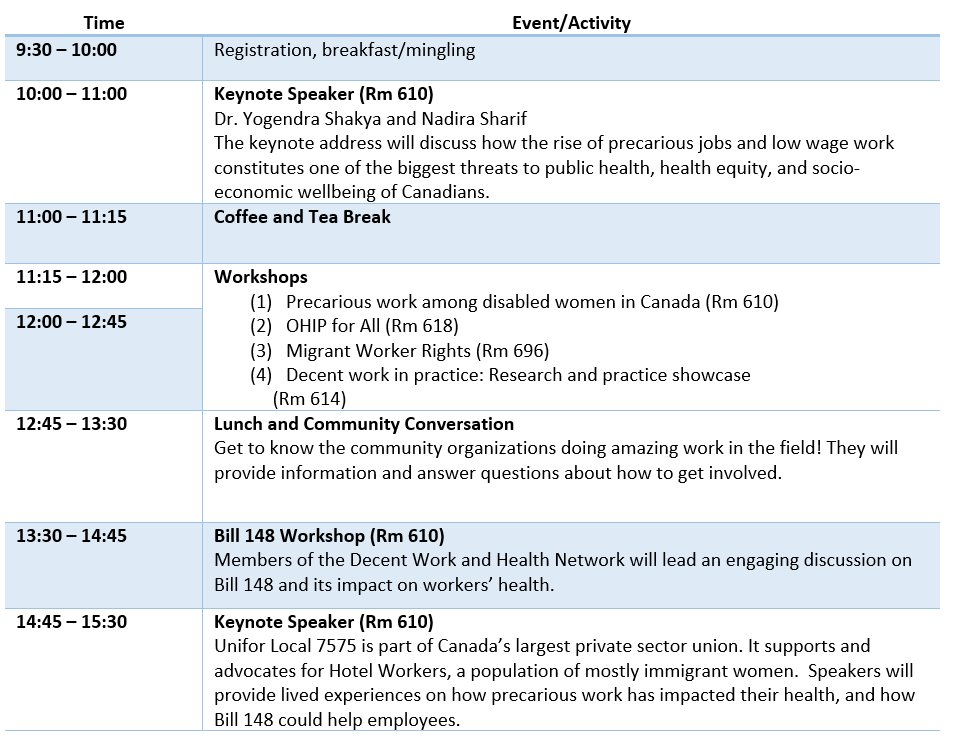 Accessibility Info
The Health Sciences building (155 College St.) is a barrier free space. An accessible ramp, located at the west end of the main entrance, leads to a powered door. This entrance faces north and is clearly visible from College Street. The main entrance also has a bike rack that is available for conference attendees to use. The building is also located near Queens Park Subway Station. More information regarding parking and location is available online: http://map.utoronto.ca/marker/main_entrance_to_health_sciences_building#

Please enter through the College Street entrance to find the registration table in the main lobby. Signs will be posted directing you to the workshop/panel rooms. There is an elevator to access all floors of the building.

All floors of the building, where the workshops/panels will be held, have access to a washroom. The washrooms on the sixth floor (where the main events will be held) are accessible and adjacent to the main conference room. This building also has single stall gender neutral washrooms; these are located on select floors of the building. Volunteers of the conference will be available to assist you in accessing single stall gender neutral washrooms when needed.

ASL-English Interpretation can be booked for this event, depending on the needs and preferences of conference attendees. Please let us know by April 23rd if you will utilize the ASL Interpretation services, and which events you would want Interpretation to be provided for. These questions are included in the registration form below.

Light breakfast, lunch, tea and coffee will be provided on-site. Please let us know if you have any dietary restrictions when you RSVP on Eventbrite.

Large print programs will be available for all conference attendees. We are striving to make this a scent free space for all the attendees, though we cannot guarantee that the building is scent free. Please be conscious of scent sensitivities and try to avoid strongly scented products when attending the conference.

How can we make this event accessible to you? Please let us know by filling out this form.
https://docs.google.com/forms/d/e/1FAIpQLSdS2HdqKtcqcOj_d3m9DM1rZV4pO0aLmCd0z7WIr5neuB1dKg/viewform?usp=sf_link
Note: this is for coordinating access needs only. To register to attend the conference, please use the Eventbrite page.