Description
Speakers: Amanda O'Brien, Jeff Cutler, John J Wall, C.C Chapman and Chris Brogan *MC Saul Colt*
How people make a living today is dramatically different from 10 years ago. As careers have evolved, some people find exciting opportunities, while others face confusing uncertainty.
FreshBooks want to empower you to navigate this new economy! Indeed, that's the motivation behind the #imakealiving event powered by FreshBooks!
We may not have all the answers but we know that together we are getting closer to finding some incredible insights to help figure out how to make more money in an ever changing environment.
Details:
The goal of #imakealiving is to motivate and empower you to break out of your comfort zone and take some chances with your career and marketing!
This is the sixth event of an ongoing series of events that take place in a different city each month.
Event: #imakealiving powered by FreshBooks
When: October 18, 8:00 am–11:30 am (Doors Open at 8, Starts at 9)
Where: 425 Summer Street, Boston, MA 02210
Speakers:
Amanda O'Brien- Director of Business Development at flyte new media

Amanda has been working in marketing for over 12 years. She caught the digital marketing bug in 2006 and has been helping businesses use the internet to market themselves since then. She is an experienced digital marketer that specialized in analytics, content marketing, social media marketing, blogging and planning and executing online marketing campaigns so it's clear her passion is for words and growing small businesses.
She also the organizer of Social Media Breakfasts in Portland, Maine – a successful monthly conference, teaching businesses how to use new media to market themselves.
Extra fun fact she is the co-founder of eighteen twenty wines making delicious wine from rhubarb grown by Maine farmers.
Jeff Cutler - Photographer and Writer

For 20 years I've been assisting people with messaging – and for 17 of those years I've run a little company called Novel Ideas. No matter the name – Jeff Cutler or Novel Ideas – I'm all about creating content that inspires and motivates. *To view my advertising and marketing writing – visit my Novel Ideas site.
How did I get here? After a harrowing college career where I dabbled in political science and finance, I emerged with a journalism degree and some healthy skepticism. I worked for New England Sports Network and more big brands than I can remember. Then I realized that life's about having some fun and I wandered into the fishbowl people call social media.
Here I swim, creating content, brainstorming strategy, training legions of newcomers and traditional media folks, and having fun. Seriously.
Chris Brogan - CEO, Owner Media Group

Chris Brogan provides strategy and skills for the modern business. He is CEO of Owner Media Group, a sought after public speaker, and the New York Times bestselling author of nine books and working on his tenth. Ask him about it! Learn more about him at chrisbrogan.com. Biographies are really weird things. About pages. All that. You basically have to primp yourself up and act all pompous and important and make sure people know why you're worth it. I'm a really approachable and nice-seeming guy. Never hesitate to introduce yourself to me when you see me out and about, okay? I'm nice. Promise.
John J. Wall - VP Marketing at EventHero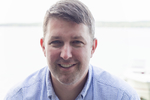 John J. Wall speaks, writes and practices at the intersection of marketing, sales, and technology.He is the producer of Marketing Over Coffee, a weekly audio program that discusses marketing and technology with his co-host Christopher S. Penn, and has been featured on iTunes. Notable guests include Chris Brogan, David Meerman Scott, Simon Sinek and Seth Godin. His work has been profiled by Forbes, CBS Evening News, The Associated Press, NECN, The Boston Globe, Boston Herald, DM News, and the Yahoo! Year in Review. John is Vice President of Marketing at EventHero. He has held positions specializing in Customer Relationship Management, Marketing Automation and sales support systems at both venture funded and privately held businesses, working with clients such as Microsoft, Oracle, and Salesforce.com. John has lived in every corner of the United States and now resides outside of Boston. Check out my twitter stream to hear what I'm rambling on about and here's some more personal stuff.
MC/Keynote:
Saul Colt - Idea's Integration Company

Saul Colt is the founder and creative director at the Idea Integration Company. In his career he has been named as one of the iMEDIA 25: Internet Marketing Leaders & Innovators as well as been called one of Canada's best community builders/experiential marketers.
NYT best selling author and internet pioneer Chris Brogan once referred to Saul as 'exactly who you want representing your company' and that message has been echoed by media properties ranging from Inc to Forbes Magazine. In a previous life Saul was the first international employee of Zipcar and the person responsible for launching Zipcar into the Canadian marketplace, he was a key person in the growth of FreshBooks.com (The #1 Cloud Accounting service for small business owners) and even knows what it is like to work for a large corporation from his time in a leadership role at Rogers Communications. In his free time, he collects Nike Air Force One sneakers, watches lots of movies and just happens to be the smartest man in the world.
***NEW SPEAKER ANNOUNCED***
C.C. Chapman - Freelance Creative & Marketing Consultant

CC Chapman describes himself as a New England raised storyteller, explorer, and humanitarian. Others have described him as a thought leader in the online marketing space, a grounded futurist and one the nicest guy on the Internet. Over the years of his career, he has worked with a variety of clients including Nike, HBO, American Eagle Outfitters, ONE, Verizon FiOS and The Coca-Cola Company.
He is the co-author of the International bestseller Content Rules and is also the author of Amazing Things Will Happen. He travels the world speaking in front of audiences to do more in the world and how to understand content marketing better.
C.C. is an advocate who speaks about building passionate communities and the strategic values of content-based marketing. He is a Samsung Imagelogger, the original ONE Dad and a UN Foundation Social Good Fellow. As a storyteller for hire, his work has appeared on the pages of Rolling Stone and The Wall Street Journal.
Organizer of #imakealiving Boston powered by FreshBooks
FreshBooks is the #1 invoicing & accounting software designed exclusively for self-employed professionals and their teams. The company has helped more than 10 million people process billions of dollars through its easy-to-use invoicing, expense management, time tracking, and online payments features. Recognized in 2014 with eight Stevie awards for best customer service in the world, the company's mantra is to "execute extraordinary experiences everyday." Based in Toronto, Canada, FreshBooks serves paying customers in 160 countries. www.FreshBooks.com