Description
The #IMakeaLiving events bring together an eclectic group of small business owners for a lively, candid, and often hilarious, conversation.
Part small business boot camp, part group therapy, you'll leave feeling inspired and motivated. Plus, you'll get lots of actionable insights to take you and your business to the next level.
It's free (yes, FREE) to attend and we'd love to see you there. (And, no, this isn't one of those events that's actually a sales pitch).
Event: #IMakeALiving powered by FreshBooks
When: Wednesday,
Where: FreshBooks HQ, 1655 Dupont Street. Suite 250,
Cost: Free
Speakers:
MC: Saul Colt - Founder of the Idea Integration Company, and long time FreshBooks fan.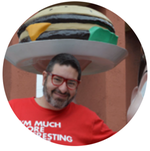 Saul has been named as one of the iMEDIA 25: Internet Marketing Leaders & Innovators as well as been called one of Canada's best community builders/experiential marketers. NYT best selling author and internet pioneer Chris Brogan once referred to Saul as 'exactly who you want representing your company' and that message has been echoed by media properties ranging from Inc to Forbes Magazine.