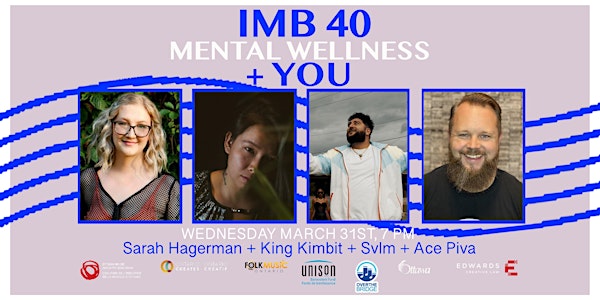 IMB #40 - Mental Wellness + You
Join us for an engaging conversation on how best to take care of your mental health as a performer.
About this event
Musical artists King Kimbit and Svlm are joining Ace Piva of Over the Bridge to share their experiences as musicians and to dig into why more local artists need to focus on their mental wellness. Moderating the panel is Sarah Hagermon of Unison Benevolent Fund, who will be sharing information on the many resources that Unison has made available to all local musicians in need.
IMB 40 is presented by Ottawa Music Industry Coalition, Edwards Creative Law, Folk Music Ontario, Over the Bridge, and Unison Benevolent Fund, as well as IMB's funders: Ontario Creates and the City of Ottawa.
As always, the IMB panel is free for all to attend. The event is taking place online.
Wednesday, March 31, 2021
7pm
The Panelists
Sarah Hagerman is a passionate songwriter (aka. Mary Moxxie) and music business professional from Oshawa, Ontario. Working endlessly to build positive influence in the health and wellness of the Canadian Music community; she strives to open doors that allow her to be active in supporting the community through topics such as substance use, inclusivity, mental health, and fitness. Her current role as the Industry and Events Manager at Unison Benevolent Fund helps her work towards these goals by coordinating partnerships, communications, and events between Unison, music organizations, and festivals throughout the country to help garner awareness towards the services Unison offers. Currently, Sarah is pushing to bring mental health and wellness programming into nationally acclaimed festivals, showcases, and special events across Canada by curating panel discussions and healthy partnerships. Outside of her role at Unison, Sarah dedicates her time to writing songs and building her company, Moxxie Fitness. Bridging the gap between wellness and the music business, her aim is to be a driving force in promoting healthy and long-standing careers through individualized coaching services. Sarah strives to help change the fabric of the music industry by encouraging positive wellbeing and leading towards accessible healthy choices.
Nguyễn Anh Thư, better known by her stage name, King Kimbit, is a versatile, devoted and deeply sincere Ottawa-based spoken word artist, singer and instrumentalist. King Kimbit is best known for her ability to blend gritty personal narratives with compassionate social consciousness. She articulates the spectrum of her thoughts and feelings in a way that is consistently poignant, musical and heart-felt.As a spoken word artist, King is interested in telling stories that are authentic to her experiences and identities. With nearly equal measure, and always with her characteristic grit and musicality, King Kimbit's poetic work details, with striking honesty, the realities of her upbringing as the daughter of Vietnamese immigrants, the truths of her social vantage point as a young woman of colour, and her stance on social issues regarding racism, de/colonization, and gender inequality. King's striking honesty, lyrical acuity, empathy and versatility as a singer and guitar-player have earned her a reputation as a welcomed and necessary voice within the landscape of Canadian spoken word.
SVLM (Pronounced Salem) is an independent artist who has established himself as an irreplaceable force in the Canadian hip hop scene. SVLM's ability to flow effortlessly on any production, while delivering infectious melodies. Although his background is hip hop, his love for music allows him to push beyond genres and create great music for a variety of different listeners. Growing up in the late 90s/ early 2000s, he was exposed to hip hop at the age of 11 when he first heard 50 cents get rich or die trying in 2003. Since then, he's been working on his writing and continuously perfecting his craft as an artist. Drawing inspiration from a variety of artists including 50 cent, Kanye West and Drake. 
 His debut EP Restless released at the end of 2018 showcased his versatility, and how unique his voice really is. His lead single 405 made it into the top 50 viral records in Canada on the Spotify charts, and many of his singles have been curated onto editorial playlists on Spotify such as New Music Friday, Hip Hop Central and Northern Bars.
A certified addictions worker who's been committed to the music industry community since 1996, Ace Piva knows the ins and outs of the road and its associated pressures and struggles. He's been there as a musician, tour manager, sound engineer, stage manager, production manager, addictions recovery coach and mental health advocate. Today, Piva is a co-founder and Executive Director, of Over The Bridge. His goals are to change the conversation about mental health and recovery in the music community.
Register with EventBrite:
So long as you have signed up with EventBrite to attend, shortly before the event you will receive an email with the link to join the session live and online. You do not need to register an account with EventBrite in order to be notified by email of the link to the session.
Questions? Comments? IMBseries@gmail.com
The Independent Music Business series is presented by:
Ottawa Music Industry Coalition (www.ottawamic.com) - karim@ottawamic.com
Edwards Creative Law (www.edwardslaw.ca) - byron.pascoe@edwardslaw.ca
For more information on this event's partners, please visit:
Folk Music Ontario - https://www.folkmusicontario.ca/
Over the Bridge - https://overthebridge.org/
Unison Benevolent Fund - https://unisonfund.ca/