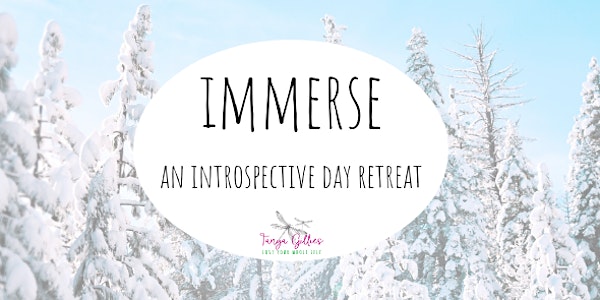 IMMERSE ~ An Introspective Day Retreat
When and where
Location
728 Fleetwood Rd 728 Fleetwood Road Kawartha Lakes, ON L0B 1K0 Canada
Description
IMMERSE ~ An Introspective Day Retreat
A deepening of the 8 tenets of the Immerse Program: Nourish, Meditate, Aromatherapy, Nervous System Regulation, Create, Movement, Reflect and Share.
NOURISH: You will be provided with healthy snacks, Spring Water, Organic Coffee, Variety of Teas and a Hearty & Healthy Lunch & Dinner. There will be Vegan, Vegetarian and Keto food options.
MEDITATE: The wonderfully wise, Ashley Tyms, will be guiding you gracefully into the inner realms of yourself through meditation. Grounding, aligning and harmonizing your energy individually and together as a group. You will connect to your intuitive nature; create openings of awareness, curiosity and ease. Ashley is passionate about connecting people to their innate abilities, of trusting and knowing themselves. She's been guiding & healing in her Reiki practice for 10 years and looks forward to the opportunity to share and grow with you in this Retreat.
MOVEMENT: The sensual beauty, Jen Kavanaugh, will be guiding you through a magical Goddess Flow™ . No Experience in any form of movement is required to fully benefit from this experience. Goddess Flow is a fusion of yoga, circularized sensual movement and dance created for women. There are seven flows you will move through in class. Each inspired by Seven of the Governing Goddesses of Yoga. Expect to stretch, tone, empower, release, dance and restore your Divine Feminine Body as well as connect to your Soul's wisdom through meditation, chakra awareness and yin. You have the permission to release emotions, take up space in the room and honour what your body truly needs on any given day. You will be celebrated for your wise, courageous and sensual feminine body. These Flows can awaken your SoulBody's Wisdom, which over time will lead you to uncover YOUR Goddess Essence, both in class and in your life.
CREATE: The incredibly talented Artist, Francine Dossor, will be guiding you through a magnificent creative journey. Francine has been using the power of tapping into a creative FLOW (which is accessible to us all) her entire life and especially through her own healing journey. She will help guide you to tap into your own personal creative flow, and guide you through a creative RELEASE through your painting.
MEDITATE: The magnificently brilliant Miranda Sophia, will be guiding you through a Yoga Nidra practice. Yoga Nidra is accessible to anyone. It is a guided meditation that is done laying on your back, supported and cozied up with pillows and blankets. Yoga Nidra means "sleep yoga", however this is a practice of awakening. You will be guided through the 4 layers of your body (the koshas) – physical, subtle, mental/emotional, intuitive – and into a state of deep rest. In this state of deep rest, with practice, your body will fall asleep while your mind remains alert. When the body is asleep, it allows us access to the subconscious mind, which is where all of our unconscious (meaning what we don't know) stories, programs and beliefs are held. These are the programs that have been collected and stored from the moment of the spark of inception, those that drive how we view and experience the world and then therefore create our world.
NERVOUS SYSTEM REGULATION: Did you know that trauma and stress is stored in the body? Do you experience stubborn Health issues? Chronic fatigue? It's nothing short of fascinating learning about how our bodies respond to stress and tools to help support our nervous system.
AROMATHERAPY: You will be intuitively formulating an essential oil blend to help you Relax & Awaken to your true potential. This will include an educational segment on how Essential Oils affect the limbic system of your brain.
REFLECT: Ample time will be dedicated to taking quiet space for you to reflect and process the new information and material learned.
SHARE: After dinner, the evening will culminate with an intimate and intentional Bonfire gathering. There will be Vegan Marshmallows for roasting (I promise they are delicious!) and hot tea for sipping. You will be provided the space to share freely in confidence about whatever you are feeling moved to share and express. The chemical free Aromatherapy Hot Tub Spa will also be open for those that want an invigorating soak.
ITEMS TO BRING
~weather appropriate clothing to join Bonfire gathering outside
~a pillow and blanket
~journal & pen
~water bottle & mug for warm beverages
~yoga mat if you have one (if not there are extras)
~bathing suit and towel for optional Aromatherapy Hot Tub Spa experience