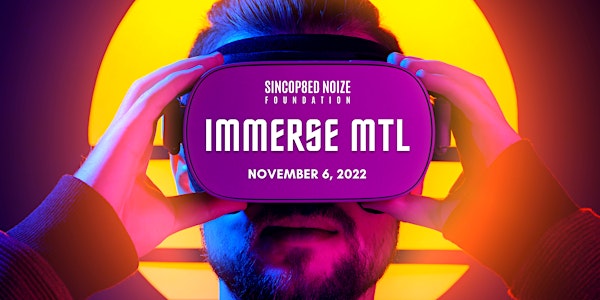 IMMERSE MTL
Montreal's hybrid immersive concert. Live music experience in-person or in the Metaverse!
When and where
Location
Petit Campus 57-b Rue Prince-Arthur Est Montréal, QC H2X 1B4 Canada
About this event
Immerse Mtl is an immersive live music concert series that extends beyond the traditional 2D virtual concert to create a more dynamic experience for fans. It strives to be one of the first events to make VR technology accessible to emerging artists in Montreal. Immerse MTL will be held both in-person and virtually, in the Metaverse! It is a two-part event:
Immerse MTL Uplugged (6:30 PM - 7:50 PM)
Artists: Kind, Gianni Bodo, Cinzia & The Eclipse
Immerse MTL Electric (8:10 PM - 10:00 PM)
Artists: Tatum Quinn, Wolves at Midnight, The Anti-Queens
- - -
In-Person Event Details (At Petit Campus)
Doors will open at 5:30 PM and show will start at 6:30 PM. Please note: This is an 18+ event.
Virtual Event Details (VR Experience)
If you have a VR headset, you may watch the show in full VR. If you do not own a headset, you will still be able to watch the event in VR180.
*Please note: Immerse MTL Unplugged will begin at 6:30 PM, and Immerse MTL Electric will begin at 8:10 PM.
What is VR?
Virtual reality (VR) refers to a computer-generated simulation in which a person can interact with an artificial three-dimensional environment. It allows one to step into the venue and experience the performance as if they are right there in the front row - all while remaining at home or even while viewing from another country. Although a VR headset creates the most immersive experience, viewers can also explore the footage in VR180 view from different angles on their smartphone or computer.
Partners & Sponsors:
FACTOR Canada, Long & McQuade