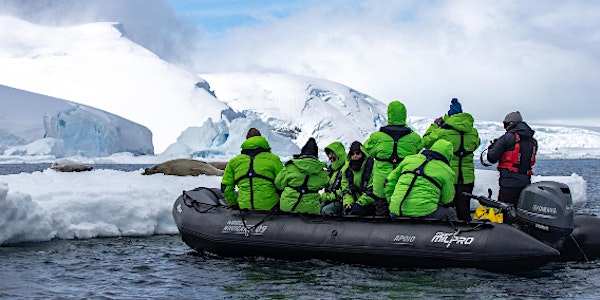 Immersive Antarctic Expedition Adventure
Join us on March 27th as we share our immersive Antarctic Expedition adventure onboard Atlas Ocean Voyages' World Traveller
By Lisa at New Wave Travel
Date and time
Mon, Mar 27, 2023 4:00 PM - 5:00 PM PDT
About this event
March 8th we departed Ushuaia on the southern tip of Argentina and crossed the infamous Drake Passage. Heading south 1,000 kilometers in our purpose-built for expeditions ship (Classified as Polar Category C and Ice Class 1B) we voyaged into the Antarctic Circle.
Learn about what to expect on an expedition cruise and which cruise line will be the best fit for you.
Nicknamed The White Continent for its vast expanse of icebergs, snow and glaciers, Antarctica is often the final frontier for experienced explorers to conquer.
There were daily landings throughout the continent. Zodiacs took us amongst the icebergs, each vista offered its own unique landscape, from expansive tundra to rugged mountain peaks or wildlife, all beckoning us to follow the paths that few explorers have trekked before. And let's not forget about the Polar Plunge!
Our ship the World Traveller had less than 200 guests. She is a smaller, more intimate ship than what you'd find on a much larger ocean cruise (which may carry from 500-2,000 travellers). On this expedition adventure we left behind the crowds to tour glaciers, penguin rookeries and abandoned research stations.
We look forward to you joining us online.