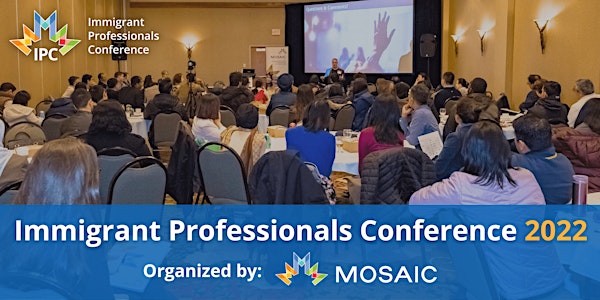 Immigrant Professionals Conference​ 2022
"Unleash Your Professional Potential" is this year's IPC theme!
When and where
Location
UBC Robson Square 800 Robson Street Vancouver, BC V6Z 2V7 Canada
About this event
"Potential means nothing if you don't do anything with it." - Anonymous
The last few years have probably set you back in your employment goals or ambitions. If you have held back on a skill or have been tentative in your decisions, now is the time to unleash your professional potential!
Listen to motivational speakers, participate in discussions, learn from experiences, and create a new improved you!
Now on its 12th year, the Immigrant Professionals Conference is a one-day event that brings together like-minded motivators and individuals. This year's theme will challenge you to push yourself in the creative process while drawing inspiration from thought leaders.
Some benefits of attending are:
Greater job satisfaction and overall happiness
Bounce back from setbacks faster
A wider pool of network and opportunities
Enhanced skills for smooth career changes
Learn more about the conference: www.ipc.mosaicbc.org
What will you gain by attending this conference?
A panel of employers speaking about changes to the labor market and what employers are focusing on in their hiring practices and workplaces
How to utilize your existing skills to achieve your career goals
Ways to set yourself apart in a competitive job market
Planning for success in uncertain and turbulent times
Professional development
Opportunities to network with other professionals and employers in the industry
Information about services and resources to help with your career development
PLEASE NOTE: This is the ONLY official registration site for this event. MOSAIC is not responsible for any registrations outside this event listing.