Immigrant Women in Business. Networking and Inspirational Leadership Event
Description
You are kindly invited to join us Nov 3rd downtown Toronto for an exclusive Business Networking event to experience inspirational leadership, resourcefulness and enthusiasm.

This event invites females thought-leaders, entrepreneurs, innovators, activists, who are looking to collaborate with core of Toronto strong women that can help grow and develop IWB -- Immigrant Women in Business organization into a real force for economic power, networking, and education for all immigrant business women in the GTA.

This event will help you to explore the question "The economy is changing - what do I need to know, experience and do to live meaningful, prosper, purpose-driven life?

IWB specializes in integrated multicultural joint ventures that help organizations, governments and private corporations engage and connect with Canada's diverse ethno-cultural communities to build profile and brands.
IWB's mission is to help members increase their business through an authentic referral program, unique marketing initiatives and improve the world through positive leadership, compassion and commitment to learning, growing and giving.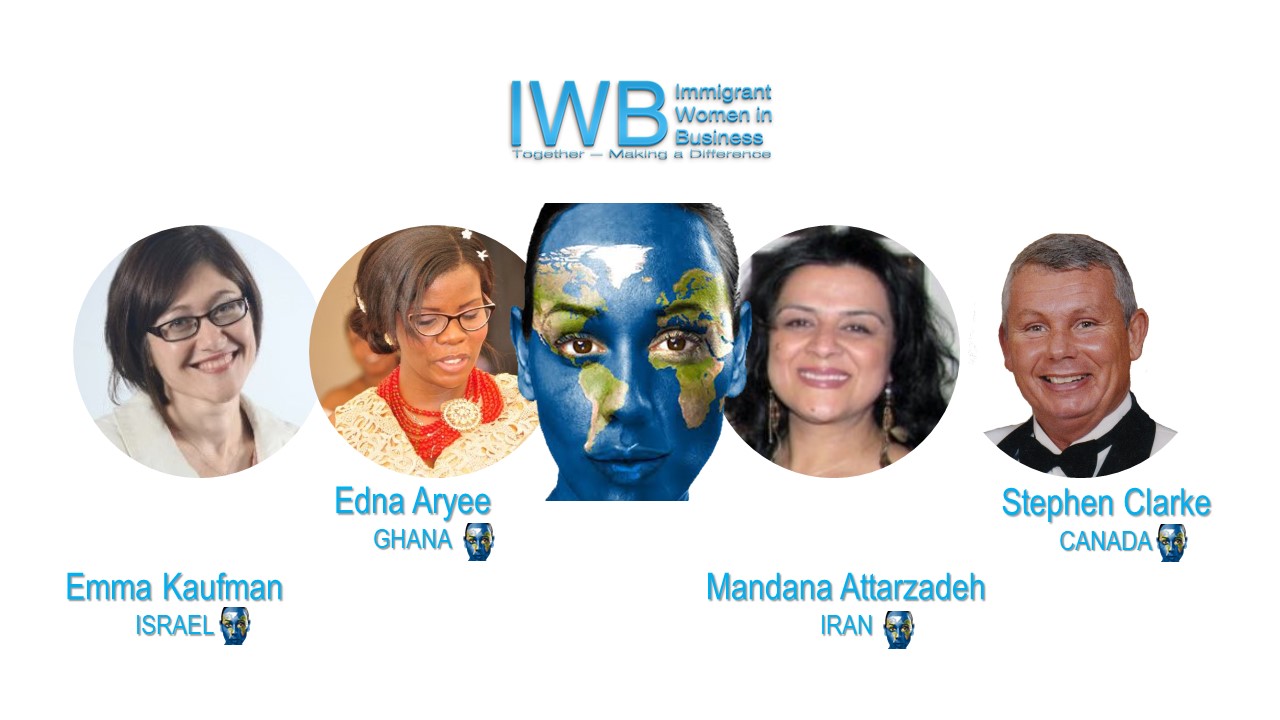 5.00pm - Networking
5:45pm - Benefits to become a Member, Founding Member, and the over-all message of the Organization
6.00pm - Ispirational speeches by Entrepreneurs, women Leaders, Activists, Entertainers & Special Guests.
Emma Kaufman, Dr. Edna Aryee, Mandana Attarzadeh and Surprise Speaker
8.30 - 9:30pm - Networking

Emma Kaufman, Process Excellence and Change Management Consultant
Creative energetic with 15 years of Continuous Improvement and Change Management experience; highly skilled in Process Re-Engineering, Business Analysis, identifying improvement opportunities. 7 years of experience as Six Sigma Black Belt. Very passionate about Process Excellence, a culture of Value Creation and Continuous Learning. Determined to make each project a joyful adventure that results in tangible changes that make internal and external customers happy. True change agent with deep understanding of challenges in organizational culture. http://www.thinklongterm.ca/
Dr. Edna Aryee obtained her Ph.D. with an Adjunct degree in Gender and Women's Health from the University of Toronto; a CPA accredited doctoral program (Clinical and Counseling Psychology). She maintained a clinical/research consultant position with the Office of Transformative Global Health also at the Centre for Addiction and Mental Health. Recently, she worked as a psychologist also enjoys working with new immigrants, couples and family and particularly enjoy working with those who have emotional regulation and Substance Abuse. Edna has published 3 peer reviewed papers in academic journals and currently working on completing her licensure as an independent psychologist with the Ontario College of Psychologist. Dr. Aryee is a member of the Canadian Psychological Association. Dr. Aryee's current philanthropic and volunteering activities include, serving as a Board of Director for-the Immigrant Women in Business; volunteering for Corporate Women Jewels, a member of the Black Health African Caribbean HIV/AIDS Community of Ontario. http://immigrantwomeninbusiness.com/board-partners/dr-edna-aryee/

Mandana Attarzadeh is an Author, speaker, women's empowerment coach, non-profit leader, and social justice advocate. Born and raised in Iran, Mandana immigrated to Canada in July 2006. Driven by her passion for social justice and her desire to address root causes of ill health, Mandana who was initially trained as a medical doctor, deliberately gave up on her medical career in Iran and embarked in a journey that brought her to Community Development and Social Justice Field. In her current role, Mandana empowers residents of a very diverse neighbourhood in the city of Toronto, to take leadership and engage in collective community action to improve their neighbourhood and their living condition.
Founding Members:
Tahani Aburaneh (Palestine) https://ca.linkedin.com/in/tahani
Andrea Carter (Germany) http://successonfireacademy.com
Natasa Panova (Macedonia) https://ca.linkedin.com/in/natasa-nastova-panova-79bb1839
Jackie Porter (Jamaica) https://www.linkedin.com/in/askjackieporter
Dara Clancy (NC, Canada) https://www.linkedin.com/in/dara-clancy-8397415
Karlyn Percil (Saint Lucia) https://www.linkedin.com/in/karlynpercil
Nilgun Uzunhasanoglu (Turkey) https://ca.linkedin.com/in/nilgunuzunhasanoglu
Eszter Sebok (Hungary) https://ca.linkedin.com/in/esebok
Rajaa Razafiarisoa (Netherlands) https://ca.linkedin.com/in/rajaa-razafiarisoa-79773760
Dagma Koyi (Saint Lucia) https://www.restcentres.org
Khady Ndoye (Africa) https://ca.linkedin.com/in/khadyndoye/en
Olesya Kolisnyk (Ukraine) https://www.linkedin.com/in/olesya-kolisnyk-8a71a342
Ayanna Sealey (Trinidad) https://www,ayannasealey.com
Nira Sharma (Nepal) https://ca.linkedin.com/in/nira-sharma-maes-pmp-aa540613
Robin Noble (United Kingdom) https://ca.linkedin.com/in/nobledestinations
Naira Velumyan (Armenia) https://www.linkedin.com/in/naira-velumyan-phd-12758111a
Elena Paltseva (Kazakhstan) https://www.linkedin.com/in/elena-paltseva-375b8638
Svetlana Ratnikova (Russia) https://ca.linkedin.com/in/svetlanaratnikova
Cheryl Bedard (Canada) https://ca.linkedin.com/in/cherylbedard
Sally Kane (Senegal) http://www.heartylady.com
Giulia Emanuela Storti (Italy) https://www.linkedin.com/in/giuliastorti
Millennials staff:
Muna Gasim (UAE) https://www.linkedin.com/in/muna-gasim-10a06bb2
Andrea Alonso (Mexico) http://rtggroupinc.com/team-view/andrea-alonso
Xinyu Han (China) https://www.linkedin.com/in/hanxinyu
This event will deliver benefits to become a Member, Founding Member, and the over-all message of the Organization.
Founding Member is a Limited Number Only with Special Value-Added Package. You must be registered to attend this event.