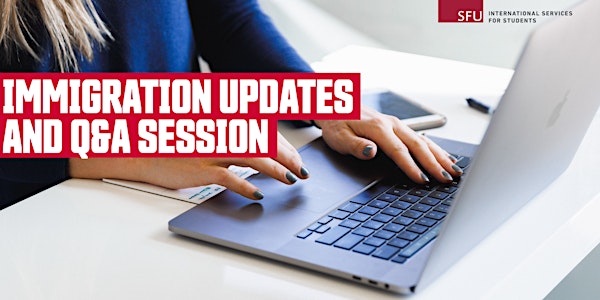 Immigration Updates and Q&A for International Students
Join a session of recent immigration updates for current international SFU students on December 1st at 11:00 am (Pacific Time).
About this event
This session is for international students at SFU.
SFU staff and faculty are also welcome to attend. If you are an SFU staff/faculty member, please email isap@sfu.ca to register.
As Immigration, Refugees and Citizenship Canada (IRCC) continues to introduce new policy adjustments for international students, you may have questions about how these changes might impact you.
Please join an International Student Advisor, Immigration Specialist, for an overview of recent immigration updates for current international students.
We will cover these topics in this session:
Updates on Immigration Medical Examination (IME) Requirements
Temporary lift of the limit on off-campus work hours
Travel restrictions and exemptions
Important reminders and deadlines
*There will be a Questions and answers (Q&A) period after the presentation. We will try to answer as many questions as we can during the Q&A session.
You will also have the option to submit questions in advance when you register. The questions will be forwarded to the presenter in advance.
*Please note that this session will cover immigration (temporary residence) topics and is not a platform to ask case-specific questions. If you would like to talk to an International Student Advisor one-on-one regarding your case, please visit our Connect With Us page for a list of advising options.
The presentation by an International Student Advisor will be recorded and made available following the session on our Video Resources page. The Q&A portion of the session will not be recorded. For information on privacy and security with Zoom, please visit: https://www.sfu.ca/information-systems/services/zoom/privacy-and-security.html
Prior to the live session, we strongly encourage you to review the following online resources.
Your question may be answered there:
If you are not located in the Pacific Time zone, please feel free to utilize this time zone converter tool.
We strive to host inclusive, accessible events that enable all individuals, including individuals with disabilities, to participate. To request accommodation or for inquiries about accessibility, please contact isap@sfu.ca.
To participate in this virtual session via Zoom, you will need to register, and have access to the internet and a working computer. Registered participants will be provided a link 24 hours in advance to access the online space.
Please note that while this event is intended for the SFU community, by nature of this being on a public website, others may end up joining in and we cannot assure privacy. By clicking on the link and joining, you acknowledge that you are participating in a public online event. Upon entering the online space, please mute your microphone and turn off your camera. You may choose to turn these on during the Q&A portion of the session if you wish.
For any questions regarding this session, please contact isap@sfu.ca.