Description
Impact investing is building momentum and legitimacy amongst businesses, policymakers and the general public.
The objective of "Impact investing: the value shift" is to bring more collaborators and partners together to discuss how far impact investing has come and where it's headed. Above all, the event will connect people and draw them together to push social progress.
Our speakers have expertise in investing, business development and international development.
*** TOPICS COVERED ***
* Building your business from the ground up (Daniel Guaragna)
* Emotional Intelligence in Business (Dr Jawad Khoris)
* Learn about funding opportunities in Canada (Ali Soumah)
* The shift towards social entrepreneurship (Thione Niang)


!!! Your ticket includes 1 hardcover copy of Social Entrepreneurship: 15 keys to success by Thione Niang and private access to book signing.
! LIMITED SPACES AVAILABLE !
*** MEET THE SPEAKERS ***
THIONE NIANG: Social entrepreneur, political strategist, youth advocate, and author, Thione Niang, was born in a modest family of 28 children in Senegal. The visionary leader immigrated to the USA in 2000 with only 20 dollars and worked his way through the hardships while getting involved in his new community. His efforts led him to participate as a community organizer in the historic 2008 Presidential elections supporting Democratic candidate Barack Obama and becoming National Co-Chair of Gen44 for the 2012 reelection Campaign. In October 2015, he was appointed by President Obama and the Energy Secretary as Ambassador at the US Ministry of Energy representing minorities in energy. He now leads three structurally different, but substantially, similar international organizations; Give1Project, Akon Lighting Africa and Solektra International.
DANIEL GUARAGNA: Daniel Guaragna is the founder of REDA Sales University. He is a Global Sales Trainer & Keynote Speaker with over 10 years of sales experience in both the B2C and B2B sales market. Daniel specializes in driving revenues through a new evolved sales process, placing himself in the top 1% of income earners in North America and generated over $20M worth of business with over 300 corporate clients. He's now prepared to share a unique, relevant sales style and system across the globe.
Dr. JAWAD KHORIS: Dr Jawad Khoris is an executive advanced master in Strategy and Management of Health Industries at the ESSEC Business School in France. He holds a post-doctorate in Neurogenetics from the university of McGill in Montréal as well as a Specialization in Neurology from the university of Montpellier in France. Keynote speaker and executive coach, Dr Khoris has been a neurologist and a neurogenetician for 25 years. He held several leadership roles in hospitals and clinics, both private and public. Dr Khoris's concern for the well being of his patients, along with his knowledge and expertise in behavioral neurology and neurosciences, have led him to develop powerful methods and tools that enable behavioral changes while sublimating the creativity and leadership of individuals. He is the pioneer of a brand new model of leadership training whose effects have been displayed in workshops around the world from New York to Paris. He is currently conjointly developing a project with A.S BUSINESS CENTER INC. https://www.jkh-consulting.com
*** EVENT SPONSOR ***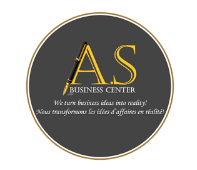 A.S BUSINESS CENTER INC. is a company of 15 employees and consultants who believe in working hard for the entrepreneurship dream. All of our success is because of our team. Nothing can be done without them. Even with the best idea in the world you need people who believe in it first, understand it without seeing it and then help you to implement, improve and innovate it. The company has helped many entrepreneurs start their own businesses or grow their existing businesses by receiving funding.
Most of our entrepreneurs have become successful and be more profitable in their day-to-day activities. So far, A.S Business Center Inc. has attained a total of $7M in loans and grants to assist entrepreneurs.
For more info visit: https://asbusinesscenter.com/home/