Sales Have Ended
Registrations are closed
Thank you for registering!
Sales Have Ended
Registrations are closed
Thank you for registering!
Description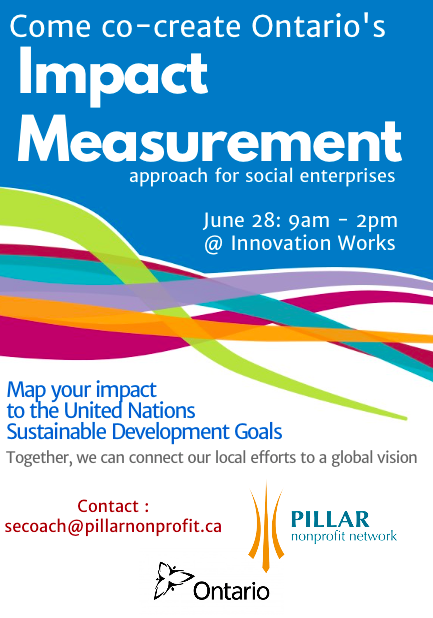 Co-create!
Join the upcoming social enterprise impact mapping convening and hear about Ontario's recommendations for a common approach to impact measurement for social enterprises. It will include two interactive exercises to understand the recommendations and to help us map our impact to the United Nations Sustainable Development Goals. Pillar Nonprofit Network will also have our social enterprise team on hand to do mini-workshops on your impact and mapping your theory of change.
Who should attend? We are looking for social enterprises, funders, investors, support organizations that are part of the social enterprise ecosystem. You should expect to be able to bring your impact indicators and outcomes to the convening.
Location: Solutions Lab - Innovation Works
Travel Bursary: If you are travelling from outside of London to attend the event, please email secoach@pillarnonprofit.ca to learn more about a travel bursary for this event. We are hoping to have attendance from our Social Enterprise Southwest partnership in Windsor, Huron and Niagara.
Catering: We are proud to be working with Meals on Wheels London and Growing Chefs Ontario to cater lunch for this event.
This initiative is funded by the Government of Ontario and presented by Pillar Nonprofit Network alongside its collaborators.
Co-créez !

Joignez-vous à nous pour cette réunion sur la mesure d'impact des entreprises sociales et obtenez plus d'informations sur les recommandations de l'Ontario pour une approche de mesure commune. La réunion inclura deux exercices interactifs pour assister la communauté des entreprises sociales à comprendre les recommandations et pour nous aider à lier notre impact aux objectifs de développement durable des Nations Unies.
Une initiative du Ministère du développement économique et de la croissance, présentée par le Conseil de la coopération de l'Ontario.