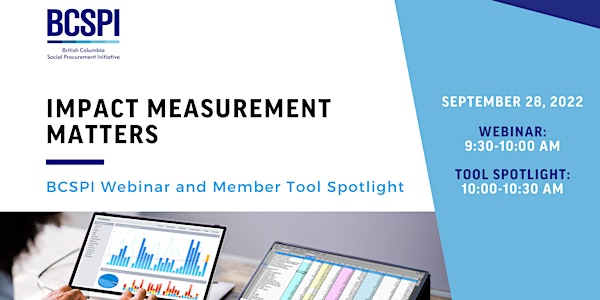 Impact Measurement Matters: Webinar and Member Tool Spotlight
Join this BCSPI webinar to learn about key findings from our first Annual Impact Measurement Report, and new tools for measurement.
About this event
Impact measurement matters.
It helps to set the direction and vision of an organization, and to determine the outcomes resulting from actions. It is also more than that - measurement helps to create a culture of learning, shared experiences and the invitation to work towards a common goal, in this case, community, regional AND global goals.
BCSPI is implementing a common measurement framework to help members understand and measure the social and sustainable impact of their spend.
This webinar will highlight the first BSCPI Annual Impact Measurement Report for 2021/2022, which shares the combined impacts of BCSPI members implementing social procurement across the province. Join this webinar to learn about key findings, stories and trends revealed in the report.
Following the 30-minute webinar, there will be an additional 30-minute tool spotlight showcasing two new BCSPI member tools: a post-award contract survey and a KPI survey for prime and sub-contractors.
—
Please note: This webinar is free and open to the public but the recording and slides will only be accessible to BCSPI members. Please visit our membership webpage if you are interested in becoming a member to access this and other webinar recordings.
Sign up for BCSPI's newsletter to receive updates about events, member benefits, social procurement news, resources and more.