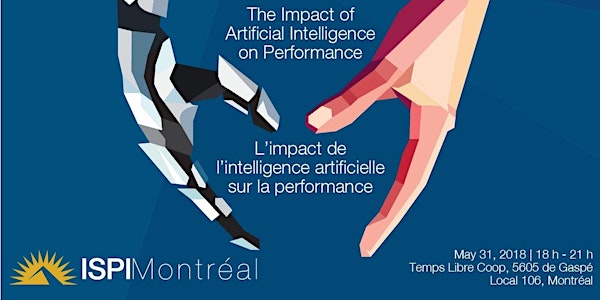 Impact of AI on Performance / Impact de l'IA sur la performance
When and where
Location
Temps Libre Coop 5605 Avenue de Gaspé, Local 106 Montréal, QC H2T 2A4 Canada
Description
Le texte français apparaît après le texte anglais
ISPI Montreal to Host Panel Discussionon the Impact of Artificial Intelligence on Performance on May 31
Artificial intelligence (AI) technologies such as voice and image recognition, machine learning, neural networks and simulations have the potential to change dramatically both human performance and how businesses organize the workplace. It is clear that people and machines can work together to improve performance.
How are companies and industries using AI to improve performance and their competitive advantage? And to what degree might machines replace humans in the workforce and what will that mean for the future of jobs and work?
To answer these top of mind questions, on May 31, ISPI Montreal will host a bilingual panel discussion on "The Impact of AI on Performance." Our panel will be composed of AI specialists who have studied the performance improvement potential of human machine collaboration, and will discuss implications, concerns and possibilities.
Speakers:
Leslie Cheung, Partnership Development Director, Powered by Data
Jean-François Connolly, Research Advisor – Entrepreneurship, IVADO
Isabelle Tremblay, Director, Product Development, D-TECK, and organizational development consultant
Evan Prodromou, founder and CEO, Fuzzy.ai
Laura Fort, Chief Product Officer, Erudite AI
Light refreshments will be served.
We look forward to seeing you there and please feel free to invite interested colleagues!
Please note: You can buy tickets online until May 31 at 5:00 p.m. Tickets cannot be purchased at the door.
L'ISPI de Montréal vous invite à sa table ronde sur l'impact de l'intelligence artificielle sur la performance le 31 mai 2018
Les technologies utilisant l'intelligence artificielle (IA) tels que la reconnaissance vocale et de l'image, l'apprentissage automatique, les réseaux de neurones artificiels et les simulations, peuvent potentiellement de transformer radicalement la performance humaine et la manière dont les entreprises organisent les lieux de travail. Il est clair que les personnes et les machines peuvent travailler ensemble pour améliorer la performance.
Comment les compagnies et les industries utilisent-elles l'IA pour améliorer la performance et préserver leur avantage compétitif? Jusqu'où les machines peuvent-elles remplacer les humains comme force de travail, et qu'est-ce que cela signifiera pour l'avenir des emplois et du travail?
Afin de répondre à ces questions venant à l'esprit de ceux qui pensent à l'IA, l'ISPI de Montréal tiendra une table ronde le 31 mai 2018 sur "L'impact de l'IA sur la performance". Notre groupe de conférenciers sera composé de spécialistes de l'IA qui ont étudié le potentiel de la collaboration entre humains et machines, ses possibilités et les inquiétudes la concernant.
Les conférenciers :
Leslie Cheung, directrice du développement de partenariats, Powered by Data
Jean-François Connolly, conseiller à la recherche – entrepreneuriat, IVADO
Isabelle Tremblay, directrice des produits, D-TECK, et consultante en psychologie organisationnelle.
Evan Prodromou, fondateur et PDG, Fuzzy.ai
Laura Fort, directrice des produits, Erudite AI
Des rafraîchissements seront servis.
Nous attendons avec impatience de vous voir à notre évènement et vous pouvez inviter des collègues intéressés par le sujet!
Veuillex noter : Vous pouvez acheter des billets en ligne jusqu'au 31 mai à 5h. Les billets ne peuvent pas être achetés à la porte.