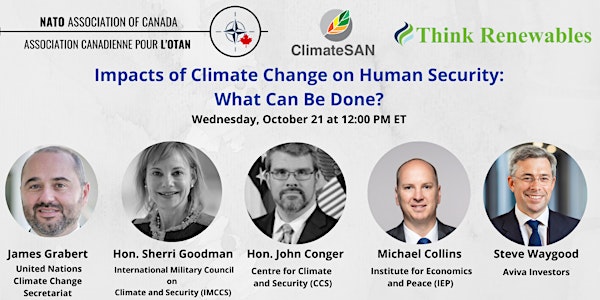 Impacts of Climate Change on Human Security: What Can be Done?
This event is designed to highlight the increasing impact of climate change on human security and discuss how it can be mitigated.
About this event
The NATO Association of Canada in partnership with Climate Solutions Advancement Network (ClimateSANs), which is a project of Think Renewable Group (TRG), is excited to announce our upcoming media advisory event. This event will discuss the growing impact of climate change on human security, the need for large scale action to migitate these impacts and highlight some strategies and technologies that can facilitate action on a large scale in the future.
Many climate experts have recently stated the urgent need for substantial action on climate change. For example, the head of the International Energy Agency (IEA), Faith Birol warned action needs to be taken in the next 6 months to prevent post-lockdown surges in emissions. In order to implement this action on a global scale, the decision-making gridlock between progressive and conservative leaders needs to be overcome.
In order to bridge this gap, this event have a panel of topic security experts discuss why top military and investment leaders are now focusing on the issue and actively seeking to mitigate the effects of climate climate change in the future.
Meet our speakers:
For more information or to watch a two-minute video about the event, go to ClimateSAN.org.
We look forward to seeing you at this event!