Sales Have Ended
Registrations are closed
Sorry we missed you! Check out our other events to stay connected with the Alberta IoT community.
Sales Have Ended
Registrations are closed
Sorry we missed you! Check out our other events to stay connected with the Alberta IoT community.
Join us as we learn how businesses can utilize AI and what it looks like to implement data-enhanced technology products.
About this event
Artificial Intelligence (AI) has been extensively used in the last few years and is a buzzword that many industries use these days. At Intelius AI, we view AI as the application of Advanced Analytics to facilitate better decision-making leveraging data. In this session, we will describe how businesses should utilize AI and what is involved in the start to the development and implementation of data-enhanced technology products.
Our focus will be on de-risk product development leverage proven techniques in the literature and practice. A design thinking approach in product development is at the core, focusing on how we Empathize, Define, Ideate, Prototype, and Test. The analytics landscape is diverse and can be complicated if not properly set up. Come and join us as we discuss a structured framework in AI Product Development.
Agenda:
3:00pm - Opening Remarks (Alberta IoT)
3:10pm - General Session
3:40pm – Breakout Sessions
4:00pm - Close
Why Attend:
Find answers to questions posed: What are the challenges and blockers that companies are facing, and how to de-risk AI product development?
Gain a deeper understanding of how to overcome their challenges and minimize the risk in implementing AI.
About Intelius AI:
A Calgary-based organization focused on customized AI Product Development. We jump-start product development with our proprietary accelerator platform with a primary objective to delivered customized solutions. For more information, please visit our website: http://intelius.ai for more information.
This event is supported by Alberta IoT's generous annual sponsors - Alberta Innovates, Aruba Networks, MNP, Rogers Communications, Avaya, Canadian Blockchain Consortium, Lenovo, Microsoft, PCL, Socium Law, Titan Logix Corp and Tridon Communications.
Meet the Speakers: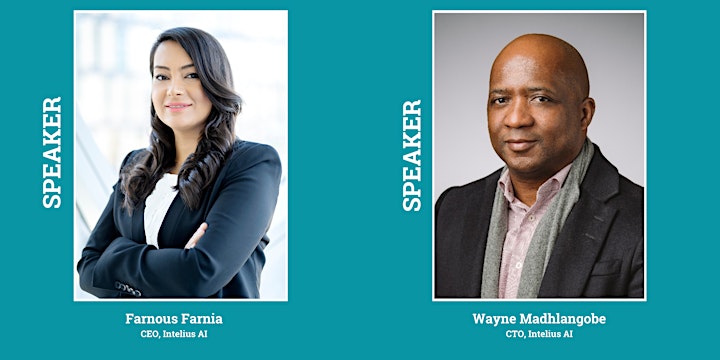 Farnoush Farnia | CEO
Farnoush resourced a team of exceptional talents and acquired large-scale consulting contacts in data and optimization science. Farnoush has demonstrated a rich history of leading and delivering large-scale AI projects at Air Canada and Enbridge, leveraging her advanced analytics, operations research, and data science background. With strengths in AI optimization, simulation, and prediction combined with her Doctorate of Philology (Ph.D.) in Industrial Engineering, Farnoush has successfully solved complex business problems under many restraints and could confidently apply her experience to many other aspects of the business.
Connect with Farnoush on LinkedIn here.
Wayne Madhlangobe | CTO
Acting in various executive and management roles, Robert has been able to make an immediate impact in every business he has worked in. He has developed extensive experience through starting & growing several small businesses over the past twenty-eight years in the upstream, O&G, environmental and financial services industries. His varied and multi industry experience makes him a considerable asset to any company requiring operational expertise, process optimization, leadership, strategy development and execution, business, financial, operational excellence, change management, human resources as well as health and safety policy and procedure development. He graduated with a B.Comm. in Finance from UBC.