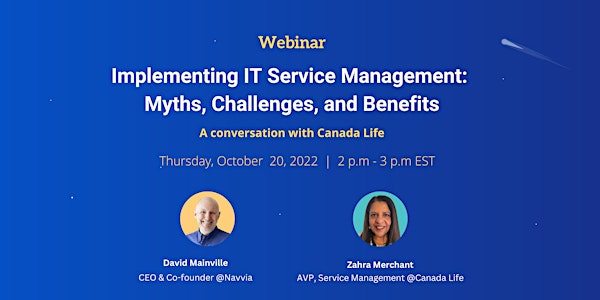 Implementing IT Service Management: Myths, Challenges, and Benefits
On Thursday 20, October at 2 pm ET, we're teaming up with Zahra Merchant from Canada Life. We'll be talking about the common ITSM Myths.
About this event
Digital Technology is central to every organization's business strategy. It is fundamental in how companies interact and transact business with their clients.
This increased reliance on Information Technology has thrust ITSM professionals into the spotlight. They are being called upon to deliver operational efficiencies, improved productivity, and higher availability, all while mitigating risk. An effective IT Service Management program is no longer a luxury; it underpins long-term business success.
Unfortunately, there is much confusion around what constitutes an effective ITSM program. Service Management leaders must contend with numerous ITSM myths and challenges as they guide their organization into the future.
Join us on October 13th for an engaging conversation with Zahra Merchant, AVP Service Management for Canada Life.
Zahra will share her practical experience in helping numerous financial service organizations achieve ITSM excellence. Topics will include:
Defining Service Management
Organizational Challenges
Communicating "Selling" ITSM Value
Delivering Tangible ITSM Benefits
About the guest
Zahra Merchanta
AVP, Service Management at Cana Life
Zahra Merchant is the Assistant Vice-President (AVP), Service Management at Canada Life with a mandate to evolve and expand Canada Life's service management centre of excellence for Information Technology.
Zahra is a transformational leader with progressive experience in building high-performing teams to achieve service excellence, solve complex problems for the business and ensure services and products are delivering value to the organization. These qualities play a key role in helping the Technology teams deepen their alignment with the business and improve Canada Life's service to advisors and customers.
About Canada Life:
Founded in 1847, The Canada Life Assurance Company was Canada's first domestic life insurance company. Today, Canada Life provides insurance and wealth management products and services in Canada, the United Kingdom, the Isle of Man and Germany, and Ireland through Irish Life.
Hosted by
David Mainville
CEO & Co-founder at Navvia
David Mainville, CEO and co-founder of Navvia, is a passionate advocate of Service Management and a frequent presenter, blogger and well-known member of the ITSM community. With over 35 years of experience, David has held progressively senior technical and management roles allowing him to "connect the dots" between the Business and IT. At Navvia, David leads the charge to bring innovative ITSM solutions to the market focusing on Product Development, Marketing and Operations.