Implementing SAFe® with SAFe® 4 Program Consultant Certification (version 4...
Event Information
Refund Policy
Refunds up to 30 days before event
Description
The Lean-Agile Mindset is the combination of beliefs, assumptions, and actions of SAFe leaders and practitioners who embrace the concepts of the Agile Manifesto and Lean thinking. It's the personal, intellectual and leadership foundation for adopting and applying SAFe's principles and practices.
Become a leading agent for change—and enable your enterprise to succeed in a disruptive marketplace—when you certify as a SAFe® 4.5 Program Consultant (SPC). During this four-day course, you'll learn how to lead a Lean-Agile transformation by leveraging the practices and principles of the Scaled Agile Framework® (SAFe).
You will learn how to effectively coach programs, launch Agile Release Trains, build a continuous delivery pipeline and DevOps culture, and empower a Lean Portfolio. The first two days of the course—Leading SAFe®—will provide you with the basis to teach SAFe to others. The final two days focus exclusively on what it takes to successfully implement SAFe in your enterprise
➽ Please contact at training@innoagile.ca for further queries.
Learning Goals
Lead an enterprise Lean-Agile transformation

Implement the Scaled Agile Framework (SAFe)

Empower with a Lean Portfolio

Align the organization to a common language and way of working

Perform value stream identification

Launch and support Agile Release Trains and coordinate large solutions

Build and execute an implementation rollout strategy

Configure the Framework for a specific enterprise context

Train managers and executives in Leading SAFe®

Act as a SAFe® 4 Agilist (SA) certifying agent

Continue their learning journey and become enabled to train other SAFe roles in the enterprise
Topics Covered
Leading SAFe® – Days 1 and 2
Introducing the Scaled Agile Framework (SAFe)

Embracing a Lean-Agile Mindset

Understanding SAFe Principles

Experiencing Program Increment (PI) Planning

Exploring, executing, and releasing value

Leading a Lean-Agile Enterprise

Empowering a Lean Portfolio

Building Large Solutions
Leading SAFe® – Days 3 and 4
Reaching the SAFe Tipping Point

Designing the Implementation

Launching an ART

Coaching ART Execution

Extending to the Portfolio

Sustaining and Improving

Becoming a SAFe 4.5 Program Consultant (SPC)
What Attendees Get
Attendee workbook

Preparation and eligibility to take the SAFe® 4 Program Consultant (SPC) exam

One-year membership to the SAFe Community Platform

Course certificate of completion
Who will Benefit?
Professional Services Consultants

Business and Technology Executives, Leaders, Managers, and Directors

Portfolio Managers and Fiduciaries, Project/Program Management Office (PMO) personnel

Development, QA, and IT management

Program and Project Managers

Product and Product Line Managers

Process Leads and Lifecycle Governance personnel

Enterprise, System, and Solution Architects

Internal Change Agents, Lean-Agile Center for Excellence (LACE), Agile Working Group
Exam Details
Name: SAFe 4 Program Consultant Exam

Format: Multiple Choice

Delivery: Web-based (single-browser), closed book, no outside assistance, timed

Access: Candidates can access the exam within the SAFe Community Platform upon completion of the Leading SAFe course

Duration: 120 minutes

Number of Questions: 60

Passing Score: 45 out of 60
Instructor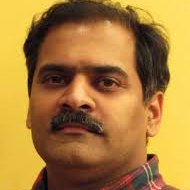 Vikas Kapila
SPCT4, SPC, SA, CSM, CSP, ICP-ACC, ICP-ATF, ICP-ENT, ICP-CAT, Management 3.0, LKU AKT, LKU KMP
Vikas is a transformation practitioner with a passion for applying Lean-Agile principles, behaviors, and practices to enable delivery of business value. He excels at quickly delivering value to businesses, simplifying the seemingly complex, and delighting customers. He is able to achieve these results by consistently building radically prolific, high performing teams while ensuring he looks, listens, and learns before initiating coaching and facilitation. Vikas is a trusted partner, synergist, and change catalyst with a consultative communication style. He is uniquely qualified to unify stakeholders and inspire cross-functional teams to deliver solutions that propel the business forward and accelerate business strategies.

As a transformation leader with the ability to foster business and technology partnerships, Vikas offers deep technical expertise coupled with a passion for customer satisfaction. In his work experience, Vikas has had striking success in collaborating across the enterprise to meet critical timelines and outcomes. Blending a leader's technical strengths with business acumen, this visionary and entrepreneur has a history of effectively transforming companies to achieve innovative business goals.
Date and Time
Location
Refund Policy
Refunds up to 30 days before event