Implications of Culture for Post-Merger Integration Hosted By The Toronto C...
Description
Implications of Culture for Post-Merger Integration
Hosted by The Toronto CFO Leadership Council
Tuesday, June 26, 2018.
NetSuite Office
5800 Explorer Dr., Mississauga ON, L4W5K9
Program Description

Merger and acquisition transactions are some of the most exciting and intense periods of activity that CFOs will experience in their careers. While the opportunity for company growth presented by a transaction can sometimes be enormous.


Oftentimes, success depends on how well a company can integrate the culture differences between two organizations. Culture impacts everything in a business operation directly and indirectly. Left untended, culture will have a life of its own and has a high probability of undermining value creation. It can mean the difference between monumental success or absolute failure.
Join us for Implications of Culture for Post-Merger Integration. This session focuses on the hidden opportunities and evolving leadership practices from the experienced perspectives of different functional leaders.
Who Should Attend
CFOs and other senior finance executives whose growth plan includes an exit strategy and are interested in learning how they can maximize the synergies by fully understanding the impact culture conflicts can have on the company value.
Learning Objectives
What leadership mindset, approaches, and skills are helpful to maximize integration and realize value?


What are the guiding principles for an effective internal and external communication plan?


How can culture of both companies be measured to assist strategy development and implementation?


How can we ensure the people component of the integration is managed well?



How to best manage actively integration risks to ensure effective transition and retention of valued employees?
---
Speakers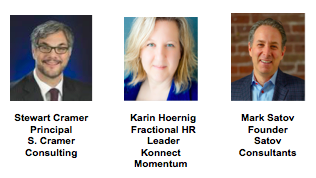 Cost: Free for members! $50 .00 + $4.16 processing fee + HST for non-members
CFO Leadership Council members may attend this program for free. Non-member senior financial executives who are CFOs, Vice Presidents of Finance, Directors of Finance and Controllers (or the like) are welcome to attend this program at a one-time cost of $50 + processing fee + HST.
Please note that service providers or any executives who are not senior financial executives (CFOs, Vice Presidents of Finance, Controllers, Directors of Finance, etc.) will not be admitted attendance to this event. The CFO Leadership Council reserves the right to decline any registration.
More Information
Click here to learn more about CFO Leadership Council.
Click here to become a member.
For more information about this program or The CFO Leadership Council, please contact Stuart Pasternak at Stuart@cfolc.com.
Cancellation Policy

If you would like to cancel your ticket or request a refund, please contact Kim Naish (Kim@cfolc.com). Refunds are available up to 24 hours prior to the program.
---
About our Speakers
Stewart Cramer
Principal
S. Cramer Consulting
Stewart brings over twenty-five years of diverse leadership experience to his work as a strategy and innovation consultant. Trained as an engineer, Stewart worked as a Senior Technical Specialist in the Structures Research organization at Northrop Grumman, a leading US Defense firm. In this capacity, Stewart developed a strong talent for bringing people and ideas together in high-performing teams. In recognition of this skill, Stewart was selected by Northrop Grumman to lead a team of design and manufacturing engineers assigned to Lockheed Martin to work on the design of the F-35 aircraft.
In 2000, Stewart joined LAI Companies, a group of three small job shops located across the United States. Hired as Director of Aerospace Products, he was ultimately promoted to President of the group of companies. As President, he established common practices across sites, then acquired and integrated two additional companies. LAI International instituted lean-sigma, became ISO9001 and AS9100 certified and received preferred supplier awards from Lockheed Martin, Boeing, Northrop Grumman, GE and other customers while growing over 300 percent during Stewart's tenure. Key to his success at LAI was the integration of five separate organizations into a single virtual enterprise.
In 2013, Stewart relocated to Toronto, Ontario from Scottsdale, Arizona to marry the love of his life. He joined Mercap Holdings Inc., an investment partnership as Chief Operating Officer and acted as CEO of their investment, Vertex Precision Manufacturing. During Stewart's tenure at Vertex, the company established itself as a tier one aerospace supplier, successfully acquired and integrated two additional companies and developed and implemented industry leading technologies on the production floor.
Stewart holds a B.S. in Aerospace Engineering from the University of Arizona and an M.S. in Civil Engineering from the University of Southern California. He is the holder of two U.S. patents and is a registered Professional Engineer in the province of Ontario.
Mark Satov
Founder
SATOV Consultants
Mark Satov is a business advisor who pushes his clients to do better. He works with a wide range of clients on their customer strategy through the work of his firm, SATOV Consultants, and he plays a hands-on role in ensuring that his team delivers sound strategy alongside actionable recommendations. He is a frequent commentator on mainstream business media, including BNN, CBC and The Globe and Mail, providing his views on business events and trends. Mark also regularly acts as facilitator for clients where he's known for his ability to manage tough discussions, from strategic planning to client re-organizations.
Karin Hoernig
Fractional HR Leader
Konnect Momentum

As a motivated Human Resources leader, Karin has a rich and diverse background driving innovative strategies that enhance employee productivity and engagement in high-change environments. With 15+ years' experience in Human Resources and HR consulting, she's worked within the business, government, and non-profit sectors. Her background has allowed her to develop a robust and multi-faceted understanding of the intricacies of human resources, and its impact on organizational vision.