Importance of Networking in a New City with Sue Maitland - Multicultural Bu...
Description
An event focused on assisting Victoria's immigrant business owners, entrepreneurs, professionals and interested parties to connect with the community of like-minded professionals.
Importance of Networking in a New City
Come and learn tips and tricks of networking in a new city.

Address by Ms. Sue Maitland

Moving to a new city can be challenging and those challenges are compounded when that new city is in a different country. You may have to speak another language, find a job and a place to live while learning the culture of your new country. It's a lot to take on and many people who move to Victoria find it's quite different than other cities they've lived in.
Sue Maitland PCC left England and arrived in Canada more than 35 years ago. She survived 11 winters in Ottawa before relocating to Victoria and has called Victoria home for more than 25 years now. Soon after arriving in Canada, Sue was accepted into a program to bring more women into IT and she had a long and very successful career in IT before discovering a passion for coaching others. She trained to be a professional life and career transitions coach in 2013 and is accredited through the International Coach Federation. Now she helps professionals in many different career paths leverage the strengths they love to use, discover their top fulfillment needs and bring more of what they most enjoy into their personal and professional lives.
Sue loves to help newcomers to Victoria understand how the city works and one of the most important things you need to do as a newcomer is to get out and meet other people. This is often referred to as networking and it's a term that strikes fear into hearts of many people. Sue will dispel some of the myths about networking and share her story about how she overcame her own dislike of networking. She'll also share some of her top networking tips to help you connect with others in Victoria, make new friends and maybe even find a job.
Sue is now a sought-after speaker on the topic of networking at conferences, with professional associations and businesses. She offers a monthly free information session for newcomers "An Insider's Guide to Moving to Victoria" and it has helped many newcomers understand the culture of Victoria. Sue also delivers a paid workshop "Networking for Success in Victoria" once a month and it's popular with newcomers and long-time Victoria residents who want to improve their networking skills.

When:
Tuesday, February 19, 2019 @ 5.30 pm - 7.30 pm. Please note: Registration begins at 5.00 pm.
Where:
theDock, 300-722 Cormorant St, Victoria, BC V8W 1P8

Parking at the following parkades (see map below) is free for the 1st hour and free after 6 pm. That means if you park at 5 pm, you will have free parking for the event. More details here.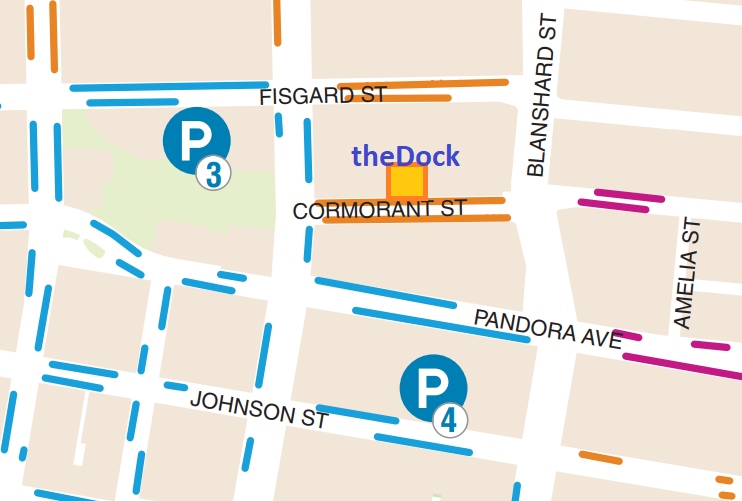 Organized by:
Victoria Multicultural Business Connector (VMBC)
Sponsors:
Benefits:
Consult with experts

Find resources

Build network

Meet investors
Disclaimer Notice:
Please be advised that photographs may be taken at the event for use on the VMBC website and in the press, VMBC marketing materials, social media and other publications. By entering this event, you consent to the VMBC photographing and using your image and likeness. If you do not want to be on the pictures for some reason, please let us know at the front desk when entering the event.