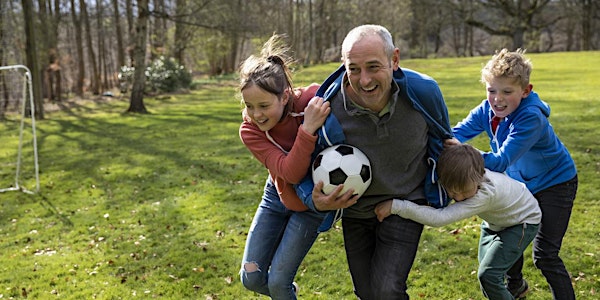 Importance of Outdoor Play on Brain Development & Mental Health
ECD webinar discussing the positive impact of outdoor play on brain development and mental health in both early childhood and adulthood
Refund Policy
Contact the organizer to request a refund.
Eventbrite's fee is nonrefundable.
About this event
Building on the success of the Early Childhood Development in a Time of Pandemic webinar series (2020 – 2022), Families Canada and the Centre of Excellence for Early Childhood Development are excited to announce new webinars addressing emerging issues, and challenges in the family support sector. These webinars will provide evidence-based information on supporting healthy brain development and mental health in both children and adults and will cover the following topics: 1) the importance of outdoor play on brain development & mental health, 2) fighting compassion fatigue by taking care of oneself, 3) brain development and the importance of serve & return interactions, and 4) the impact of trauma on brain development and how to support impacted children.
Importance of Outdoor Play on Brain Development & Mental Health
This first webinar will focus on science-based information and strategies that support the positive impact of outdoor play on brain development and mental health in early childhood as well as for adults and educators alike. Helping participants to understand the importance of outdoor play, touching on risky play and how to implement it.
Recommended Participants:
Service providers working with families with young children and/or young children directly
Family support workers
Early Childhood Educators
Childcare providers
Presenter: Dr. Mariana Brussoni
Dr. Mariana Brussoni is Director of the Human Early Learning Partnership, and an Associate Professor in the Department of Pediatrics and the School of Population and Public Health at the University of British Columbia. She is an investigator with the British Columbia Children's Hospital Research Institute and the British Columbia Injury Research & Prevention Unit. Mariana is a founding member and on the board of Outdoor Play Canada. Her cross-disciplinary research investigates child injury prevention and children's risky play, focusing on parents' and educators' perceptions of risk, and design of outdoor play-friendly environments. She partners with practitioners and policy makers in early childhood education, schooling, municipal planning and recreation provision, with the aim of creating environments where all children can thrive in healthy societies.
This webinar is also available in French.