Sales Have Ended
Ticket sales have ended
Thank you for completing your registration. Please join our social media sites for updates and announcements. FACEBOOK.COM/IMPORTFEST TWITTER.COM/IMPORTFEST_2017 INSTAGRAM.COM/IMPORTFEST VIMEO.COM/IMPORTFEST
Sales Have Ended
Ticket sales have ended
Thank you for completing your registration. Please join our social media sites for updates and announcements. FACEBOOK.COM/IMPORTFEST TWITTER.COM/IMPORTFEST_2017 INSTAGRAM.COM/IMPORTFEST VIMEO.COM/IMPORTFEST
Description
THIS YEAR'S VEHICLE REGISRATION IS NOW FULL
If you are interested in joining our WAITING LIST pleaseemail 3 images of your vehicle with a brief list of modifications to reg@importfest.com.
ImportFest Judges will evaluate your submission and only respond if accepted.
Please note that our social media team is not responsible for vehicle registrations. If you have any questions please email us directly at reg@importfest.com.
Our vehicle selection process is a subjective evaluation of "fit and finish." We hold the right to accept or reject any vehicle we see fit.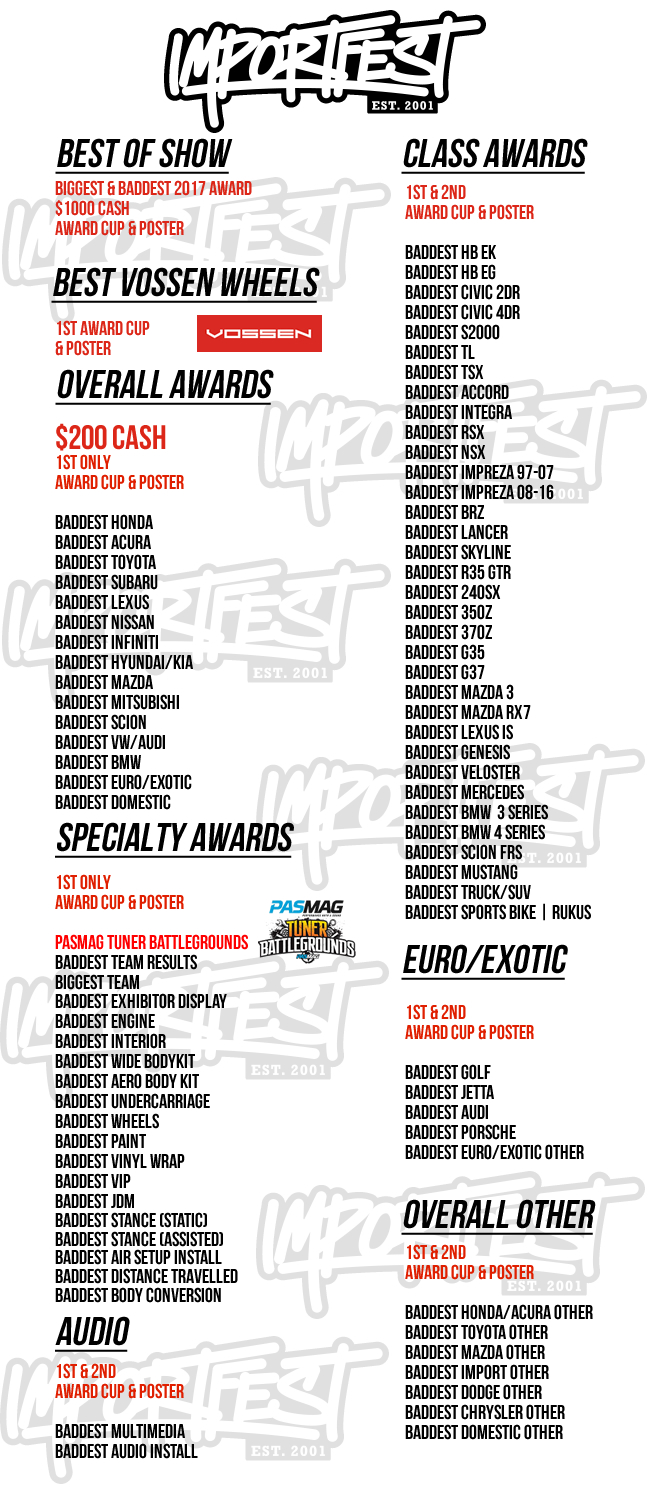 ---
* Over 125 Awards will be distributed at ImportFest 2017, making us the Largest Automotive competition series in the Country.
* 1st & 2nd Place Awards for Audio, Class, Euro/Exotic and Overal Other Awards

* A maximum of 10 vehicles per category

* No transfers * No refunds * No credits
---
FAQ
Can I bring my display?
Each competitor space is intended for one vehicle only. You will be permitted to add stanchions provided they circle around your vehicle only. Each vehicle space will have a walk thru aisle.
If you would like to setup a display or require more space please email reg@importfest.com for details.
Can I park next to my friend?
We have a dedicated section for VIP's this year. If you and your friend are VIP's you may park next to each other. Please email reg@importfest.com to make the request. If you have BASIC registration you will be permitted to park next to your friend provided you arrive at the same time. This means you must enter the building at the same time. We do not save space otherwise.
Can I choose where I want to be on the show floor?
We do have dedicated parking for VIP registrations and Teams of 10 or more. Basic registration packages do not have designated spaces. Placement is subjective to IMPORTFEST personal on day of setup according to our floor plan.
Can I bring a friend for set up?
Yes. You will be permitted one passenger only. All other passengers must exit the vehicle prior to entering the building.
Why was I not accepted?
Our selection process is a subjective review of your "images" and "listed modifications. IMPORTFEST holds the right to accept or reject any applicant it sees fit. We are looking for vehicles that will be competitive in their respective class. We have over 125 categories at ImportFest, we will only accept a maximum of 10 per category.
I do not see an award category for my car? Why not?
Award categories are updated annually according to competition and registration trends. Vehicles not listed in a class category will be grouped into an affiliated category i.e. Domestic Other. If you are not satisfied with the award categories please DO NOT register.
Will you remove or add award categories?
All of the listed categories are guaranteed. We may add more.
When do we setup for IMPORTFEST?
Set up will take place on Friday August 26, 2017 between 11am to 5pm. We will remind everyone two weeks prior to move in.
How do I get power?
Please email reg@importfest.com and request the power order form.
---
Every competitor must abide by the rules set forth by IMPORTFEST INC. and MTCC while participating at IMPORTFEST. We strongly suggest you familiarize yourselves with the rules and setup procedures prior to registering.
For more information please visit www.importfest.com