Description
IMPORTFEST 2019 - VEHICLE REGISTRATION IS NOW OPEN!
Vehicle Registration Deadline - June 15, 2019
Follow the instructions below if you would like to register your vehicle for ImportFest 2019 on Saturday July 27, 2019 inside the Metro Toronto Convention Centre.
Step 1
Email reg@importfest.com with a brief description of your mods. Make sure to add three to four images (5 MB Max total). You may also add a link to your website or Instagram page. Subject Heading should be your First and Last Name. (* Multiple emails from one applicant will not be viewed so make sure to include your description and images in one email only.)
Step 2
If accepted, you will receive an email with payment instructions and a link to Register online!
Step 3
Click the link, enter the promo code and complete your registration!
Accepted vs Not Accepted (Review Process)
ImportFest has an experienced panel of judges that will review each submission against general criteria including fit and finish, quality of workmanship and parts and relevance of modifications. Our selection process is a subjective review of your "images" and "listed modifications". IMPORTFEST holds the right to accept and/or reject any applicant it sees fit. Our selection process is to help maintain a high level of competition and to ensure each applicant meets our "subjective" standard. Every applicant will be evaluated with consideration to our scoring system and categories list. Priority is awarded to those vehicles that show a high level of competitiveness and showmanship in their respective class.
If you do not hear back from us two weeks from the date of your submission it means you have not been accepted. At this time you may re-apply one last time for re-consideration. Afrer that, if you do not hear back from us it means you were not accepted.
*Due to the large quantity of submissions we will only be sending out Acceptance emails.
A few things to keep in mind…
Space is limited

VIP Spots are located in "high traffic" areas across the show floor

Basic Spots will be assigned on a first come first serve basis during set up only

Make sure to read thru the category list prior to sending in your registration

No Refunds, Credits or Transfers are permitted.

Over 125 Awards will be distributed at ImportFest 2019 making us the Largest Automotive competition series in the Country.

1st & 2nd Place Only*

We will accept on average 10 vehicles per category only

No transfers * No refunds * No credits

---



FAQ
Can I bring my display?
Each competitor space is intended for one vehicle only. You will be permitted to add stanchions provided they circle your vehicle only. Each vehicle space must have a walk thru aisle.
If you have a custom display setup for your vehicle please email details and diagram to reg@importfest.com for review.
Can I park next to my friend?
We have a dedicated section for VIP's. If you and your friend are VIP's you may park next to each other. Please email reg@importfest.com to make the request. If you have BASIC registration you will be permitted to park next to your friend provided you arrive at the same time. This means you must enter the building at the same time.
We do not save space otherwise.
Can I choose where I want to be on the show floor?
We only provide dedicated parking for VIP registrations and Teams of 10 plus. Basic registration packages do not have designated spaces. Placement is subjective to IMPORTFEST personal on day of setup according to our floor plan.
Can I bring a friend for set up?
Yes. You will be permitted one passenger only. All other passengers must exit the vehicle prior to entering the building.
Why was I not accepted?
Our selection process is a subjective review of your "images" and "listed modifications. IMPORTFEST holds the right to accept or reject any applicant it sees fit. We are looking for vehicles that will be competitive in their respective class with a high level of showmanship.
I do not see an award category for my car? Why not?
Award categories are updated annually according to competition and registration trends. Vehicles not listed in a class category will be grouped into an affiliated category i.e. Import Other. If you are not satisfied with the award categories please DO NOT register.
Will you remove or add award categories?
All of the listed categories are guaranteed. We may add a few more.
When do we setup for IMPORTFEST?
Set up will take place on Friday July 26, 2019 between 10am to 6pm. We suggest you all arrive early to avoid downtown traffic.
How do I get power?
Power is provided by Showtech Services. Please email us at reg@importfest.com if you would like to order power.
---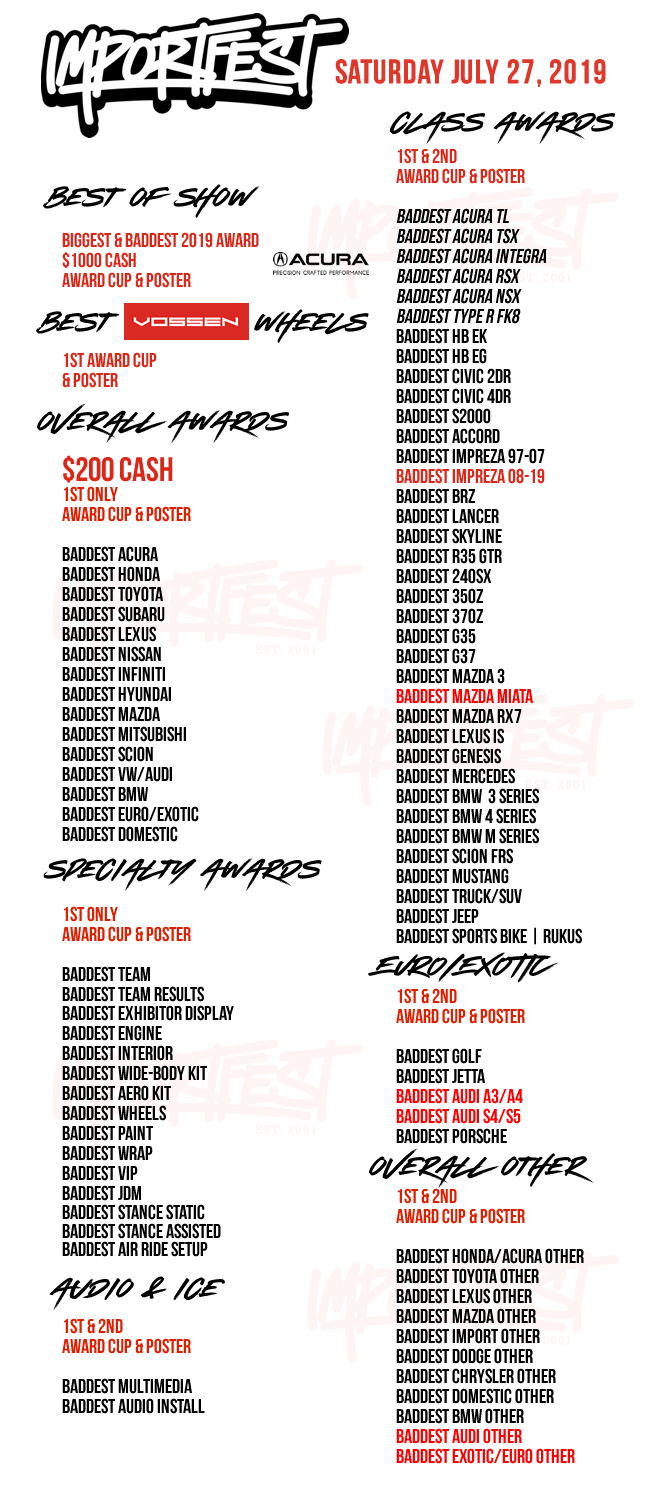 ---
RULES & REGULATIONS
Every competitor must abide by the rules set forth by IMPORTFEST INC. and MTCC while participating at IMPORTFEST. We strongly suggest you familiarize yourselves with the rules and setup procedures prior to registering.
PLACEMENT
We will place your car according to our floor plan. We do not reserve space. If you wish to park next to a friend please ensure you both arrive at the same time.
INSTALL/REPAIR/SERVICE/TUNING
This is strictly prohibited. At no time will you be permitted to install/service/repair or modify your vehicle inside the MTCC.
DISPLAY
If you plan to create a display around your car you must submit images and a diagram to reg@importfest.com for per-approval. Please no awards/picture frames/banners on display next to your car. We prefer to keep the show floor clean. Also any bags or boxes or cleaning supplies next to your vehicle must be removed.
ELECTRICAL
If you wish to order Electrical please contact Showtech . Electrical should only be requested by those who wish to use display lighting - this is not intended for audio. You are not permitted to play audio from your vehicle at any time while inside the venue.
IN & OUT PRIVILEGES
Stamps must be visible to ensure entry/re-entry into the show. Any tampering with stamps will result in immediate dismissal from the show. Lost or Forgotten tickets will not be replaced, no exceptions.
Re-sale of tickets is illegal and will result in fines/charges.
ADMISSABLE BEHAVIOR
Alcohol, drugs, weapons and other illegal materials are not permitted in the venue. At no time during the event may you start your engine; doing so will result in immediate ejection from IMPORTFEST and fines. Any damage to the venue i.e. skid marks, sticker residue, etc. to the venue as a result of your miss conduct will be billed to you directly.
BATTERY TERMINALS
The MTCC requires that all battery terminals and alarms to be disconnected upon entry into the building. This is to reduce noise and ensure safety for our guests. You will not be permitted to play any audio from your vehicle.
LIABILITY
IMPORTFEST INC. shall not be responsible for any loss or damage to any property at any time during setup or event date. All competitors are required to lock their vehicles and keep their belongings safe.
FIRE SAFETY AND HEALTH REGULATIONS
Everyone must comply with the local, municipal and provincial laws and regulations in conjunction with safety, health and other matters. Vehicles must have 1/2 tank gas or less - NO EXCEPTIONS.
YOU ARE NOT PERMITTED TO START YOUR ENGINE AT ANYTIME DURING THE EVENT HOURS.
AMENDMENTS
IMPORTFEST INC. shall have the power to enforce all terms, rules and regulations as well as any other stipulations necessary for proper conduct of the show. All competitors agree to comply with such terms, rules, regulations, all pertinent laws, and codes. In addition IMPORTFEST Inc. has the right to refuse or reject any vehicle into the venue at their discretion.
PROMOTIONAL MATERIALS
Flyers, business cards, banners, signs and any other printed materials are not permitted in the venue for distribution unless a booth has been purchased or otherwise authorized by IMPORTFEST Inc. If caught, material will be taken away and you will be subject to a $5000 fine plus disqualification and ejection from the event.
SALE OF MERCHANDISE
Sale of merchandise is NOT permitted at any time unless you have purchased a booth.
COPYRIGHTS
All competitors hereby assume all costs and expenses associated with copyright, trademark, trade name and any other statutory protection.
VIDEO FOOTAGE
IMPORTFEST INC. assumes no responsibility for any use or infringement of Vendors/competitor's name, logo or any types of materials used in filming or marketing pieces i.e. event coverage
FORCES OF NATURE
IMPORTFEST INC. shall have no liability whatsoever from any cause beyond its control resulting from strike, fire, weather, lockout, civil disobedience, acts of God.
MOVE OUT
Move out will begin at 10:59pm immediately following the award ceremony. All Vehicles and display booth materials must be removed from the building by 1:00am. Any vehicles left behind will be tagged and towed at owners expense.
REFUNDS/TRANSFER
There will be no refunds or vehicle transfers offered
For more information please visit www.importfest.com