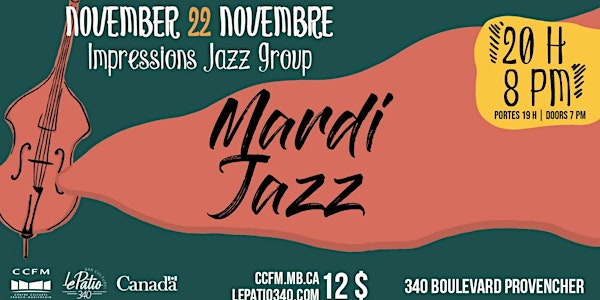 Impressions Jazz Group à MARDI JAZZ
Mardi Jazz -Impressions Jazz Group
When and where
Location
Centre culturel franco-manitobain 340 Provencher Boulevard Winnipeg, MB R2H 0G7 Canada
Refund Policy
Contact the organizer to request a refund.
Eventbrite's fee is nonrefundable.
About this event
- LES PORTES ET LE BAR OUVRENT À 19H00 ET FERMENT à 23H00!
-À BOIRE ET À MANGER SUR PLACE!
- POSSIBILITÉ D'ACHETER DES BILLETS À LA PORTE, SI DISPONIBILITÉ!
Pour cette édition sur le thème "Rythm & jazz", nous vous proposons le groupe Impressions Jazz Group le mardi 22 novembre à 20h (portes à 19h).
Impressions Jazz Group est un groupe de jazz éclectique qui interprète des compositions originales de Daniel Hollenberg, saxophoniste, compositeur et chef de groupe. Cet ensemble créatif est influencé par un mélange diversifié de traditions musicales et culturelles qui donnent au groupe son son unique. Issues du monde du jazz, les compositions jouées par le groupe puisent dans le bop, l'avant-garde, le blues et le jazz modal. Bien que le « langage du jazz » soit le principal moyen ou fondement musical par lequel la musique du groupe s'exprime, les compositions s'inspirent également de diverses traditions, notamment aborigènes australiennes, sud-asiatiques, juives et ouest-africaines. La musique crée une riche tapisserie musicale qui inspire l'improvisation. Le son énergique et inspirant de la musique du groupe est également facilement accessible à ceux qui ne sont pas familiers avec le jazz, ce qui permet au groupe de toucher un public plus large. Comme l'indique le nom du groupe, le concept musical principal est que la musique n'est pas un phénomène fixe, mais qu'elle ne reflète que des « impressions » impermanentes de son et de rythme qui changent constamment et sont « en flux ».
Au plaisir de vous y rencontrer !
--------------
For this edition on the theme "Rhythm & jazz", we propose the group Impressions Jazz Group.
Impressions Jazz Group is an eclectic jazz ensemble that performs original compositions by Daniel Hollenberg, saxophonist, composer and group leader. This creative ensemble is influenced by a diverse mix of musical and cultural traditions that give the group its unique sound. From the jazz world, compositions played by the group draw from bop, avant-garde, blues, and modal jazz. Although the "jazz language" is the primary musical medium or foundation through which the group's music is expressed, compositions are also inspired from diverse traditions including Australian Aboriginal, South Asian, Jewish and West African. The music creates a rich musical tapestry that inspires improvisation. The energetic and inspirational sound of the group's music is also readily accessible to those unfamiliar with jazz, lending the group wider audience appeal. As noted by its group name, the main musical concept is that music is not a fixed phenomenon, but reflects only impermanent "impressions" of sound and rhythm that are constantly changing and "in flux".
If you want to know more about the artist, nothing better than to come to his concert in the beautiful Antoine Gaborieau's hall!
Hope to see you there!
--------------
Depuis 1986, le Centre culturel franco-manitobain fait vibrer la culture jazz à Winnipeg au travers de son programme « Mardi Jazz ». Les soirées ont lieu deux mardis par mois, proposant un spectacle animé par des artistes passionnés. Ils interprètent leurs propres chansons mais vont également piocher dans le grand répertoire du Jazz afin de vous offrir de la diversité. Chaque mois, nous vous proposons un thème différent dans le but de vous faire voyager au travers des multiples formes et origines que peut prendre le Jazz. Sur place, nous disposons d'un bar afin que vous puissiez profiter pleinement de votre soirée autour d'un verre.
Consignes COVID-19:
• Ne venez pas au spectacle si vous êtes malade, même avec des symptômes mineurs.