Description
A Seminar on Managing Chemical Injuries to Skin and Eye Tissues
As safety manager, first responder, or medical professional, you've likely asked yourself how you can reduce injury rates from corrosive chemical splashes to skin or eye tissue. These splashes can have severe consequences even if water washing has been performed to the ANSI Standard. Are there better options than water?
Join us for a seminar on chemical splashes and first aid methods. Dr. Carlos Yoshimura and Marie-Anaïs Dentzer from Prevor Toxicology Laboratory will be addressing:
Pathology of chemical injuries

Benefits and Limitations of water washing

Introduction to Diphoterine and Hexafluorine® solutions

Medical case review of different washing methods

Diphoterine® and Hexafluorine® solutions are chemical washing fluids that have the ability to encapsulate chemicals, rendering them harmless and drawing them out of the skin or eye tissue. These solutions specifically address the limitations of washing chemical splashes with water to provide drastically improved outcomes.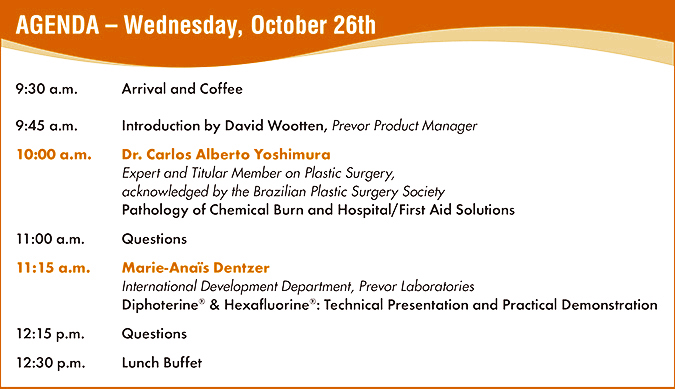 Attendance of this seminar is complimentary but strictly limited by invitation only. Consequently, your response is required.
Sponsored by Levitt-Safety Ltd.
Have questions about Improving Chemical Splash Outcomes?
Contact Eric Huard, Prevor Sales Specialist at eric.huard@levitt-safety.com