Location
Online Event
Link to be provided to registered attendees
Brampton, ON L6T 5H9
Canada
Refund policy
Contact the organizer to request a refund.
Eventbrite's fee is nonrefundable.
Learn to speak with confidence, control your fear, & organize your thoughts in any situation; in this interactive event. Change your life!
About this event
2-hour workshop to improve your communication in all aspects of your life! Find out how you can continually improve your communication beyond the workshop.
What's in it for you?
Improve Your Communication, become a Better You!
By learning to effectively formulate and express your ideas, you open an entirely new world of possibilities. In this workshop, you'll learn to improve your interpersonal communication, be more persuasive and confident when talking to others.
____________________________________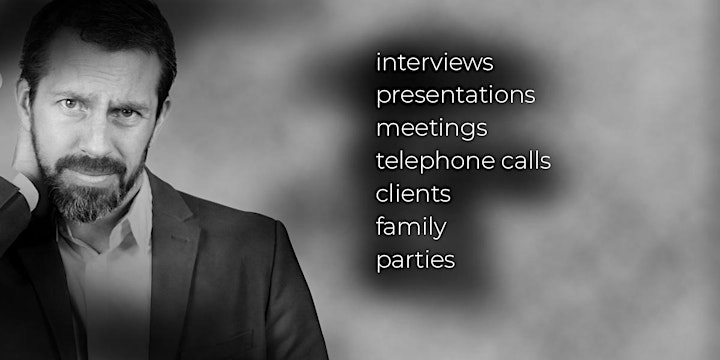 ____________________________________
As a workshop participant, you will learn:
to speak impromptu
to control your fear when in front of small or large groups
to organize your thoughts into a cohesive presentation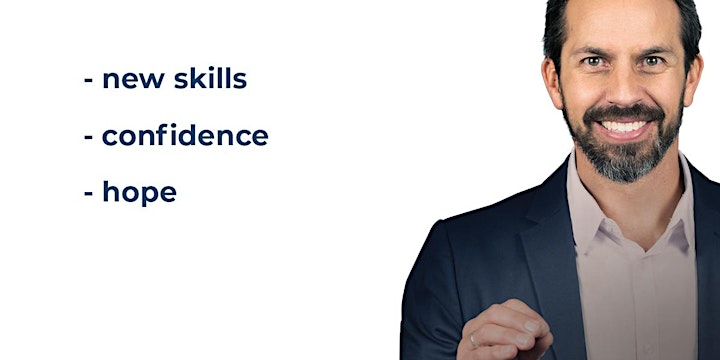 ____________________________________
As a workshop participant, you will receive:
three presentations
handouts
practice
experiences, stories, and advice from proficient speakers
a chance to ask questions
⬇︎See the agenda below⬇︎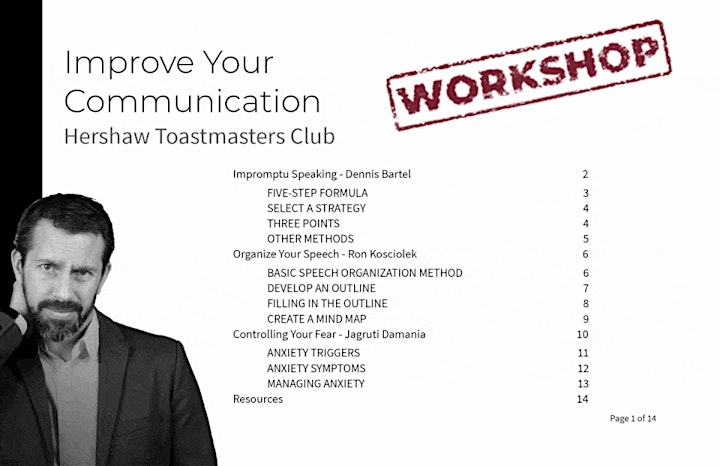 Agenda 7 pm to 9 pm
____________________________________
Session 1: Organizing Your Speech - When and how to say it.
Organize Your Speech will teach you how to organize your thoughts and create a clear, cohesive presentation.
____________________________________
Session 2: Controlling Your Fear - Tips for overcoming nervousness.
Control Your Fear will help you understand your fear of speaking in front of others and give you strategies and tips to work through the fear.
____________________________________
Session 3: Impromptu Speaking - Thinking on your feet.
Impromptu Speaking will help you learn to formulate your thoughts in such a way that you can answer a question even when it comes as a surprise. Has your mind ever gone blank when you were put on the spot? This workshop will help you to never go blank again.
__________________________________
Practice - Put the new skills to use.
Participants get a chance to practice the newly acquired skills by answering an impromptu question or topic in one minute.
___________________________________
Session 4: Discussion With Experts - Hear success stories and ask questions.
Panel Discussion will be a moderated discussion where experienced speakers will share how they've turned public speaking challenges into successes.
FAQ
What is the age restriction?
To attend the workshop, you must be 18yrs of age or older.
Who is putting on the workshop?
Hershaw Toastmasters is hosting the event. Hershaw Toastmasters meets every Thursday in Brampton.
Are the presenter's experts?
The presenters are Toastmasters at various levels using Toastmasters Material from The Better Speakers Series.
Will I be able to ask questions?
Yes, there will be opportunities through the chat function and during the presentations.
Which online platform will be used?
The workshop will be on Zoom. After registration, a few days before February 3rd, 2022, you will receive a link. We suggest you upgrade to the latest version for the best experience.
What is Toastmasters?
Toastmasters International is a nonprofit educational organization that teaches public speaking and leadership skills through a worldwide network of clubs. Headquartered in Englewood, Colo., the organization's membership exceeds 364,000 in more than 16,200 clubs in 145 countries. Since 1924, Toastmasters International has helped people from diverse backgrounds become more confident speakers, communicators, and leaders.