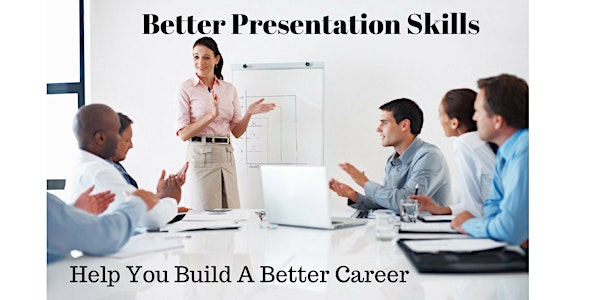 Improve Your Presentation Skills To BOOST Your Career!
Location
Oshawa Public Libraries - McLaughlin Branch
Auditorium Downstairs
65 Bagot Street
Oshawa, ON L1H 1N2
Canada
Description
BUILDING BETTER PRESENTATION SKILLS ARE THE BEST WAY TO IMPROVE YOUR CAREER
When it comes to your career, there is no way to overstate the importance of strong presentation skills
This 50 minute seminar will provide you with proven tips to help you develop better presentation skills that will help with your career and your personal development. Studies show that people with strong communication skills get promoted faster and have more career opportunities.
This event is FREE TO ATTEND
If you have to make sales calls, attend job interviews or give presentations in class or at work - Toastmasters can help you!
If you are nervous speaking in front of others - Toastmasters can help you!
If you have to give a speech at a wedding or special event - Toastmasters can help you!
People with strong presentation skills are always in demand and studies show your ability to communicate effectively is key to getting a promotion.
Seating Is Limited – Reserve Your Free Spot Now
For more information contact: Bob Weese Email: weese.robert@gmail.com

Doors open for Registration at 11:50 Presentation Starts at 12 noon and wraps up by 1pm
Who Should Attend?

Designed for people who want to improve their presentation skills and improve as speakers

Whether your focus is business or personal this seminar can help you

Space is limited to 20 people. Bring your own lunch
Find out how we can help you! Hosted by the Lunchtime Talkers Toastmasters Club of Oshawa. Our club meets in the Auditorium of the Library main branch 12 to 1 pm each Tuesday.
Toastmasters is not just for people afraid of public speaking. Many members join so they can learn how to give better presentations and run effective meetings. Others come to improve their interviewing skills for job hunting and career advancement. Toastmasters is a not for profit organization -
For more information on our club visit http://lunchtimetalkers.toastmastersclubs.org/