Improving Case Management for People with Developmental Disabilities
Description
This full-day workshop, hosted by the Ministry of Community and Social Services, will bring together people and families like yourself, that use Developmental Services, to design possible solutions to improve case management services for people with developmental disabilities in Ontario.
We would like you to share your personal experiences with developmental services case management, as well as your ideas on how case management services could be made better for yourself and your loved ones.
In addition to people with developmental disabilities and their families, participants will also include: Case Management agencies, Developmental Services Ontario offices, Community Networks of Specialized Care, Passport agencies; and government Ministries of Community and Social Services, Health and Long-Term Care, Children and Youth, and Education, and other relevant partners.

Dr. Leighton Jay, a recognized expert, facilitator, and former academic from Australia will lead the workshop. Dr. Jay's personal experience as the father of a young man with complex disability support needs, deeply informs his vision and his work.
Financial support to attend the workshop is available, if needed.
RSVP Deadline: September 11, 2017
Contact Info: Kathy Cox: CSPB@ontario.ca | 416-327-4954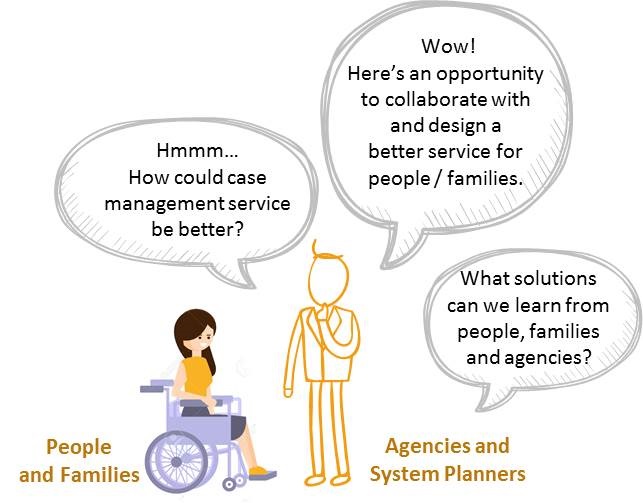 Accommodations
Please also let us know about any dietary requirements/allergies you may have, and if you require any accommodations, (e.g. physical accessibility, language services, Personal Support Worker, etc.)
Getting to the Metro Toronto Convention Centre
Within Toronto
http://www.mtccc.com/locations/getting-here/from-within-toronto/
Outside of Toronto
http://www.mtccc.com/locations/getting-here/from-outside-of-toronto/
Parking
The facility has 1,700 indoor parking spaces in total. There are twelve accessible spots in the North garage, and nine accessible spots in the South garage. The North garage is closest to the workshop location (North Building, Rm 104).
Payment for parking can be made by Visa, MasterCard, Amex and cash.
To view directions to the North and South parking facilities, as well as alternate parking lots close by, please click here:
http://www.mtccc.com/locations/area-maps/
For more information on parking at the Metro Toronto Convention Centre, please click here:
http://www.mtccc.com/locations/parking-garage-rates/
Renting a Wheelchair
Wheelchairs are available as a courtesy service on a first come first serve basis. If you do require a wheelchair, please let us know and we will contact you to make the necessary arrangements.