Modules Package 3 | Specialize in the Customer Experience
About this event
9 Evening + Weekend Sessions from April 23rd – June 2nd
Apply By: April 15th 2021
The customer is always right, so learn how to put yourself in their shoes. By gaining insight into their journey you can modify the experience to make sure they will be return Users or walk away satisfied.
Ideal for
Junior position
Those working within the tech space
What you get
Become an expert, add foundational knowledge & skills in one area
27-36 hours of class
Digital Badge Certification
Access to M.AD School of Idea's international network
Advertising's industry connections
How it works
3 - 4 module courses
Feedback sessions
Virtual, online classes with industry professionals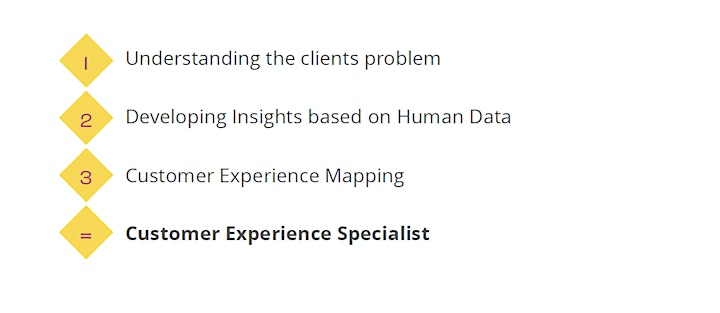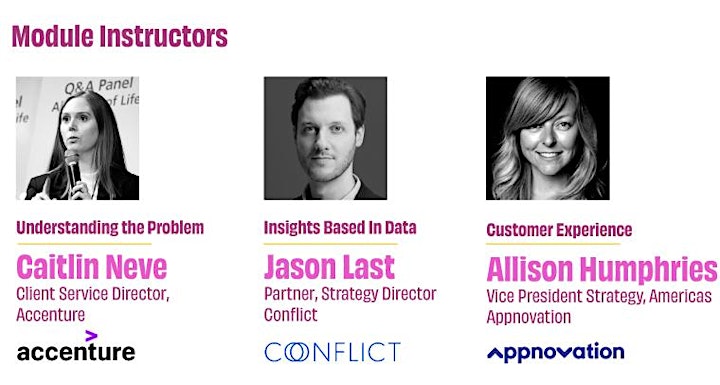 This package includes 3 skill-building modules:
Module 1: Understanding the Client's Problem
What key issue is the brand facing? Is it an issue that can be solved by advertising? A planner's job is to ask the right questions. You will discuss how advertising is a planned, not a haphazard, activity; winning strategies are dependent on rigorous consumer/market analysis.
Key Takeaways
The typical structure of a client brief
How clients define their issue and examples
Questions to ask the client (5 Whys, for example)
How to qualify the client's assumptions
How to identify competitors
Dates: April 23rd, 24th, May 12th
Module 2: Developing Insights based on Human Data
In this module you will learn how to develop an insight using available research within four sections: consumer (target audience), culture (current trends), category (what business is the client in) and brand (the client). You will be taught the difference between an insight (a human or brand truth) and an obvious assumption (moms are busy).
Key Takeaways
Strategic tools and frameworks to support developing an insight
Developing a strong insight with sticking power
Ensuring the insight is rooted in a human and brand truth
Playing to win: standing out from competitors
Knowing when to stop
Dates: May 7th, 8th, 19th
Module 3: Customer Experience Mapping
Apply By: April 15th 2021
This module provides a practical understanding of the value and case for the development and delivery of a customer experience strategy. It also provides a practical understanding of how to design and deliver a strategy and how it can drive customer growth, profitability, and loyalty.
Key Takeaways
Understanding target audience (tribes) and their media usage behaviour
Opportunities to connect across the consumer journey
Digital channels (SEM, Display, Social, Web, etc.,) Consumer-first marketing: adapting to context and triggers
Communications planning framework
Dates: May 17th, 18th, June 2nd