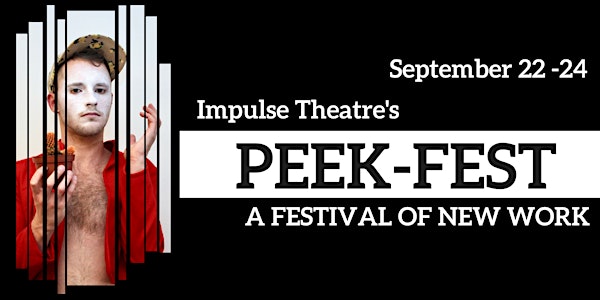 Impulse Theatre's PEEK FEST
When and where
Location
Victoria Victoria, BC Canada
Refund Policy
Refunds up to 1 day before event
Description
ABOUT THE FESTIVAL
Impulse Theatre's PEEK-FEST is a new festival for emerging performing artists in Victoria. The festival offers exciting new looks at work in development from some of the province's most innovative creators, while seeking to grow the artistic development of local artists through showcases and workshops.
TICKETS
Along with individual tickets, we also offer discount passes! Split into three categories, these passes can get you into all the shows, all the workshops, and even the whole festival. Click below to see all ticketing options and find the best fit for you. Limited quantities available!
All Access Pass: $85
Workshop Pass: $70
Performance Pass: $20
Tickets to Shows and Workshops are available at the door (starting an hour before) and online. The All Access Pass and Performance Pass will only be purchasable at the door at PEEK-SHOW: The Lightning Round on September 22nd after 7pm, pending remaining availability.
Please note: Advanced sales close an hour and a half before each event.
ACCESSIBILITY
Impulse Theatre, and PEEK-FEST, seeks to create an anti-oppressive and queer-positive space for artists within the community. Impulse encourages submissions from marginalized communities for submissions for PEEK-SHOW: The Lightning Round, as well as participation within our workshop series.Our events on September 22nd and 23rd at Intrepid Theatre Club are wheelchair accessible. Unfortunately, our workshops at SKAM Studios on September 24th are not. If you have any concerns, please do not hesitate to email andrew@impulsetheatre.ca.
Impulse Theatre invites interested participants with financial concerns to either apply as an artist for PEEK-SHOW: The Lightning Round (click here: ) to receive a discount to all workshops, or volunteer in exchange for a ticket to one of our two performances. If these are not an option for you, please email andrew@impulsetheatre.ca to discuss alternatives.
PEEK-FEST take place on the unceded and traditional territories of the Lekwungen peoples, now known as the Songhees and Esquimalt Nations.
---
THE PERFORMANCES
AUDIENCE NOTES:
For Advanced Ticket Holders to any Show: please arrive at least fifteen minutes to pick up your ticket from the Box Office.
Pass Upgrades: will only be available at the door for PEEK-SHOW: Lightning Round on Friday, September 22nd, 2017
​PEEK-SHOW: The Lightning Round
Friday, September 22nd, 2017 8pm
Intrepid Theatre Club (1609 Blanshard)
$15 / $20 Performance Pass
An informal and exciting experience for artists and patrons, all discovering new stories for the first time. The evening consists of new works from a diverse and equitable group of Victoria's performing artists. This time, each group is provided with only 7 minutes to present whatever art has been brewing in the back in their mind, itching to come out. From text, to dance, to somewhere in-between, we will be living in a space of discovery and courage. PEEK-SHOW acts as a new initiative to foster creative connections between Victoria's performing artists and to spark momentum within the community.​
LIGHTING ROUND PARTICIPANTS:
Andrew Brimstone - Plan 9 From Outer Space
Holly M Brinkman - Untitled
Copper & Pickle
Elizabeth Martin - Naturals
La Palabra en el Tiempo
Emma Leck - The Plight of the Dung Beetle
Kat Taddei/Vino Buono - BOYS.
PEEK-FEST LAUNCH PARTY
Friday, September 22nd, 2017 – 10pm
Intrepid Theatre Club (1609 Blanshard)
FREE
The taps will be flowing, wine will be chilling, and we're going to celebrate the inaugural PEEK-FEST in style!
THE SECOND PEEK
Saturday, September 23rd, 2017 – 8pm
Intrepid Theatre Club (1609 Blanshard)
$15 / $20 Performance Pass
​
Three new works mid-development from exciting multidicsiplinary performance creators presented with 30 mins each. This is an exciting opportunity to settle in and go deeper into these artist's processes.
Brian Postalian – There Was and There Was Not
Created and performed by Brian Postalian
A man searches for something he feels he lost. He has a hole in his body the size of a fist. He is haunted by an Armenian folk tale, a story of a Genocide that was and was not. A presentation of a "failed" attempt at writing a play, Brian confronts the choices he did or didn't make to find the answer to his sadness.
Impulse Theatre – the soft spaces
Created and performed by Andrew Barrett
A new and in-development solo work from Artistic Director, Andrew Barrett. the soft spaces is one artist's search for a special part of himself he locked away a very long time ago. Melding his artistic lineage, queerness, and aesthetic taste, Andrew pushes himself to try a little tenderness.
SNAFU Dance Theatre – 17 Minutes
Created and Performed by Kathleen Greenfield
Using many disciplines that she hasn't quite pinned down yet, Kathleen will put 17 moments, memories and myths on stage. Somehow, they are all about invisibility...or being invisible. Genre: sci -fi.
---
THE WORKSHOPS
PARTICIPANT NOTES:
Arrive at least ten minutes early: workshops will begin on time.
Workshop Passes: can be purchased in advance, at the box office of PEEK-SHOW: Lightning Round on Friday, September 22nd, and at Foundations of Performance Creation on Saturday, September 23rd
Foundations of Performance Creation with Brian Postalian
Saturday, September 23rd, 2017 – 11am to 3pm
Intrepid Theatre Club (1609 Blanshard)
$40 / $70 Workshop Pass
A growing number of theatre professionals no longer see themselves solely as actors, directors, or playwrights, but rather as performance creators — artists with multidisciplinary knowledge, training, and expertise. Through understanding the fundamentals of new creation work we can make more meaningful, engaging, and thorough explorations of contemporary performance. We will examine a breadth of interdisciplinary theatre projects and break down processes to create non-traditional work.
About the Instructor:
Brian Postalian (Բրայն Փոսթալյան) is an interdisciplinary performance creator born and raised in Toronto by way of Armenia, Ireland, Wales, and the Czech Republic. He was Crapshoot Artistic Producer at Theatre Passe Muraille and Compass Points Curator at Canada's Magnetic North Theatre Festival. ​He has been a guest lecturer at the University of Toronto and Ryerson University and recently relocated to Vancouver to pursue an MFA in Interdisciplinary Studies at Simon Fraser University. He frequents used book stores, rides bicycles, takes photos and is learning how to draw and play the duduk. Brian is the founding Artistic Director of Re:Current Theatre.
Introduction to Devising Theatre with Kathleen Greenfield
Sunday, September 24th, 2017 – 11am to 2pm
SKAM Studios (1030 North Park - around back)
$30 / $70 Workshop Pass
Ever wonder how to devise your own work? How can you go from one small piece of inspiration to an entire show? SNAFU Dance Theatre's Kathleen Greenfield will introduce you to new techniques and strategies to devising performance that will jumpstart your next project and find new surprises.
About the Instructor:
Kathleen Greenfield is dedicated to collective creation, the development of new work and community involvement. Her interests and experience are in site-specific outdoor performance, puppetry, folk stories, and community activism. In 2013, she joined SNAFU Dance Theatre as Co-Artistic Director. She has directed the premiere productions of many new works including The Hunt Workshop (Impulse), Little Orange Man (SNAFU), Kitt & Jane (SNAFU), Lieutenant Nun (SNAFU/Puente), I Have Seen Beautiful Jim Key (Intrepid Theatre), The Shoes (Humble Wonder Theatre) and Bullfrog Lullaby (head through painting). Kathleen is the Administrator and teacher of Kate Rubin Theatre at SKAM Studios. In 2013, Kathleen joined the artistic team at William Head Prison as a facilitator, workshop leader, director, deviser, projection designer, writer and performer for Time Waits for No One: A Prison Play(2014), HERE: A Captive Odyssey (2015), and Sleeping Giants (2016) alongside a team of residents and fellow artists at William Head on Stage (WHoS).
​
Essentials of Puppetry with Randi Edmundson
Sunday, September 24th, 2017 - 2:30pm to 5:30pm
SKAM Studios (1030 North Park - around back)
$30 / $70 Workshop Pass
In this workshop, participants will be introduced to basic puppet manipulation, focusing on found object and 2 to 3 person puppets. Participants will be introduced to different styles of puppets and puppetry through movement exercises, improvisation, and play. Participants will leave with the basic tools required to integrate puppetry into their own practice.
​About the Instructor:
Randi Edmundson is a Jessie Award winning puppeteer and theatre creator. She has studied puppetry with Pete Balkwill (Old Trout Puppet Workshop), Mervyn Millar (Handspring Puppet Company), Jeny Cassady, Mind of a Snail, and more. Her puppetry and puppet designs have been seen across BC, from Chemainus to Prince George.