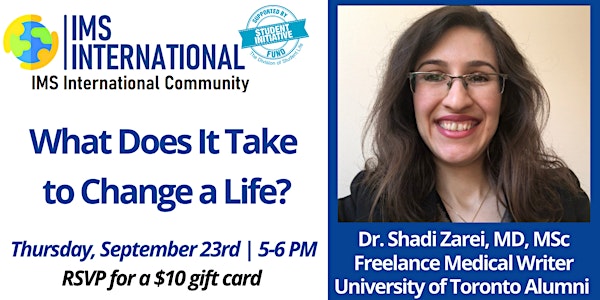 IMS-International Community 8th Seminar Series with Dr. Shadi Zarei
IMS-International Community Seminar Series with Dr Shadi Zarei, MD, MSc, Freelance Medical Writer in Neuroscience and Psychology
About this event
Join us on September 23rd to hear Dr. Shadi Zarei 's talk on: "What Does It Take to Change a Life?"
This event is the 8th IMS-International Community monthly Seminar Series.
Shadi is a freelance medical writer specializing in the fields of neuroscience and psychology. Her focus is on creating educational content for patients and training materials for healthcare professionals. She also works with the networking team at Life Sciences Career Development Society (LSCDS) at the University of Toronto where she helps connecting students with industry leaders by organizing networking events.
Shadi obtained her medical degree from Tehran University of Medical Sciences. Following graduation from medical school, she worked as a family doctor for 1.5 years. Then, she moved to Canada and completed her Master's in the medical science program at the University of Toronto. Her master's project focused on designing an online intervention of mindfulness-based cognitive therapy (tele-mindfulness) for family caregivers of patients with dementia. Her project then was adapted to a provincial program available to all family caregivers across Ontario. Then she completed a 2-year post-doctoral research fellowship at Center for Addiction and Mental Health (CAMH). In her post-doc, she studied the effect of behavioral interventions in combination with pharmacotherapy in patients with dementia.
In her spare time, Shadi enjoys coloring, meditating, and reading interesting books in different genres.
Join Zoom Meeting
https://utoronto.zoom.us/j/89638104255
Meeting ID: 896 3810 4255