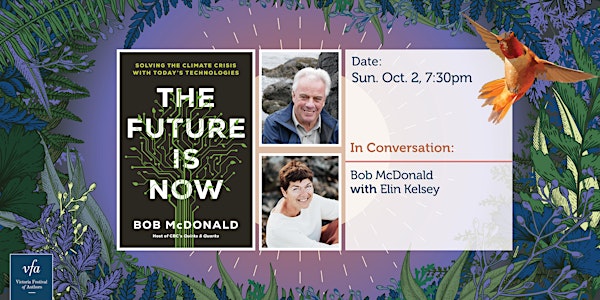 In Conversation: Bob McDonald with Elin Kelsey
The Future is Now: Solving the Climate Crisis with Today's Technologies
When and where
Location
Dave Dunnet Community Theatre 2121 Cadboro Bay Road Victoria, BC V8R 5G4 Canada
About this event
In the heart of the pandemic, Bob McDonald and Elin Kelsey shared a conversation about eco-anxiety, evidence-based hope, and the climate crisis in the lead up to a CBC Quirks and Quarks interview. Elin was in her closet so her clothes would muffle background noise; Bob was in his basement; and thanks to Zoom, it all sounded like professional radio. With the launch of Bob's new book, The Future is Now: Solving the Climate Crisis with Today's Technologies, it's a perfect opportunity to invite you into that conversation. Join Bob and Elin as they discuss climate solutions, the very real technologies that are already at play, and what all this means to overcoming climate doom.
IMPORTANT NOTES:
1.) Doors open at 7:00. Seating is not assigned.
2.) Captioning is available through a link on your personal phone/ tablet device.
3.) If you are unwell, please stay home.
4.) There is no livestream option for this event.