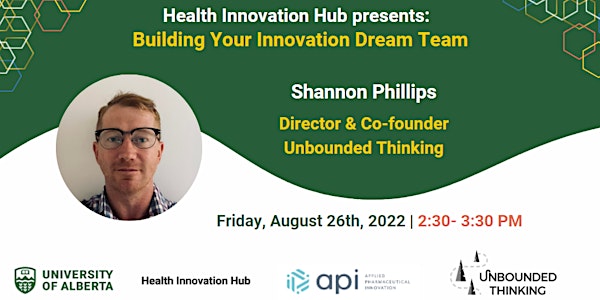 In Conversation: Building your Innovation Dream Team
Looking to build a dream team to achieve your goals? Join our In Conversation event to learn science-based practices to accomplish that!
About this event
In this session, we will discuss various actionable, evidence-based psychology principles such as cognitive diversity that aid in the development of strong teams.
Unbounded Thinking is an organization dedicated to unbinding individuals from current ways of thinking and instead, considering a different more comprehensive approach to problem-solving. Their framework is applied to strategy, innovation, and critical thinking within teams.
With a Bachelor of Biomedical Science, Shannon is an expert in understanding human behavior and decision-making. He's your go-to for organizational change management, strategic planning, and innovation. He's also trained in different psychology concepts, such as behavioral psychology, emotional intelligence, and personality psychology.
Shannon loves thinking outside the box and challenging others to do so. He's people-focused and is always trying to understand why people do what they do.
In this session, you will learn about various psychological principles that allow you to push your team forward!
Follow us on Youtube, LinkedIn, and Twitter.
Subscribe to our Bi-weekly Digest.