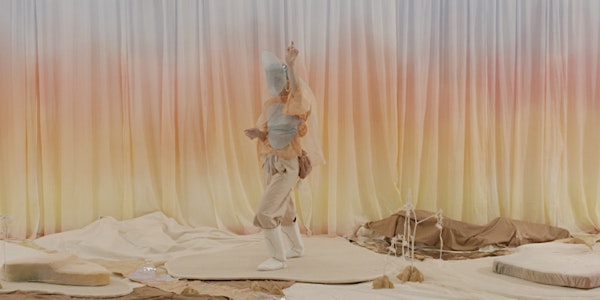 In Conversation: Rihab Essayh and Sally Frater
Join us for an online conversation featuring artist Rihab Essayh and Art Gallery of Guelph curator of contemporary art Sally Frater.
When and where
Location
Art Gallery of Guelph 358 Gordon Street Guelph, ON N1G 1Y1 Canada
About this event
Join us for an online conversation between artist Rihab Essayh and Art Gallery of Guelph curator of contemporary art Sally Frater as they discuss the ideas and issues at the heart of Essayh's current exhibition أحلم بواحة ناعمة | I dream of a soft oasis, on view until August 28, 2022.
More interested in building worlds than building installations, Rihab Essayh's tactile and immersive environments emerge from her efforts to support the conditions for "radical softness" – an idea that suggests that showing emotions and vulnerability is a political gesture in a society that prioritizes rationalism and indifference. Evoking the topography of an oasis surrounded by a diaphanous sunset of cotton voile, the Moroccan-born artist layers elements based on their materiality – from her subtle drawings on paper and poems on fibre, to the projected light on fabric and sound that vibrates in the space.
This layering is paralleled in the perspectives she incorporates in her work. Collaborative in impulse, Essayh engages diverse Southwest Asian and North African (SWANA) voices in the making of her work, decentring colonial, Eurocentric and Orientalist perspectives. The lightness and delicacy of the constructed landscape speak to her vision of a soft futurism based on principles of empathy, belonging, and care, particularly important in the context of the pandemic and its drastic social and emotional impacts.
This exhibition represents the culmination of two years of focused work in the University of Guelph's Master of Fine Arts program. The Art Gallery of Guelph's annual exhibition of a graduating MFA student is presented in conjunction with the School of Fine Art and Music at the University of Guelph.
Image detail: Rihab Essayh, The hymn of the warriors of love, 2022, video: 10:12 mins. Image courtesy of the artist.