A webinar by the Black Legal Action Centre for Black Ontarians on human rights legal systems and filing applications.
About this event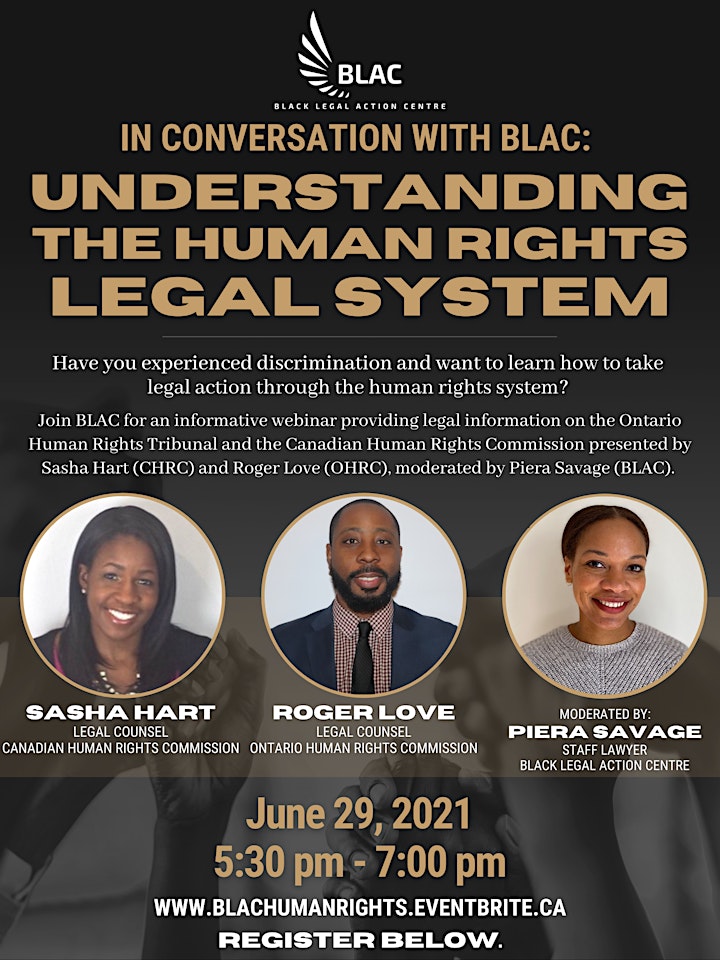 Have you experienced discrimination and want to learn how to take legal action through the human rights system?
Join BLAC for an informative webinar providing legal information on the Ontario Human Rights Tribunal and the Canadian Human Rights Commission, presented by human rights lawyers Sasha Hart and Roger Love, and moderated by BLAC's staff lawyer Piera Savage.
The webinar will answer the following questions:
What is the difference between the Ontario Human Rights Tribunal and the Canadian Human Rights Commission?
What social areas can I file a complaint in (e.g. housing, employment, banking, etc.)?
What kind of documentation and evidence of discrimination do I need to provide?
What happens during the application process? What can I expect and how do I prepare? What are some tips and tricks for filing an application?
How are decisions made?
Where can I find legal support for filing an application?
Meet the presenters:
Sasha Hart is an Ottawa-based human rights lawyer. She has many years of human rights advocacy experience in both Canada and internationally. She regularly appears before the Canadian Human Rights Tribunal, and has also appeared before the Supreme Court of Canada. Sasha is named as an Expert to the UN Women Ending Violence Against Women Expert Roster. In addition to being a proud member of the Canadian Association of Black Lawyers, Sasha has also served for several years on the Executive of the Ontario Bar Association's Constitutional Civil Liberties and Human Rights Law Section, as well as on the National Steering Committee of the National Association of Women and the Law. Sasha earned her LL.B and B.C.L from McGill Law, and also holds a Master's in International Human Rights Law from Oxford University, where she graduated with Distinction. Sasha is passionate about using her legal skills and knowledge to confront anti-Black racism, gender-based discrimination, and the intersection of the two.
Roger Love, B.A., J.D., is a human rights lawyer based in Toronto, Ontario. He has litigated several cases regarding racial discrimination and anti-Black racism before the Human Rights Tribunal of Ontario (HRTO) including JKB v. Peel (Police Services Board), Grant v. York Region District School Board and Wickham v Hong Shing Chinese Restaurant. He has also litigated cases regarding disability, mental health and sexual harassment. In addition to his work before the HRTO, Roger has appeared before various levels of court including the Supreme Court of Canada. In 2018, he was selected to participate in the United Nations Fellowship Programme for people of African descent.
Meet the moderator:
Piera Savage is a staff lawyer at BLAC. She is committed to working towards racial equity by advocating for our clients and breaking down systemic barriers to equality. She began working in the clinic system prior to her call to the bar in 2016, starting at Parkdale Community Legal Services in the Social Assistance Violence and Health division, and then expanding her practice to housing, immigration and employment law as an articling student. Piera then worked at West Scarborough Community Legal Services for four years with a focus on Housing, Social Assistance, and Immigration law. At BLAC, Piera continues her work by representing individuals at the Landlord and Tenant Board, Human Rights Tribunal, and Social Benefits Tribunal. She approaches her work from an anti-racist, anti-oppressive, and trauma-informed lens. Piera is a graduate of Concordia University and Osgoode Hall Law School. Outside of work, Piera loves to sing, cook, and write.
About BLAC:
Established in 2017, the Black Legal Action Centre (BLAC) is an independent not-for-profit community legal clinic that combats individual and systemic anti-Black racism by conducting research, engaging in structural transformation, and providing legal services to members of Ontario's Black communities. BLAC engages in advocacy, community development, law reform, test case litigation, and public legal education. BLAC is funded by Legal Aid Ontario and governed by a volunteer Board of Directors.
Organizer of In Conversation with BLAC: Understanding the Human Rights Legal System