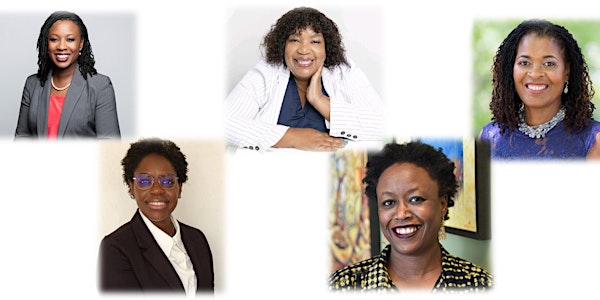 In Conversation with Black Women in Leadership
Join Yabome Gilpin-Jackson, In Conversation with Black Women in Leadership across the public service, civic/community & business sectors.
By Dr. Yabome Gilpin-Jackson
Date and time
Sat, Feb 18, 2023 9:00 AM - 10:15 AM PST
About this event
This Black History Month, join Dr. Yabome Gilpin-Jackson, In Conversation with Black Women in Leadership across the public service, civic/community and business sectors in Canada. The world continues to contend with living with COVID-19, inflation, climate risks, conflicts, geopolitics, mental health and health system crisis and social justice movements demanding required shifts towards an equity-centered world. All these global trends are directly impacting organizations and communities and increasing the demand on leaders. In the midst, Dr. Yabome Gilpin-Jackson asks Black women in senior leadership roles: What does leading in these times of both trauma and transformation require of you? Join us to hear how they respond and for a chance to ask questions following their reflections. This is a chance to celebrate and be inspired by the accomplishments of Black Canadian women in leadership, this Black History Month.
Councillor Trish Mandewo is the First Black Coquitlam City Councilor, is the First Vice President for Union of British Columbia Municipalities (UBCM) and a serial entrepreneur, currently the Founder of Synergy Executive & Boards Consulting Group dedicated to Indigenous, Black and People of Color placement. Trish has served on over 20 Boards.
Paulette Senior is President and Chief Executive Officer of The Canadian Women's Foundation and past Chief Executive Officer of YWCA Canada. Paulette has served on Boards throughout her professional career and self-identifies as an executive devoted to gender justice. She is recipient of several Black community and leadership awards.
HE Lorraine Anderson is High Commissioner of Canada to Cameroon and Ambassador of Canada to Chad (designated). She is a diplomat, executive and international human rights and humanitarian lawyer with experience across the post-conflict to development spectrum and an avid advocate for supporting Black leaders.
Musu Taylor-Lewis is Director, Resources and Public Engagement at the Canadian Foodgrains Bank with over 15 years experience leading teams to consistently produce double digit revenue increases in a variety of organizational settings. She currently serves as co-chair of the taskforce of accountability for anti-racism efforts in the international cooperation sector.
In Conversation dialogues are hosted and moderated by Dr. Yabome Gilpin-Jackson during Black History Month. She is a multiple award-winning organizational development leader and scholar who centers equity, diversity and inclusion (EDI) in all she does. Throughout her career, which has spanned the public, private and non-profit sectors, she has helped people and organizations build capacity for transformational change. In addition to many academic peer-reviewed articles and book chapters, she has published short story/flash fiction collections about global African experiences Identities, Ancestries and Destinies.
Register by Friday February 17, 6pm to receive zoom link prior to the event.