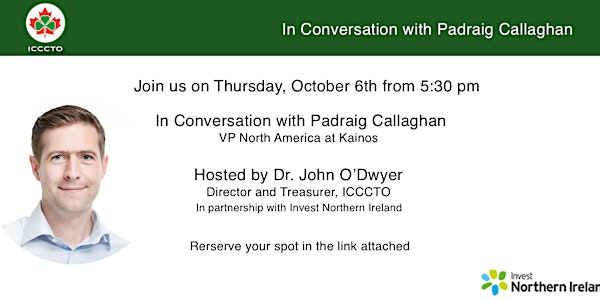 In Conversation with Padraig Callaghan
In Conversation with Padraig Callaghan
When and where
Location
176 Yonge St 6th floor 176 Yonge Street #6th floor Toronto, ON M5C 2L7 Canada
About this event
Join us on Thursday, October 6th from 5:30 pm
In conversation with Padraig Callaghan
VP North America at Kainos
Hosted by Dr. John O'Dwyer
Director and Treasurer, ICCCTO
After graduating from Dublin City University, where Padraig studied Computer Application and Information Systems, he spent his earlier years working in the Management and Technology Consulting sector, supporting clients to design and build cutting edge technology solutions.
Padraig joined Kainos in Dublin in 2007, where he initially was responsible in delivering bespoke solutions to clients such as Bank of Ireland, FBD and Hibernian. Following the financial crash in 2008, he transitioned to London to support the establishment of a new Kainos office focused on UK market development. Following a successful partnership in 2011 with Workday, a cloud-based ERP, Padraig ultimately performed the role of Regional Director for the practice in the UK and Ireland.
In early 2019, Padraig moved to Toronto, Canada, tasked with replicating the growth that was achieved in Europe to build a Kainos practice to service North America. In the past three years the local organization has grown to a team of approximately 400, with over 70 locally in Canada.
About Kainos
Kainos Group plc is a UK-headquartered provider, operating in two specialist divisions, Digital Services and its Workday Practice.
Our Digital Services division develops and supports custom digital service platforms for public sector, commercial and healthcare customers. Our solutions transform the delivery of these services, ensuring they are secure, accessible and cost effective, and that they provide better outcomes for users.
Kainos has more than 2,500 people across Europe, North America, and South America. Kainos is listed on the London Stock Exchange (LSE: KNOS).
For further information, please visit www.kainos.com.