In conversation with Waubgeshig Rice - Free livestream event for students
About this Event
Join us as we talk with author Waubgeshig Rice about his life growing up, his experiences as an author, and the importance of centering Indigenous voices in the English classroom. Among other things, Waub will discuss his novel, Moon of the Crusted Snow.
Offered in collaboration with FNMIEAO and ELAN Ontario, this free livestream session is intended for students in secondary English and Understanding Contemporary First Nations, Métis, and Inuit Voices courses.
Registration details:
Teachers register for one ticket to access the livestream event. They can then host the livestream through their learning management system.
If necessary, students can be provided with the livestream link to view from their own device. Students should then be encouraged to login with their username as displayed on their school accounts and be advised of appropriate digital citizenship considerations as they join the online community for this event.
The session will be recorded and posted at FNMIEAO Events and ELAN Ontario Events.
If you or your students have questions for Waub, whether before or during the session, please submit them using this Google Form: Questions for Waub. Because our audience for this event will be quite large, we will be using this Google Form rather than the chat feature.
Click here for more info.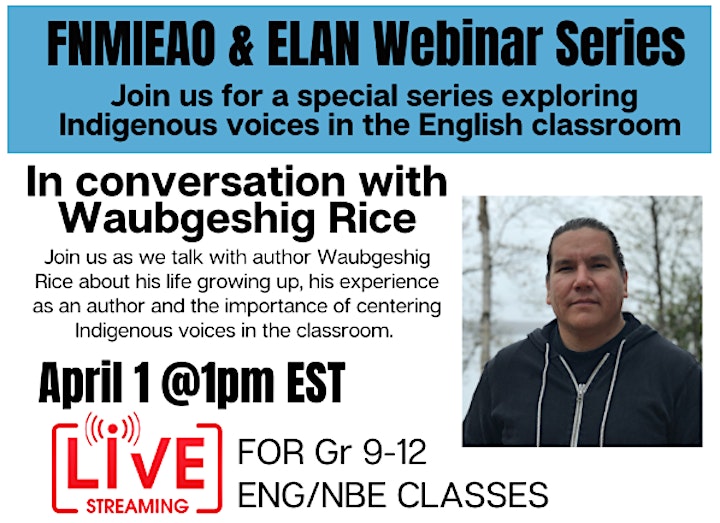 Author Bio:
Waubgeshig Rice is an author and journalist from Wasauksing First Nation. He has written three fiction titles, and his short stories and essays have been published in numerous anthologies. His most recent novel, Moon of the Crusted Snow, was published in 2018 and became a national bestseller. He graduated from Ryerson University's journalism program in 2002, and spent most of his journalism career with the Canadian Broadcasting Corporation as a video journalist and radio host. He left CBC in 2020 to focus on his literary career. He lives in Sudbury, Ontario with his wife and two sons.