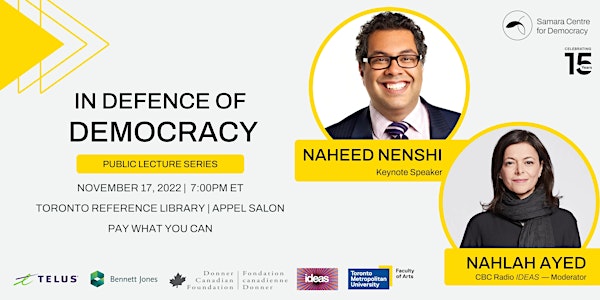 In Defense of Democracy
This year's event will focus on answering an urgent and defining question of our era: How do we inspire renewed civic purpose in Canada?
When and where
Location
Toronto Reference Library (Appel Salon) 789 Yonge Street Toronto, ON M4W 2G8 Canada
About this event
The Samara Centre for Democracy is celebrating our 15th anniversary by welcoming former Mayor of Calgary Naheed Nenshi for the In Defence of Democracy public lecture.
After 15 years of studying, defending, and strengthening Canadian democracy, the Samara Centre is looking ahead to its next chapter. Partisan division, civic alienation and regional disparities continue to perpetuate barriers to meaningful democratic engagement and political representation. How can we reflect and respond to these new and emerging challenges?
To inspire this reflection, Naheed Nenshi will share his story of courage, public service and kindness. His keynote and fireside discussion will offer critical and practical actions that audience members can apply in their own lives to build renewed civic purpose in their communities. In conversation with host of CBC Radio's IDEAS, Nahlah Ayed, Mr. Nenshi will discuss the importance of local democracy, the impact of online toxicity as a barrier to civic engagement, and what we can do to build democratic capability in Canada.
Speakers:
Naheed Nenshi, Keynote
Nenshi served as Calgary's mayor for three terms between 2010 and 2021, during which Calgary was named one of the best cities to live in the Western Hemisphere. In recognition of his leadership, Nenshi was awarded the World Mayor Prize in 2014 by the City Mayors Foundation. He is also the recipient of the President's Award from the Canadian Institute of Planners and the Humanitarian Award from the Canadian Psychological Association for his contribution to community mental health.
Today, Nenshi is an internationally known voice on urban issues. He has presented to audiences across Canada and the world, including the World Economic Forum. He is a proud first-generation Canadian of Indian ancestry, whose parents immigrated from Tanzania. His family and his Ismaili Muslim faith instilled in him the ethic of seva, or service to the community, something he tries to live every day.
Nahlah Ayed, Moderator
Nahlah Ayed is the host of CBC IDEAS and an award-winning veteran of foreign reporting: first, in the Middle East where she spent nearly a decade covering the region's many conflicts. And later, while based in London, she covered many of the major stories of our time: Russia's annexation of Crimea, Europe's refugee crisis, the Brexit vote and its fallout.
A former parliamentary reporter for The Canadian Press, Nahlah is a graduate of Carleton University's Master of Journalism program. She also holds a Master's degree in interdisciplinary studies (Philosophy, English and Science) and a Bachelor of Science in genetics from the University of Manitoba.
Attendee information
Tickets
This is a Pay-What-You-Can event and a range of ticketing options are listed.
We are accepting donations for our 15th anniversary. Your donation will support the Samara Centre's work in building a more accessible, responsive and inclusive democratic culture in Canada.
Livestreaming
If you're not able to attend the event in person please register for a livestream ticket and the video link will be emailed to you shortly before the event begins. You must register for the livestream ticket option to receive the video link. This event will not be recorded.
Schedule
Doors open at 7pm ET and the event begins promptly at 7:30pm ET. Reception to follow.
The livestream will begin promptly at 7:30pm ET.
If you have any questions or accessibility needs, please email hello@samaracentre.ca.