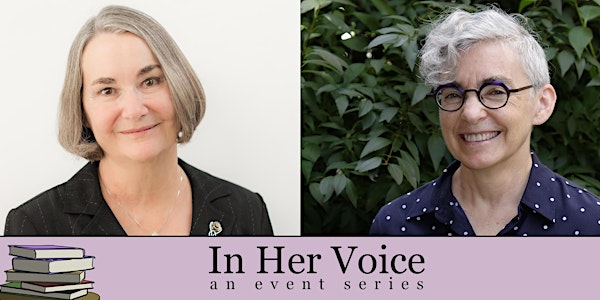 In Her Voice: Victoria Freeman & Catherine McKercher
When and where
Location
Ben McNally Books 366 Bay Street Toronto, ON M5H 4B2 Canada
Description
Please join us for a special In Her Voice event with Victoria Freeman and Catherine McKercher! Both authors will be discussing their latest books, A World without Martha and Shut Away, respectively.
A book signing will conclude the event.
---
About the Books and the Authors
---
A World Without Martha
Victoria Freeman was only four when her parents followed medical advice and sent her sister away to a distant, overcrowded institution. Martha was not yet two, but in 1960s Ontario there was little community acceptance or support for raising children with intellectual disabilities at home. In this frank and moving memoir, Victoria describes growing up in a world that excluded and dehumanized her sister, and how society's insistence that only a "normal" life was worth living affected her sister, her family, and herself, until changing attitudes to disability and difference offered both sisters new possibilities for healing and self-discovery.
Victoria Freeman
Victoria Freeman is a writer, theatre artist, educator, and public historian. She is the co-creator, with Sol Express, of Birds Make Me Think About Freedom, a play about the experiences of peoples institutionalized for intellectual disability, and is on the advisory board of Uncovering the People's History, which documents the stories of institutional survivors and their families for Family Alliance Ontario. She also co-wrote the Talking Treaties Spectacle with Ange Loft of Jumblies Theatre, which was performed in 2017 and 2018 at Fort York in Toronto. Her previous book, Distant Relations: How My Ancestors Colonized North America, was shortlisted for the 2000 Writers' Trust Shaughnessy Cohen Prize for Political Writing. She teaches in the Canadian Studies Program at Glendon College, York University, in Toronto.

Shut Away
An explosive book that exposes the abuses of institutionalization.

"How many brothers and sisters do you have?" It was one of the first questions kids asked each other when Catherine McKercher was a child. She never knew how to answer it.

Three of the McKercher children lived at home. The fourth, her youngest brother, Bill, did not. Bill was born with Down syndrome. When he was two and a half, his parents took him to the Ontario Hospital School in Smiths Falls and left him there. Like thousands of other families, they exiled a child with disabilities from home, family, and community.

The rupture in her family always troubled McKercher. Following Bill's death in 1995, and after the sprawling institution where he lived had closed, she applied for a copy of Bill's resident file. What she found shocked her.
Drawing on primary documents and extensive interviews, McKercher reconstructs Bill's story and explores the clinical and public debates about institutionalization: the pressure to "shut away" children with disabilities, the institutions that overlooked and sometimes condoned neglect and abuse, and the people who exposed these failures and championed a different approach.
Catherine McKercher
Catherine McKercher worked as a journalist, including a stint as the Washington correspondent for the Canadian Press, before joining the journalism faculty at Carleton University. She has authored and co-authored numerous books and articles, among them The Canadian Reporter: News Writing and Reporting.
---