Description
Learn to build simple electronics with UBC Physics & Astronomy students Laurel Stothers and Sydney Seraphim! We are hosting two hands-on electronics workshops for anyone interested in learning how to build tri-colour (red, green, blue) flashlights using a breadboard and electronic components. This workshop is great for children as their first experience with electronics, as well as educators who want to bring this activity back to their classes or groups. At the same time, learn what you can create with different colours of light.
Two workshop sessions are offered:
1-2:30pm for beginner worksho (LED flash light that can be turned on and off with switches), appropriate for age 7-9.
2:30-4pm for advance workshop (LED flash light with dimmer that can be turned on and off with switches), appropriate for age 10 and above (including adults).
This event is part of the Interstitial: Science Innovations by Canadian Women art exhibition from June 8 to June 21. What does it take for a woman to be "in" with the science community?
Laurel Stothers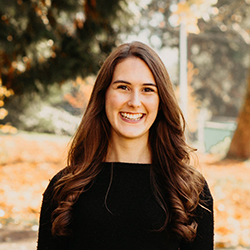 Laurel Stothers is a UBC master's student with a background in physics and art history. In parallel to her research, Laurel is actively engaged in the UBC Centre for Teaching, Learning, and Technology to grow as a teacher and learner. She sees an opportunity to learn physics in everyday experiences and aims to empower people of all ages to engage with the science of their everyday physical world.
Sydney Seraphim
Sydney is currently an Engineering Physics student at UBC. She just finished her third year and will be spending the summer on co-op doing testing on energy storage systems. Throughout her time at UBC, she has volunteered with the PHAS outreach department and is also involved with the Engineering Physics Student Association and Women in Engineering.