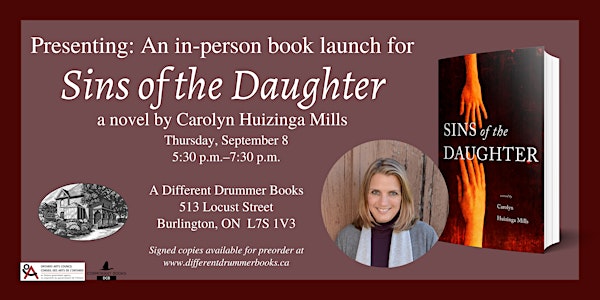 In-person Book Launch: Sins of the Daughter by Carolyn Huizinga Mills
Join us in celebrating the launch of author Carolyn Huizinga Mills's new novel Sins of the Daughter!
When and where
Location
A Different Drummer Books 513 Locust Street Burlington, ON L7S 1V3 Canada
About this event
Author Carolyn Huizinga Mills will be discussing and signing her new novel, Sins of the Daughter, at A Different Drummer Books on September 8th at 5:30pm ET.
For information on pre-ordering signed copies, please visit A Different Drummer Books's website.
About the book
"A gripping familial maze that gets to the heart of what it means to be a mother and a daughter."
– Merilyn Simonds, author of Woman, Watching and The Convict Lover
​Danah Calsely was only nine when her mother abandoned her. Years later, as a promising Sociology PhD candidate, Danah appears largely unaffected by this traumatic loss — until she finds a letter that she's convinced is from her missing mother. The truth about Jane Lily and her disappearance is wrapped in a long history of silence, and Danah's grandmother, Edith, has no interest in rehashing the past.
Danah becomes obsessed with the letter and the secrets she believes Edith is keeping from her. Edith is convinced she's only protecting her granddaughter, but she has her own reasons for staying silent. As for Jane Lily herself, she has a certain knack for disappearing.
A story of heartbreak and hope, guilt and redemption, Sins of the Daughter explores the fragility of the bond between mothers and daughters and the domino effect that the choices of one generation have on the next.
About the author
Ever since reading L.M. Montgomery's Emily of New Moon as a child, Carolyn Huizinga Mills has dreamed of being a writer. She began writing short stories and in 2017, her story "Finders" placed second in the Alice Munro Short Story Competition. Carolyn's first picture book, The Little Boy Who Lived Down the Drain, was chosen as a 2018 Blue Spruce Honour Book. Her second picture book, Grandpa's Stars, is forthcoming. Her first novel, The Good Son, was published by Cormorant Books in 2021.
A grade seven teacher, Carolyn loves to share her passion for reading and writing with her students. She grew up in Calgary, Alberta, and now lives in southwestern Ontario with her husband and two children. In addition to reading and writing, Carolyn loves playing soccer, camping, travelling, and eating dark chocolate.